Homewaters Banquet + Auction 2018:
Just Around the Corner
Saturday, April 7, 2018, the Native Fish Society, wild fish supporters, and over 100 generous donors will come together under the big top at Montgomery Park in Portland, OR to create the largest wild fish fundraiser/party in the universe.
Our tireless staff is currently combing the four corners of the globe to bring you some of the finest LIVE, SUPER SILENT & SILENT auction items ever assembled under one roof!
BIG FISH TICKETS are available for sale now! Want the chance to pick up one of our LIVE items before the bidding even starts? Big Fish Tickets are $100 per ticket and you can buy as many as you'd like until they are gone...only 100 available. All LIVE items are up for grabs, except for our Super Secret Mystery Item. You can only buy these special tickets by calling the office, so give Tracy at call at HQ and she will hook you up! Check out the Live list below and bet on your lucky stars!
Looking for lodging in the area? Our friends at the Silver Cloud Inn are ready for your reservation. Just mention Native Fish Society and they will set you up in a peaceful room for a discounted rate – all within walking distance to the event.

Stay tuned as we update this page with more information on the event!
**If you would like to donate goods or services to our annual banquet, please contact tracy@nativefishsociety.org
Live Auction Items:


King Size Homewaters Redd

For over thirty vintages, Lange Estate has been crafting some of the finest examples of Pinot Noir from Oregon's best vineyard sites - including the highly recognized Freedom Hill Vineyard outside of Rickreall.
Vintage 2016 has already been hailed as one of Oregon's finest vintages ever. This small selection bottling emanates from a lovely two-acre block of 777 clone Pinot Noir. Winemakers Don Lange and Jesse Lange crafted this wine with Native Fish Society in mind. Like our natural resources, this Pinot Noir should be enjoyed now but also protected and revered for decades to come. Is there a better way to share your love of wild, native fish with your friends? We don't think so!


Dream Stay at Dakota Shy Winery
Includes 3 nights for 4 couples in luxe vineyard estate, VIP winery tour, and wine tasting
Dates: Mutually agreed upon dates
Retreat to the Dakota Shy Winery and Vineyard located on six acres of Cabernet Sauvignon vineyards near the city of St. Helena in Napa Valley. The vineyard's bucolic setting is graced by expansive groves of olive, citrus, and fig trees and a lovely rose garden. The stunning main house and guesthouse are decorated in a modern French Provincial style to honor the French heritage of the estate's original owners, the Charles de Limur family.
Between the two houses there are four master suites with lovely views of the grounds. Each bedroom/bath suite has full amenities. There is a full gourmet kitchen and a formal dining room that seats 12. A heated swimming pool is nestled between the main and guest house, and a walkway from the pool area leads to a charming enclosed gazebo with a fireplace and outdoor kitchen.
A stay at the Dakota Shy estate includes the opportunity to enjoy tastings of Dakota Sky's remarkable wines, gourmet meals, and the serene ambiance and world-class offerings of a unique property and winery, a protected and private jewel in the heart of beautiful Napa Valley.
Recently, Wine Spectator magazine named Dakota Shy a, "rising star in California Cabernet" ranking their 2014 vintage Cabernet Sauvignon among the top 100 wines in the world.


A Frican Safari
Donor: Primus Villas & Sporting Adventures International
2 People 5 Days / 5 Nights luxury safari camp in South Africa with daily game drives
Dates: Valid through April 2019
Hold onto your pressed khakis and telephoto lenses, because two lucky winners are headed on a weeklong big game safari in South Africa. From the moment you arrive in Johannesburg, you and your travel partner will be transferred via private shuttle to the Primus Villas' Safari Camp where you'll spend the next five days viewing an amazing display of wildlife and landscapes just minutes from your chalet. We're talking elephants, giraffes, and lions from the backseat of a convertible Range Rover 4x4. The camp itself is situated on the banks of three hippo-filled lakes!
The Primus Villas' Safari Camp is among the finest private safari experiences offered in South Africa. Each of the four luxury tent accommodations features a private bedroom, sitting area, en suite bathroom, and pool. The chalets feature wifi internet and air conditioning. During your week's stay, the on-site chef will prepare your gourmet meals. This is a lavish, turn-key African Safari experience.
If you're interested in taking in additional well-known sites and cultural experiences in South Africa, Primus Villas is well-equipped to assist you as well. This could include a tour of the Cape of Good Hope National Park, Constantia Wine Valley Tour & Tastings, Golf, Spa Treatments, and Sportfishing.
Don't miss this trip of a lifetime: to experience an African safari and support native fish conservation!
Includes all meals and lodging in the photo camp. Airport transfers.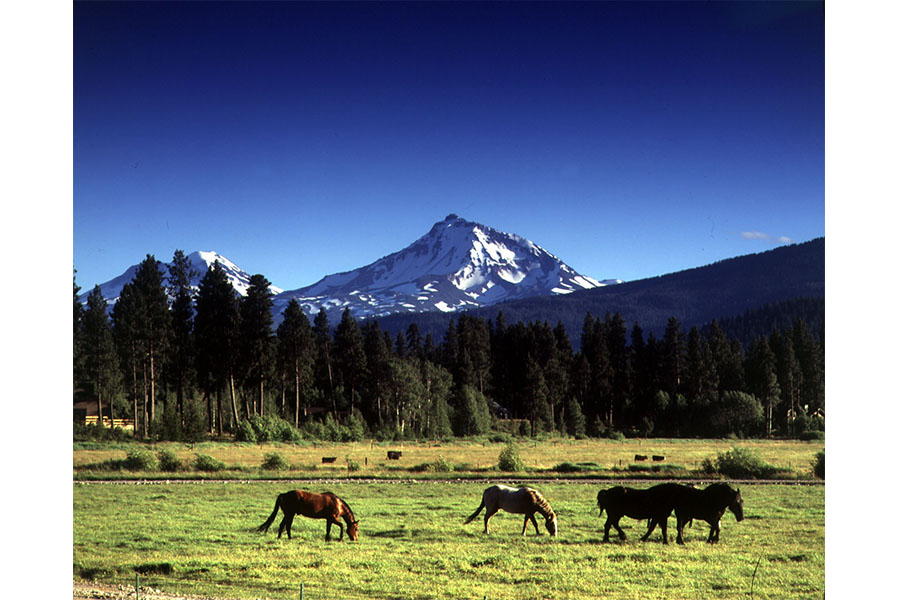 Back to Black Butte Ranch
Donor: Jim & Kathy Foote
Dates: Available before May 15, 2018 or after September 30, 2018
Up to 10 Guests / 3 Nights / 4 Days
Enjoy life at a different pace, with up to ten of your closest friends or family members as you retreat to Black Butte Ranch and experience the beauty of Central Oregon. The spacious 2700 sq. ft. lodge-style home features a large sun deck, vaulted pine ceilings, 25 ft. picture windows and handsome tiled floors. It also includes a fully equipped kitchen, dining room and a spacious bonus room.
Its prime location, just 20 minutes from HooDoo Ski Resort and five miles from the Metolius River, positions you perfectly for all kinds of outdoor fun. For those more interested in leisurely pursuits, the home is also adjacent to excellent golfing and both the Glaze Meadow and South Meadow pool facilities. This is the family retreat that makes everyone happy!
Treat yourself to a wonderful stay and relaxing escape. Maximum 10 people allowed per stay. No pets and no smoking. Excludes holidays.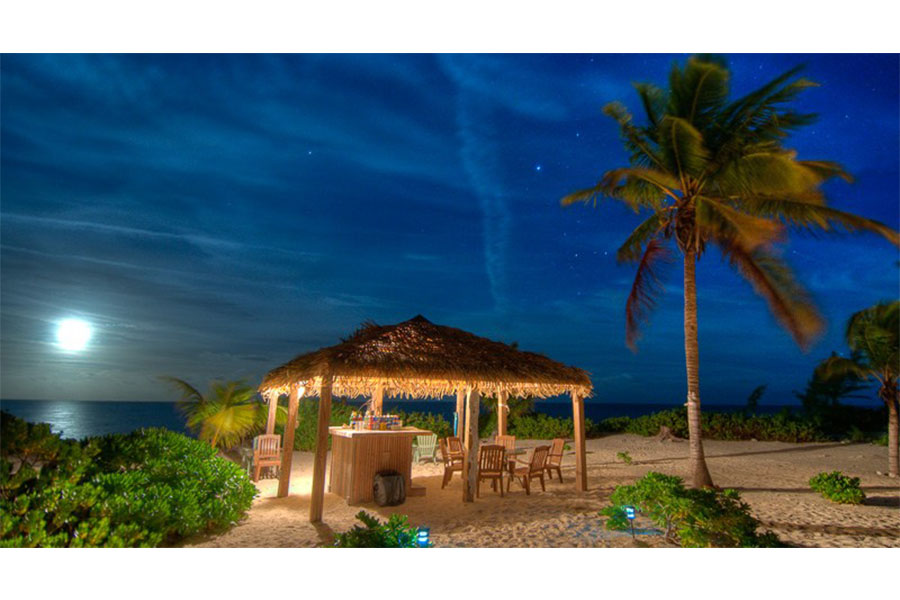 Bad to the Bone in the Bahamas
Donor: Dan & Amy Herrig, Andros South
2 Anglers / 4 Nights / 3 Days
Dates: Expires May 2019
Enjoy the perfect tropical escape for the saltwater angler that loves great fishing and casual and comfortable digs at the Andros South Lodge. For 3 joy-filled days, you'll head out on the water with Andros South's dedicated guide staff to fish the multitude of flats and coves teeming with life. The diversity and size of the fishery mean a completely different fishing experience every day of your trip.
In the evening enjoy a beachside beverage at the "Slack Tide" tiki bar then, retire to the dining room for delicious meals prepared with local seafood and produce. Includes: Guided fishing with 2 anglers per boat; single-occupancy lodging; all meals including alcohol; loaner fly and spinning tackle; terminal tackle and flies, and transfers between the Congo Town airport on South Andros and their lodge. Additional costs not included in donation are travel to the Bahamas/Andros and gratuity for staff.
Trip can be extended to a week for an additional cost.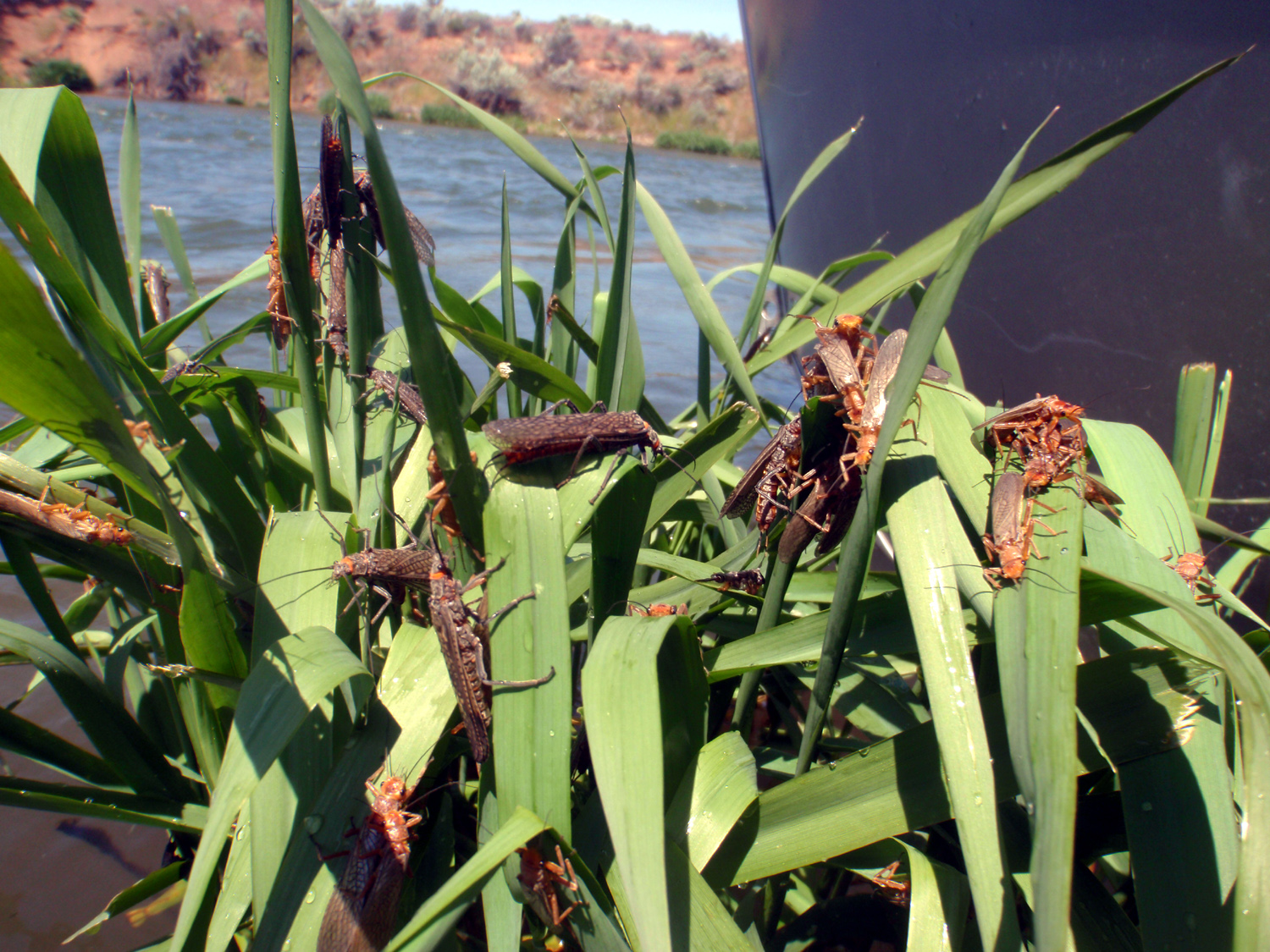 Everybody Must Get Clark Stoned
Donor: Danny McGinley & the McGinley Family, Warner Munro, Troy Jones & Craig Sweitzer, Don, Wendy & Jesse Lange, Lange Estate Winery & Vineyard, Chris O'Donnell, River Runner Outfitters
Date: May 15-17, 2018
2 Anglers / 2 Nights / 3 Days Floating and Trout Fishing

Get your Chubby Chernobyls, Norm Woods and Clark Stones ready -- this is going to be the best darn weekend of dry fly trout fishing of your life! Two lucky anglers will join Don & Jesse Lange, of Lange Estate Vineyard and Winery, for a two day float from Warm Springs to Harpham Flat in search of world famous Deschutes River redside trout and the legendary salmonfly hatch.
Day one starts your epic trout fishing adventure with Chris O'Donnell of River Runner Outfitters and his team of dedicated guides. Get ready to fish from the launch at Warm Springs to Board Member Danny McGinley's Green Valley Farm at South Junction. After a great day of fishing you'll relax at Green Valley's luxurious accommodations while the Lange's pour their finest Pinots.
Day two you'll be back on the water, fishing the middle float from South Junction to Warner Munro's world famous North Junction homestead. After another great day on the water, ice-cold Hamm's Beer (Warner's favorite) will be flowing freely, as well as Lange wine.
Day three, the great finale to this trout fishing epic, you'll be drifting and dreaming on your way from North Junction to Harpham Flat just upriver from Maupin, OR. You may remember our old standard -- the Drift into Green Valley trip -- well this is that trip on steroids. Great times, great trout fishing, and great company to be expected.
Sun Valley Vacation in the Big Wood River Valley
Donor: Mark "King" Stromme
Up to 6 Adults / 4 Days / 3 Nights in Sun Valley
Dates: Available Prime Time: September 10 to December 31, 2018
Enjoy 4 days and 3 nights for up to 6 people in the recently renovated Elkhorn condominium, which sits on the 9th tee of the Elkhorn Golf Course, with panoramic views and rustic charm. The comfortable accommodations offer three bedrooms and four baths. Close proximity to beautiful streams, like the Wood and legendary Silver Creek, makes this a fine trip for the angler. There is also hiking, golfing and exploring just outside the door.
Go ahead, live it up like Hemingway! Additional nights available at $250 per night.

Rabel's Perfect Pairing
Donor: John Rabel

3 3/4" Brass-Faced Hardy Reel matched with an 11' 7/8 Riverwatch Bamboo rod

Sure you could wait a year for Bob Clay to build you a rod or spend your precious time endlessly searching the interwebs for a rare brass-faced Hardy Perfect. Or, thanks to John Rabel's impeccable taste and kind generosity, you can take this perfect steelhead setup home with you tonight while supporting wild, native fish conservation. The choice is yours!
Trust us, there's nothing sweeter than a wild steelhead putting a deep bend in your Riverwatch bamboo rod and the vintage sound of this Hardy Perfect. This is a perfect pairing, just add wild steelhead.


Steamboat Summer
2 Guests / 2 Nights / 2 Days Angling
Dates: June 28, 29 & 30, 2018
Get ready for guided fishing on the North Umpqua River for wild summer steelhead over three days (evening, full-day, morning) as well as luxury accommodations at the famous Steamboat Inn for two nights. The Inn has also donated one of their delectable dinners in the historic lodge to the group of two.
Anglers will arrive in the early afternoon of the 28th at the Steamboat Inn, about forty miles to the east of Roseburg, Oregon along Highway 138. That evening, the morning and evening of the 29th, and the morning of the 30th, guests will fish with North Umpqua guide Dillon Renton and swing flies for summer steelhead.
By late June, the first component of the North Umpqua summer run has arrived and this is when they're at their most aggressive. In fact, this is a great time to target fish with twitched skaters and hitched muddlers. Some of the greatest rises of the year often come from June steelhead.
At the Steamboat Inn, guests will stay in one of the cottages above the river and will have access to food throughout the day including breakfast, lunch, and dinner. As stated, one dinner of choice will be "on the house" as a part of the donation. During the day, when anglers are not fishing, there are multiple activities to enjoy including hikes and/or a visit to Lee's Pool up Steamboat Creek. Also known as "Big Bend Pool", this is an iconic refuge for summer steelhead as they summer-over in the creek in which they eventually spawn.
Don't miss this incredible opportunity to enjoy the North Umpqua and its wild steelhead!
Deschutes Base Camp

Donor: Jeff & Kathryn Hickman, Fish the Swing, Deschutes Steelhead Adventures
2 Guests / 2 Nights Steelhead Fishing the Lower Canyon by Jetboat
Dates: October 22-24, 2018
In Oregon, Summer and Fall are lower Deschutes River Season. The season of floating lines and feisty steelhead, early mornings and late nights in the desert canyon. There is nothing like standing in the gold-colored evening flows of the Deschutes watching the light fade, anticipating the heavy weight of an angry steelhead on the end of your line.
With jet boats, we run our guests from the mouth up to camp mid afternoon on the first day. From there we access countless runs, pools and out of the ordinary known steelhead holds. We have the ability to keep you fishing in spots that have more favorable wind direction for your casting, not to mention there is little time wasted between spots. Our gourmet chef prepares all the food so all you need to do is relax and fish. Can't get much better than that!
Additional days available. Gratuity not included.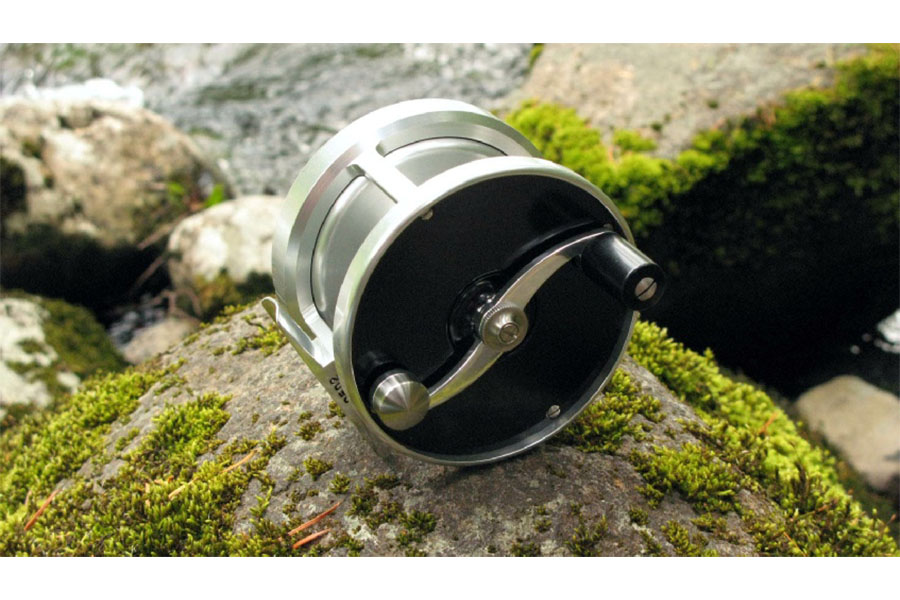 Saracione's Gold & Black Mark V 3 3/4"

Donor: Joe Saracione, Saracione Fly Reels


This gold and black, Oregon made masterpiece will perfectly compliment your favorite 11 1/2-13 1/2 ft spey rod. The Saracione Mark V fly reel features an all new sealed carbon fiber drag system in addition to the separate gear and pawl system. Working in tandem, these two drag systems ensure you don't end up backlashed the next time you hook into a fish a little bigger than you were planning on. The 3 ¾" is Saracione's most popular salmon and steelhead reel, period!
Anglers from all over the world snatch them up like they're going out of style - this is indeed the Saracione reel of choice. If you're looking for a classic, heirloom quality salmon and steelhead reel that can be fished hard - don't look any further.
Specs: Spool Width: 1 5/32". Weight: 11.5. Fly Line: 6,7,8. Capacity: 125+ yards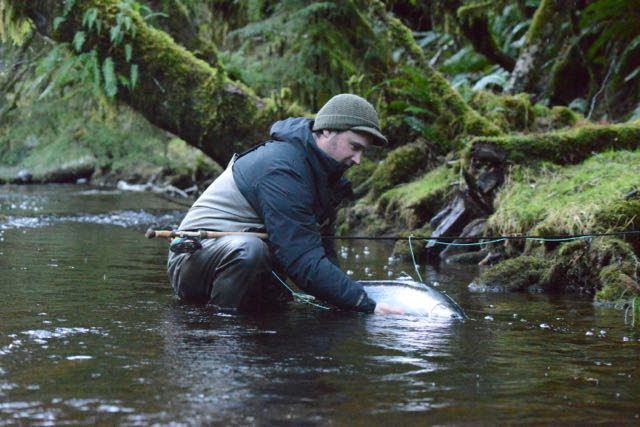 Haida Gwaii: Off the Grid Steelhead

Donor: Derek & Andrea Botchford, Copper Bay Lodge, Epic Waters Angling
Hosted by Tom Derry
1 Angler, 7 Nights / 8 days on the water

Dates: March 1-8 or March 8-15, 2019
Fishing the remote streams of Haida Gwaii's coastal rainforest offers seriously good odds of connecting with the wild winter steelhead of your dreams. Step foot in the the Yakoun, Copper, Pallant Rivers as well as several smaller watersheds only accessible by Cooper Bay lodge guests. The skillful guides ensure that you will be on the best water at the best time. Hearty breakfasts, streamside lunches and delightful four-course evening meals are served in front of an open fire – the perfect evening accompaniment to the trip of a lifetime.
Includes fully guided fishing, transportation to and from Sandspit Airport, lodging and all meals.
Does not include: Fishing Licenses, flight to Sandspit, Alcoholic Beverages, Guide Gratuities (15%) or fly out trips to remote steelhead rivers.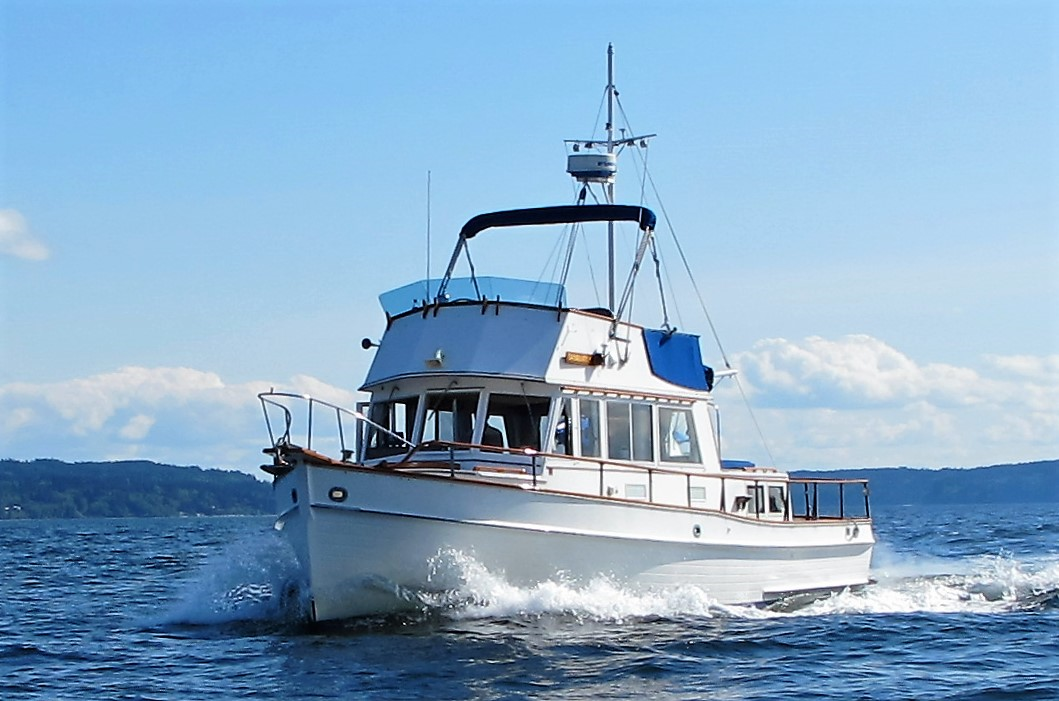 The Love Boat

Donor: Tom Sims, Sasquatch Brewery + New West Cider

2 Guests / 3 Days / 2 Nights Private Cruise through Puget Sound

Dates: Mutually agreed upon date spring, summer or fall
The Sound is calling! Go whale watching, kayaking, swimming, sun-bathing, and exploring aboard Tom Sims' 36' Grand Banks yacht trawler, the M.V. Sasquatch. The yacht features a comfortable stateroom, with its own bathroom, a large cabin, back deck, and flying bridge. The Sasquatch is a seaworthy and stylish cruiser. The food and drinks will be great, the sights even better!
Your voyage at sea includes all meals and beverages -- Tom might even throw in a little of his own Sasquatch Beer and New West Cider! The winning bidders depart from either Port Orchard or Port Townsend. Cruising speed is 7.5 miles per hour.
If you've ever wanted to set your own schedule and cruise at your own speed through the beauty that is Puget Sound, this auction item is your ticket to the perfect long weekend.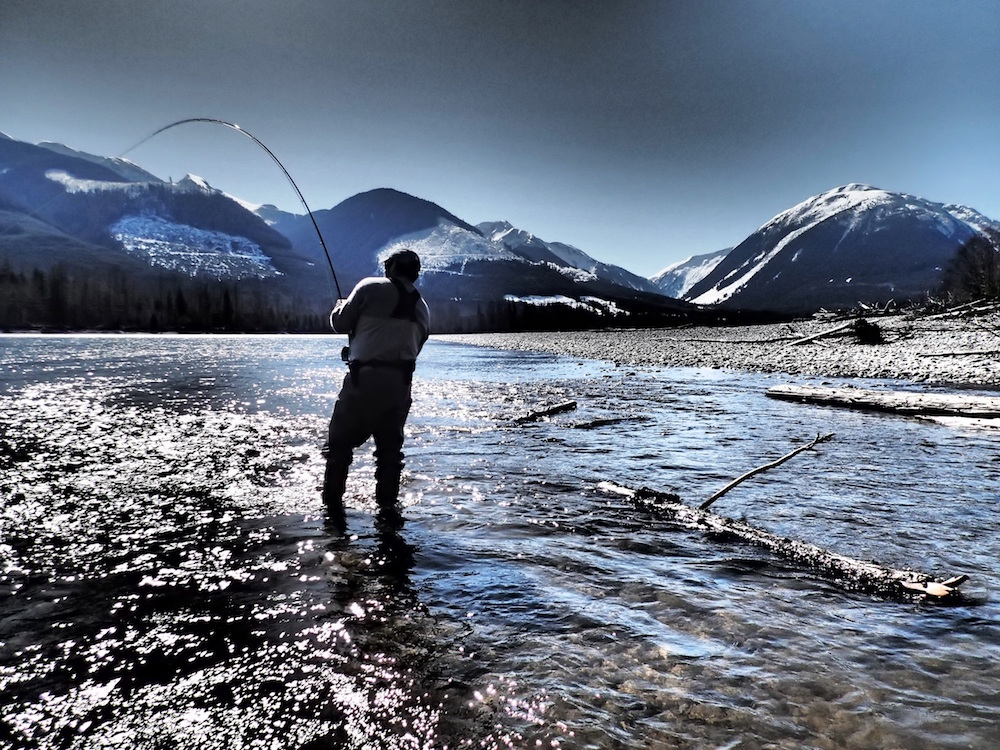 Burkheimer's Best

Donor: Kerry Burkheimer, Burkheimer Fly Rods
C.F. Burkheimer Vintage 12'8" 6wt two-handed inscribed with "2018 Homewaters Auction"
C.F. Burkheimer designs fly rods with wide grain windows, forgiving actions and loads of feel. Rods with feel enhance a caster's performance and enjoyment, and those things aren't just the domain of guides or instructors. Talk to them about these rods and they'll describe them as having "grunt", or "whump" or "hooahh". That's the Burkie feel, and you'll feel it too.

You know about Burkheimers, but do you really know Burkheimers? Check out this film from our friends at North Fork Studios on what really goes on behind the scenes.
Burkheimer Fly Rod Build – Broadband from North Fork Studios on Vimeo.
Ideal Lines: 5/6/7wt Grain Window: 360-500 Skagit: 450 Scandi:420 Integrated: 6/7
To the Eel and Back

Donor: Robert & Jody Lashinski
2 anglers / 2.5 days steelhead angling from helicopter / 2 nights at Capistran Ranch / Helicopter transportation from Santa Rosa Airport
Dates: Mutually agreed upon
This trip should not be for sale. You can't charter a private helicopter to take you steelhead fishing on the Eel and you can't book a stay at the Capistran Ranch. It's only by the incredible generosity of our longtime members and supporters, that this trip is even possible.
When the conditions are right, the lucky winning bidder of this trip will drop everything, and head for the Santa Rosa airport. After you land, you'll be picked up and shuttled to the hangar where you will then load into the helicopter for the short and very scenic flight to Capistran Ranch on the Middle Fork of the Eel River. Over the next two days you'll have the entire Eel to choose from: fish the private ranch water on the Middle Fork, jump in the helicopter and fish the remote Main Stem canyon below Dos Rios or areas even more remote. You will have the flexibility to fish wherever the conditions allow and the steelhead are biting.
Depending on how good the fishing is, you may choose to head back to the ranch early on one of the days to enjoy a glass of wine and experience the ranch's challenging sporting clays course. At night you'll bunk in the comfortable ranch house accommodations and enjoy dinner overlooking the rolling oak-savannah of the ranch.
This trip offers an unprecedented way to see one of California's most beautiful and mysterious rivers. The Eel is also the largest watershed on the west coast with all wild summer and winter steelhead -- many of them approaching 20lbs. Don't miss your chance to go to the Eel and back.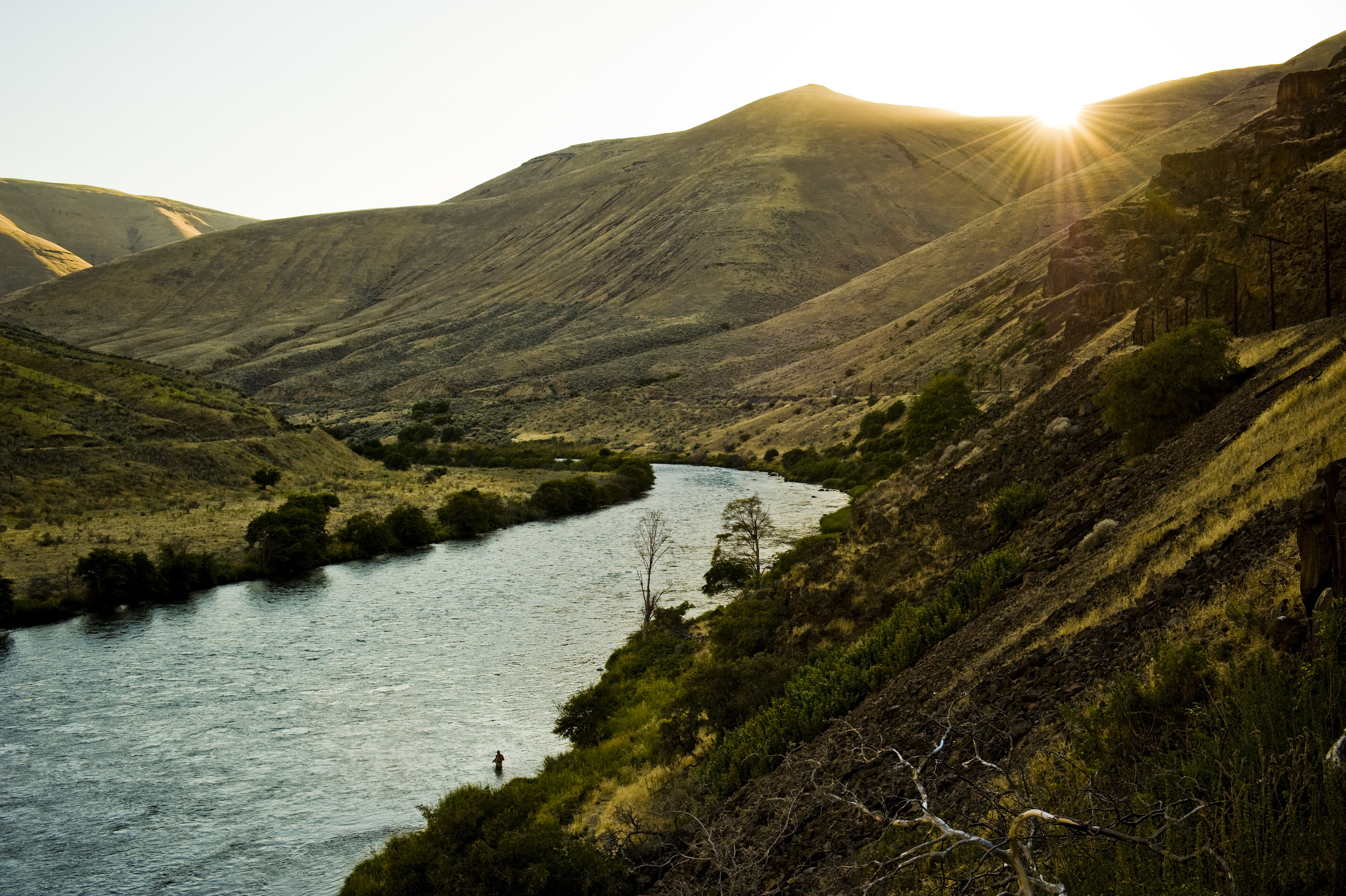 Autumn in the Deschutes Canyon

Donor: Mia Sheppard, Little Creek Outfitters, Tracy Buckner
4 anglers / 1 night lodging, dinner and wine / 1 day guided steelhead trip with lunch
Dates: Mutually agreed upon date, 2018 Fall Season
Join Mia and Tracy for a day on the Deschutes River swinging flies! Mia is an experienced and sought-after guide who knows the Deschutes like the back of her hand. She, along with the help of sidekick and new to the sticks, Tracy Buckner (NFS's very own Queen B) will show you an exceptional day of fishy fun!
The Deschutes River is an experience all steelhead anglers should enjoy, as the river offers some of the best dry line steelhead fly-fishing in the country and is perfect for casting a double-hand rod with a floating line. Be spoiled with a streamside lunch, mouthwatering home-cooked dinner, first class wine and a nights say at the River Run Lodge.
These girls know how to have a good time!
Desert Steel

Donor: Pat Dunham, NFS John Day River Steward
2 Anglers / 2 Guided Days / 1 Night at a Private Ranch on the John Day River
Dates: Mutually agreed upon date, October - November 2018
Where else on earth but the Pacific Northwest can you catch summer steelhead in a desert canyon? By the middle of October, eastern Oregon's John Day River may be the best place in the Northwest to connect with desert steel. So take the Spey rod, leave the sunscreen and make tracks for eastern Oregon, where two days of fishing and a one night stay on a private ranch are waiting for you.
NFS John Day River Steward Pat Dunham has generously donated two days of guided walk-and-wade fishing from a private riverside ranch. The winning bid buys you access to nine steelhead runs over three river miles, not to mention meals, lodging, and someone to net your fish. Rods and reels can be provided if necessary. All you need is a change of clothes and a nice bottle of something-or-other to share with your gillie.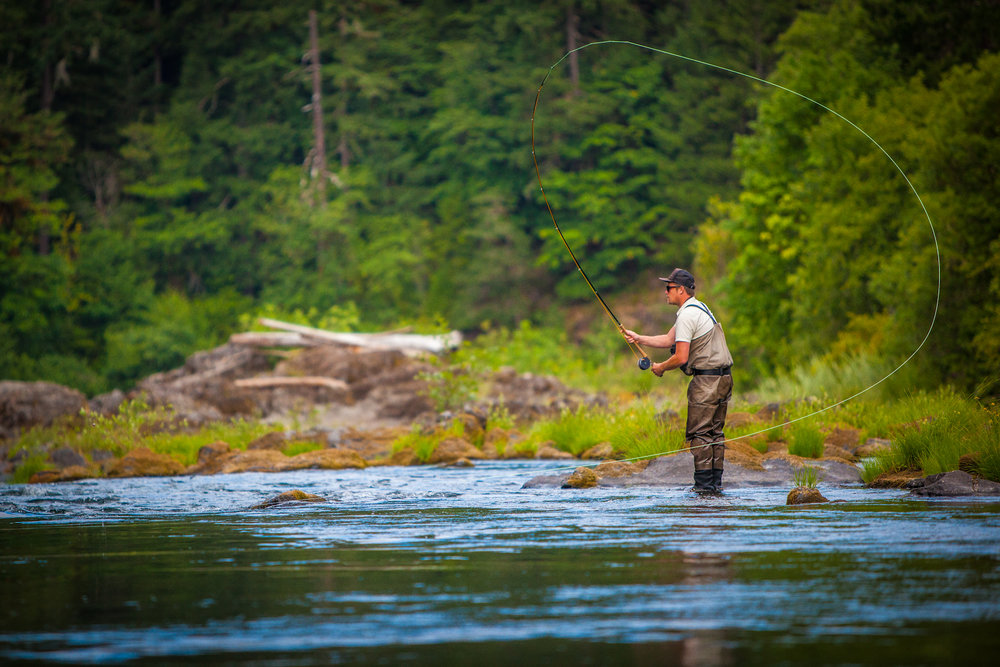 Steelhead Wizard Zellman
Donor: Rich Zellman, Steelhead Water Guide Service
1 or 2 Anglers / 2 Guided Days on the Trinity and Klamath Rivers in Northern California
Dates: Mutually agreed upon dates, Fall Season 2018
Join premier guide, Rich Zellman for two days of guided fishing during prime fall steelhead on the Trinity and Klamath rivers in Northern California. The Trinity and Klamath rivers flow from high in the Klamath/Siskiyou mountains before they cascade through canyons and gorges, providing abundant swing runs within a wild and rugged landscape. Floating line fishing is the focus, where you run a muddler through impatient boulder gardens in anticipation of eager, full-sized adults that await your swung fly, with a healthy dose of half-pounders in the mix. Trip is for one or two anglers, two days guided fishing, and all flies, rods, reels, lines and leader provided.