Homewaters: Revival Banquet + Auction
Our 23nd Annual Homewaters Banquet + Auction is rapidly approaching and we heartily encourage you to join us Saturday, April 13, 2019 for the biggest party for wild fish in the history of the world. At this year's banquet, we're celebrating our wild, native fish, free-flowing rivers, and the thriving local communities that bring us all together. The only thing we need to make this spectacular evening even more special is YOU!
Our tireless staff is currently combing the four corners of the globe to bring you some of the finest LIVE, SUPER SILENT & SILENT auction items ever assembled under one roof! Stay tuned more sneak peeks of this fantastic list of goodies.
BIG FISH TICKETS are available for sale starting Monday, March 11th! Want the chance to pick up one of our LIVE items before the bidding even starts? Big Fish Tickets are $100 per ticket and you can buy as many as you'd like until they are gone...only 100 available. You can only buy these special tickets by calling the office, so give Tracy at call at HQ starting on March 11th and she will hook you up!
Looking for lodging in the area? Our friends at the Silver Cloud Inn are ready for your reservation. Click HERE to make your reservation for a discounted rate – all within walking distance to the event. (Must book by March 23rd. 48 hour cancellation policy)

Stay tuned as we update this page with more information on the event!
**If you would like to donate goods or services to our annual banquet, please contact tracy@nativefishsociety.org
LIVE ITEM LINEUP


Everybody Must Get Clark Stoned
Donors: The McGinley Family, Warner Munro, Troy Jones and Craig Sweitzer, Don, Wendy, and Jesse Lange, Lange Estate Winery & Vineyard, Chris O'Donnell, River Runner Outfitters
Details: 2 anglers / 3 days guided fishing / 2 nights
Dates: May 14 to 16, 2019
Tie up some Chubby Chernobyls, Norm Woods, and Clark Stones and get yourself ready for the best dry-fly fishing of your life! Two lucky anglers will join Don and Jesse Lange during the world-famous salmonfly hatch for a two-day float from Warm Springs to Harpham Flat in search of Deschutes River redsides.
The first epic day of Get Clark Stoned will be led by Chris O'Donnell and River Runner Outfitters' team of dedicated guides. You'll fish from Warm Springs to the McGinley's Green Valley Farm at South Junction. Green Valley's luxurious accommodations are the perfect place to unwind after a big day on the water. Just kick up your feet and ask Jesse for another glass of Pinot Noir.
Day two of the adventure runs from South Junction to Warner Munro's storied North Junction homestead, with lots of big redsides in between. When Warner presses one of his beloved, ice-cold Hamm's into your hand at the end of another spectacular day of dry fly fishing, you'll know that this is trout fishing as good as it gets.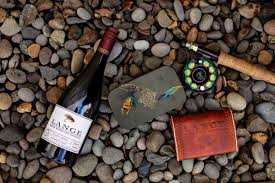 King Size Homewaters Redd
Donors: Don, Wendy, and Jesse Lange, Lange Estate Winery & Vineyards, Peter Donahower, Heart Rock Art Works
Details: 2017 Freedom Hill Pinot Noir, Jeroboam (5 liters), 3 Homewaters Redd Dee Flies, 6 Homewaters Redd Hairwings
* Bottle etched by Xena Etched Graphics
For more than thirty vintages, Lange Estate has been crafting some of the finest Pinot Noir around. Also in its fourth decade, Freedom Hill Vineyard, near Rickreall, is producing some of the most sought-after fruit in Oregon. And this vintage is already being hailed as one of Oregon's best ever. Three magical components—the weather, the fruit, and winemakers at the height of their craft—have all come together in one small-selection bottling. Better still, Don and Jesse made it with Native Fish Society in mind.
Talented fly tyer and artist, Peter Donahower, designed and tied nine custom steelhead flies to commemorate the vintage. Three elegant dees and six crisp hairwings—all in honor of beautiful wine and wild fish. Like our homewaters and the native fish that inhabit them, this Pinot Noir should be enjoyed now, revered, and protected for decades to come. Is there a better way to share this vision with your friends than to open a bottle of the best Oregon has to offer and swing a fly with the same elegant spirit? We don't think so!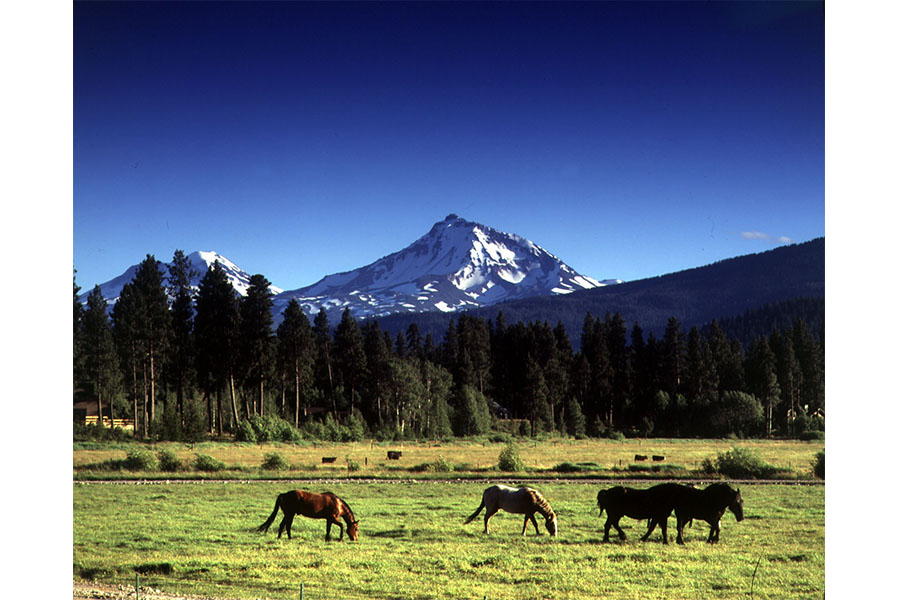 Back to Black Butte Ranch
Donors: Jim and Kathy Foote
Details: 10 guests / 3 nights / 4 days
Dates: Before May 15 or after September 30, 2019
Enjoy life at a different pace and plan a retreat to Black Butte Ranch. This 2,700-square-foot lodge is perfect for hosting you and nine friends or family. It features a large sun deck and 25-foot picture windows for taking in the beauty of Central Oregon, as well as vaulted pine ceilings and handsome tile floors. The kitchen comes fully-equipped and the large dining room is the perfect setting for hearty breakfasts and homestyle dinners that last all evening long.
Black Butte's prime location—just 20 minutes from HooDoo Ski Resort and five miles from the Metolius River—positions you perfectly for all kinds of outdoor fun.The home is adjacent to a beautiful golf course, as well as the Glaze Meadow and South Meadow pools. This is a family retreat with something for everyone. Treat yourself to a long weekend at the ultimate Oregon getaway!
*Holidays excluded
** No smoking, not pets


Steamboat Summer
Donors: Dillon Renton, Renton River Adventures Travis and Melinda Woodward, The Steamboat Inn
Details: 2 anglers / 2 days guided fishing (evening, full-day, morning) / 2 nights
Plus: Dinner for 2 at The Steamboat Inn
Dates: June 28, 29, 30 2019
Walk the hallowed banks, fish the legendary runs, and celebrate a place Jack Hemingway called "the greatest stretch of summer steelhead water in the United States," with a trip to the North Umpqua River. Steamboat Summer includes two days of guided fishing with Dillon on the North Umpqua's fly-only water, during his favorite time of year to twitch skaters and hitch muddlers for wild summer steelhead.
When you're done fishing for the day, retire to one of the Steamboat Inn's charming Hideaway Cottages. Meals are available in the restaurant, where the talented kitchen staff showcases Pacific Northwest flavors using locally-sourced ingredients. As a thank you for your generosity, Travis and Melinda are also including one dinner on the house.
When the sun is on the water and the fish are holding deep, there's plenty to do around the inn. You can hike the North Umpqua Trail, swim at Susan Creek Falls, or visit Lee Spencer at the Big Bend Pool. Whatever you do, don't miss this opportunity to celebrate the North Umpqua and its legendary wild steelhead.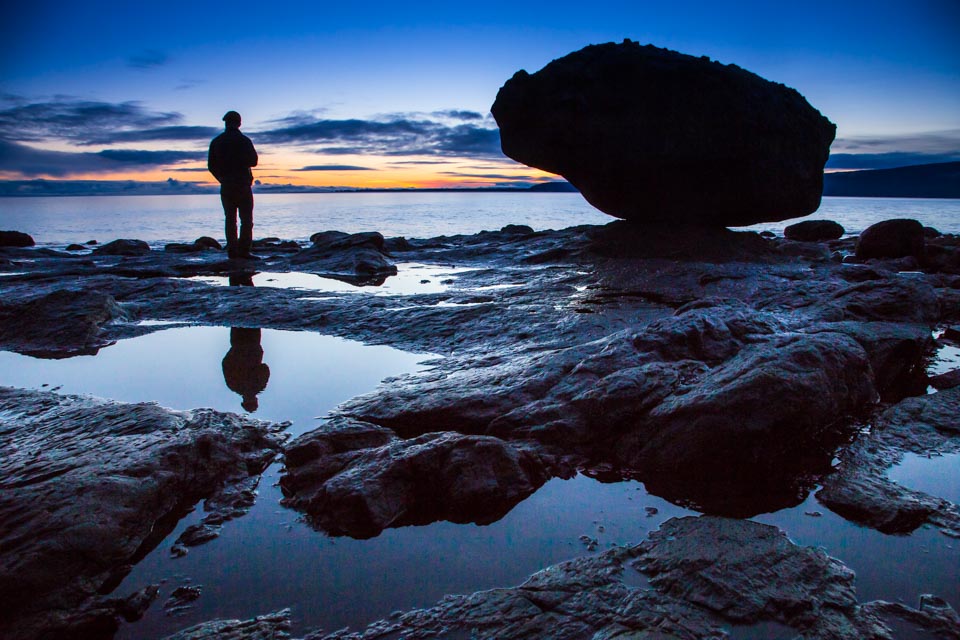 Galapagos of the North: A Summertime Adventure on Haida Gwaii
Donors: Derek Botchford and Andrea Soto
Details: 4 guests (single-occupancy) or 6 guests (double-occupancy) / 5 nights (additional nights available)
Dates: May through November 2019
For natural beauty and untrammeled solitude, there's no place in the northern hemisphere that can match Haida Gwaii. Located on the northwest coast of British Columbia, the archipelago's primal forests and pristine streams are as wild as they've always been. Galapagos of the North includes five nights at a rustic, beachfront lodge—perfect for groups of four to six—set on five acres overlooking Hecate Strait. Ancient cedars draped with moss and shrouded in ocean mist—Haida Gwaii is a place to chuck the guidebook and let serendipity shape your experience.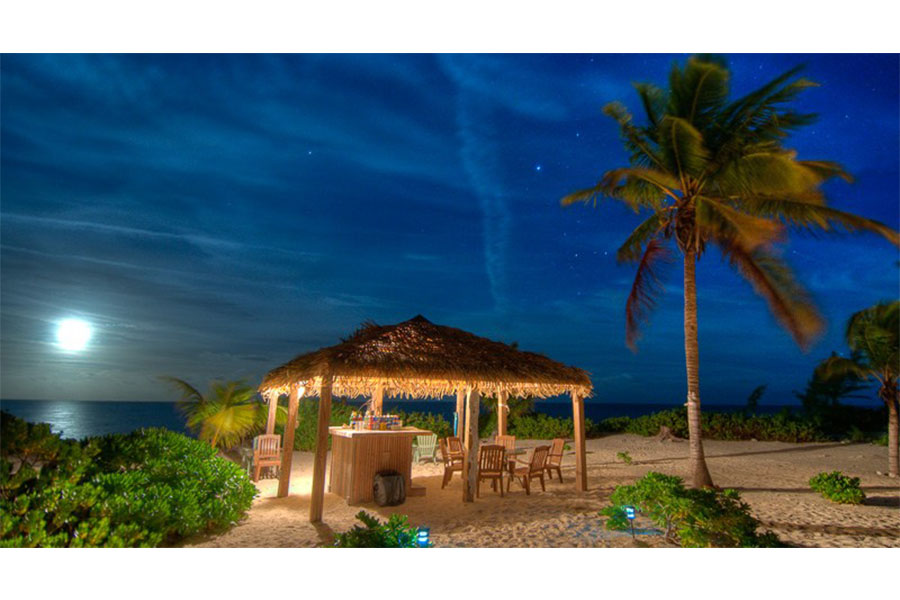 Bad to the Bone in the Bahamas
Donors: Dan and Amy Herrig, Andros South Lodge
Details: 2 anglers / 3 days / 4 nights
Plus: All food and drinks
Dates: Before May 1, 2020
What are the three ingredients for the perfect tropical escape? 1. good food and drink, 2. casual, comfortable digs, and 3. world-class saltwater fishing. You'll find all three at Andros South!
By day, you can explore hidden coves teeming with life, or hunt your way across the finest flats in the world. In the evenings, there's always a beachside beverage waiting for you at the "Slack Tide" tiki bar, as well as a freshly-prepared meal of delicious, local seafood.
Bad to the Bone in the Bahamas includes three days of guided fishing, a room at the lodge, all of your food and drinks, and transport to and from the airport. Dan and Amy haven't forgotten a thing!
* Does not include travel to Andros South or gratuity
** Trip can be extended for an additional cost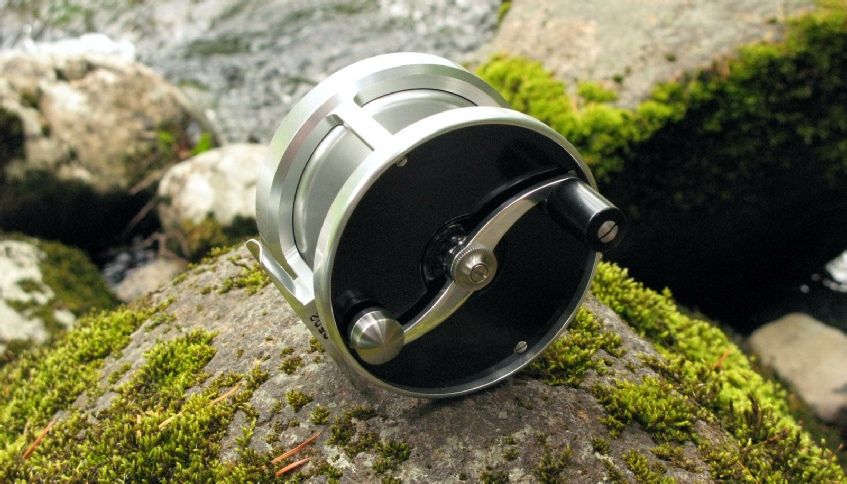 Saracione's Splendor - Mark V G&P Salmon Reel
Donor: Joe Saracione, Saracione Fly Reels
Specs: Size: 4" Width: 1 1/16" Weight: 12 oz.
Fly Line: 6, 7, 8, 9 Capacity: +180 yards
Anglers around the world are snatching up Saracione's like they're going out of style! The Mark V G&P (Gear-and-Pawl) is the Saracione of choice among steelheaders who want a high-performance drag system, but can't live without that classic design. The 4-incher runs true and smooth and balances rods from 12'6 to 14'6. It features oversized gear pawls, heavy springs, and converts easily from right- to left-hand retrieve. You're going to want one of these heirloom steelhead reels eventually. You can put your name on Joe's waiting list tomorrow, or you can take home Saracione's Splendor tonight!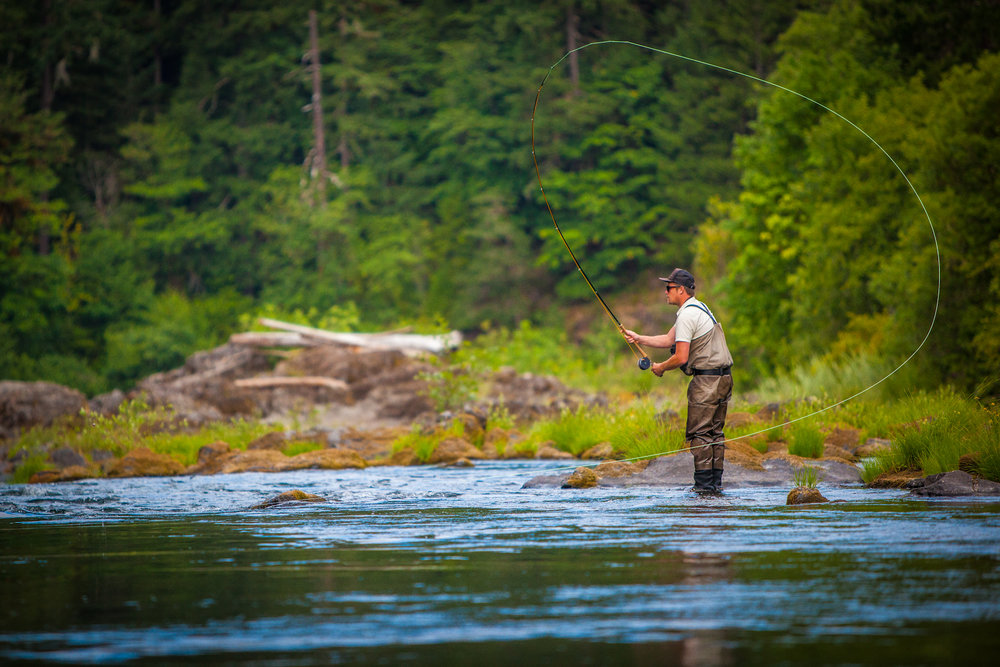 Steelhead Wizard Zellman
Donor: Rich Zellman, Steelhead Water Guide Service
Details: 2 anglers / 2 days guided fishing/ Trinity and Klamath Rivers, Northern California
Dates: Mutually agreed upon Fall 2019
Enjoy Northern California's finest fall steelheading with the Steelhead Wizard, himself, Rich Zellman. The Trinity and Klamath rivers start high in the Klamath / Siskiyou mountains and cascade through wild canyons, rugged gorges, and boulder gardens so beautiful you can't help but believe there's a fish behind every rock. The fall run consists of exquisitely-proportioned, full-size adults, as well as a healthy number of half-pounders. Either way, it's the time of year for floating lines and hitched muddlers. There's no better way to entice these aggressive wild fish and no one better to lead you to them!
*All flies, rods, reels, lines and leader provided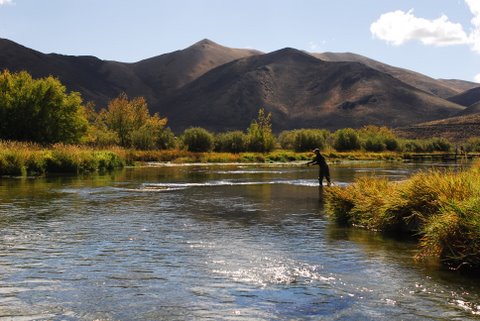 Sun Valley Vacation in the Big Wood River Valley
Donor: Mark "King" Stromme
Details: 6 guests / 4 days / 3 nights in Sun Valley, Idaho
Dates: Available summer dates or September 10 to December 31, 2019
Live it up like Hemingway with a four-day getaway at the Elkhorn Village in Sun Valley, Idaho. Overlooking the ninth tee of the Elkhorn Golf Course, the stunning Elkhorn Springs complex boasts panoramic views of the surrounding mountains and rustic charm. Accommodations include three bedrooms, four baths, and, out the back door, some of the best hiking, golfing and exploring Idaho has to offer. Close proximity to dozens of trout streams, including the Wood River and world-famous Silver Creek, makes this the perfect trip for the die-hard angler.
*Additional nights available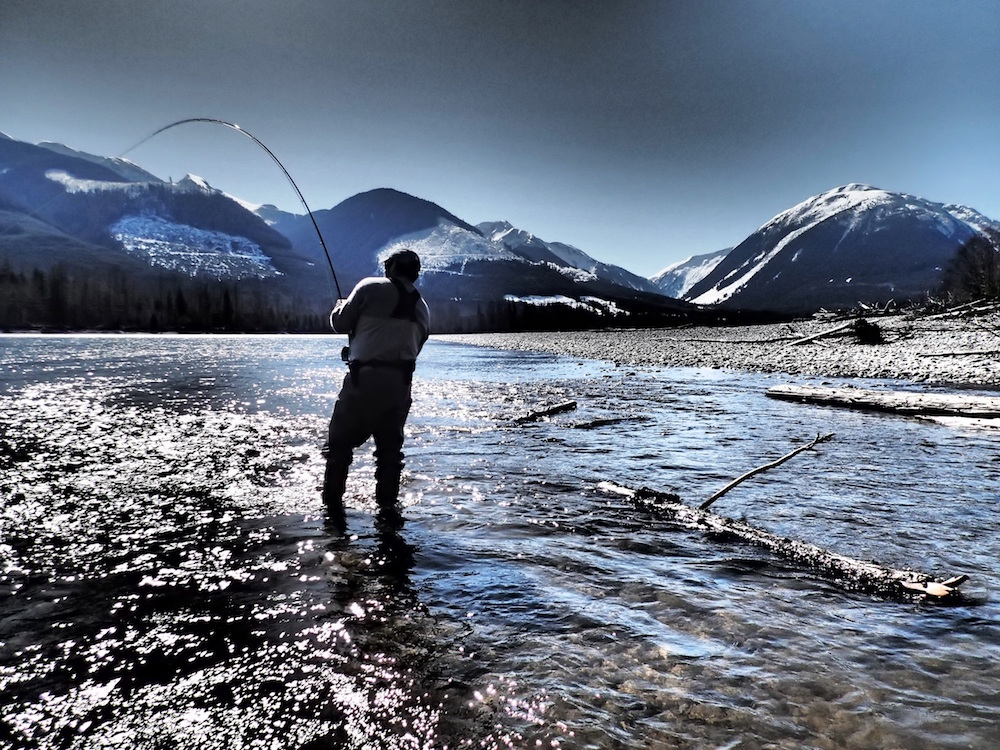 Burkheimer's Best - C.F. Burkheimer 7139-4
Donor: Kerry Burkheimer, Burkheimer Fly Rods
Specs: Model: 7139-4 Build: Vintage Length: 13'9"
Line Weight: 7 Rod Weight: 7.75 oz.
* Inscribed with "2019 Homewaters Auction"
Experience the two-handed rod perfected with the C.F. Burkheimer 7139-4. Kerry has spent decades on the rivers of the Pacific Northwest. His passion for wild, native fish and the sport of fishing is evident when you pick up a C.F. Burkheimer rod. Each rod that leaves his shop is, to put it simply, beautiful. You only get that with hand-made rods and a master craftsman's devotion.
If the day ever comes that you really do have to pick just one rod, you'll reach for your 7139-4. It's perfect for all-around summer work and, in a pinch, can be pressed into winter service. Featuring a hand-rolled blank, redwood burl reel seat, and exquisitely sculpted cork—all crafted within earshot of the mighty Columbia River— it adds up to a rod with soul.
* Ideal Lines: Skagit - 510 gr. Scandi - 450 gr. Integrated - ⅞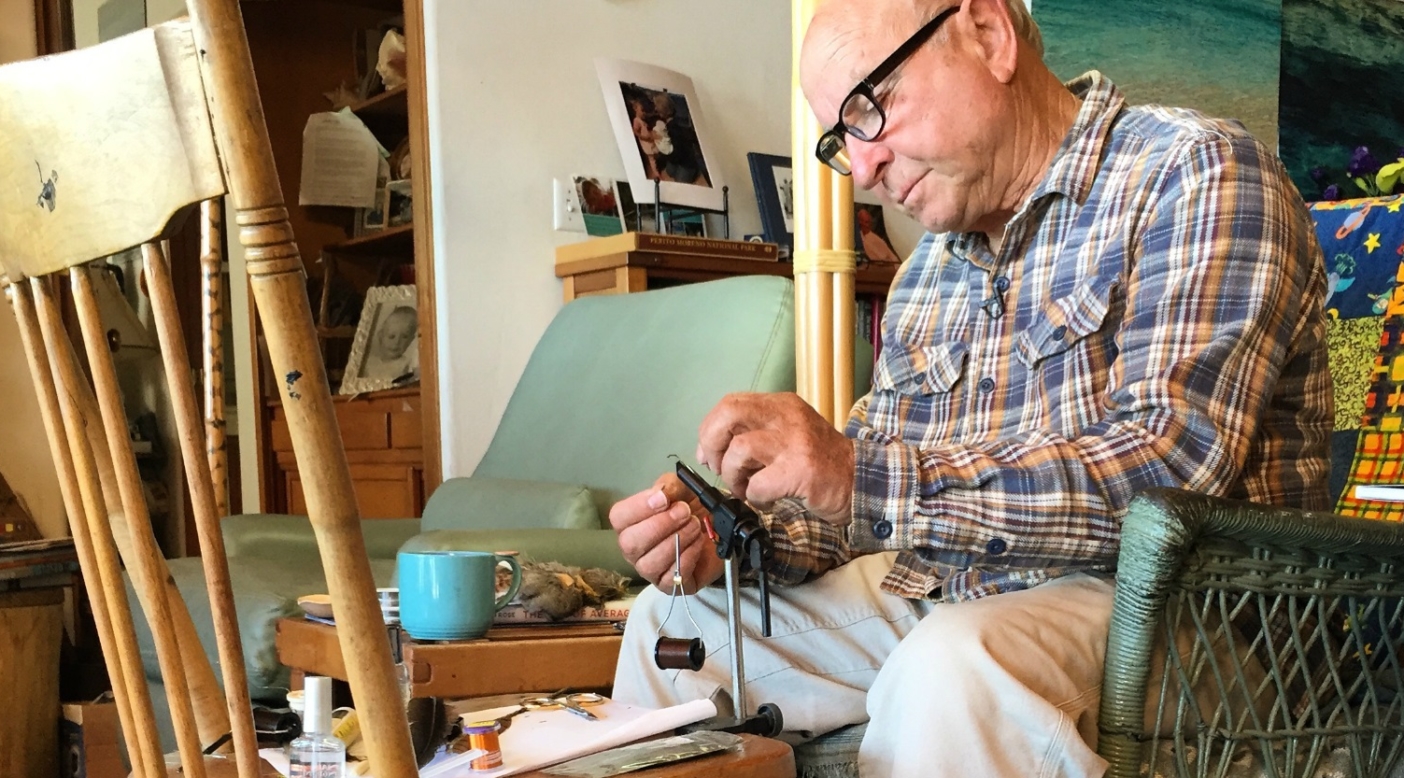 YC Dozen

Donor: Yvon Chouinard, Patagonia Founder
Details: 1 dozen soft-hackle flies tied by Yvon and signed copy of Simple Fly Fishing
How far can one fly go? In 2015, Yvon set out to answer that question, though he's quick to admit that, "like most 'new' ideas in fishing, this one has been thought of before." The scheme: use only the Pheasant Tail & Partridge for all salmon, trout, steelhead, and saltwater fishing.
Yvon took his simple brown flies from the bonefish flats of Cuba and the Bahamas, to the trout streams of Wyoming, Montana, and Idaho, to the salmon rivers of Labrador and Iceland. That fall, he fished the Babine River in British Columbia and caught sockeye salmon and steelhead up to 37 inches. By then Yvon had quit trying to prove a point. It was just the most effective way to fish.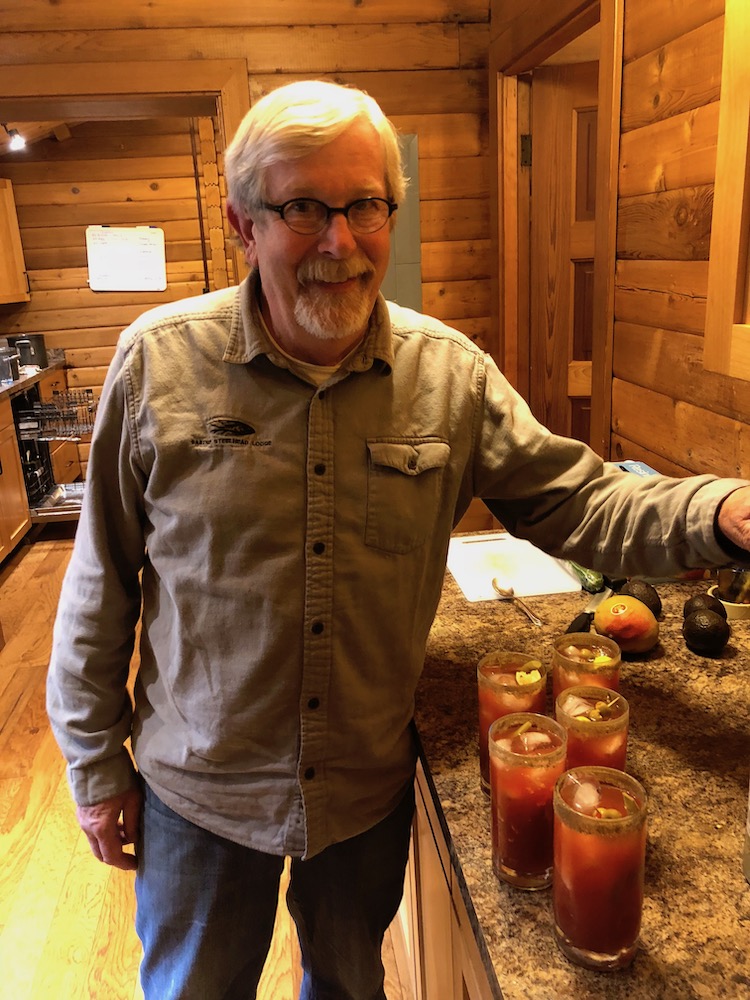 Tommy's Best Day Ever!

Donors: Frontier Farwest, Stork Nest Inn, Telly's Grill, Smithers Brewing Co.
Details: 2 anglers / 1 day guided fishing / 1 night
Plus: Dinner for 2 / Beer, growler, four-pack, and swag
Dates: Mutually agreed upon dates in 2019
Live the good life in British Columbia with this steelheader's dream package. Tommy's Best Day Ever covers a perfect day in Smithers from start to finish.
Once you've checked in at the the cozy Stork Nest Inn, make the five-minute walk to Telly's Grill. The vibe is modern, yet comfortable, and the kitchen staff has perfected traditional Mediterranean comfort food. The star of the menu is the braised leg of lamb, but be sure to leave room for deep-fried ice cream. When dessert has disappeared, Smithers Brewing Co. is right around the corner. Have a pint or three, just don't forget to fill that new growler before you go. You'll want cold beer after a great day of fishing!
The next morning, your guide from Frontier Farwest will pick you up in front of the inn. When he does, you might as well have your waders on. Like all of Tommy's favorite Smithers haunts, the Bulkley River is just blocks from home. In minutes you'll be knee deep in a legendary steelhead river, surrounded by towering mountains and glaciers. Like Tommy, that's probably when you'll overflow with appreciation for wild steelhead and the rivers they return to because, finally, you'll know what it's like to have the best day ever.
* Additional days of fishing available upon request.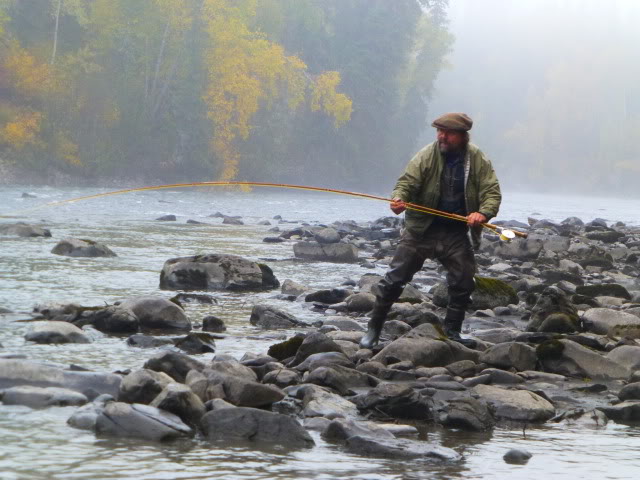 Riverwatch & Farlex Unite!
Donors: Bob Clay, Riverwatch Rods Tim Gelinas, Farlex Reels
Details: 10' 4/5 3-pc., composite ferrules
Farlex 3 3/4" Platewind Direct Drive 1-1 (Green, LHW)
Ask anyone—a bamboo two-hander from Riverwatch Rods is as cool as it gets. In a shop overlooking the Kispiox River, master rodbuilder Bob Clay crafts works of art that that conveniently double as superb fish-fighting tools. But don't think for a second that he is messing around with fussy tackle. The waitlist for a handcrafted Bob Clay rod gets longer every day, and it's not because the rods are pretty. Bob's 10-foot 4/5-weight is just begging for a fish to put the pedal to the metal. It's a dry-line rod with enough backbone to land the biggest steelhead in British Columbia. Don't believe us? Buy it and try it.
What's that old saying? If you give a steelheader a Bob Clay rod and they're going to need a reel to hang on it. Let's cut straight to it—Riverwatch rods and Farlex reels might as well be made for each other. Tim knew what he was doing when he set out to build salmon and steelhead reels. With timeless aesthetics and raised-pillar, gear-and-pawl mechanics, when a Farlex reel unites with a Riverwatch rod the steelhead stars align. This setup is destined to become a classic.
*Ideal Line: Rio Scandi - 330 gr.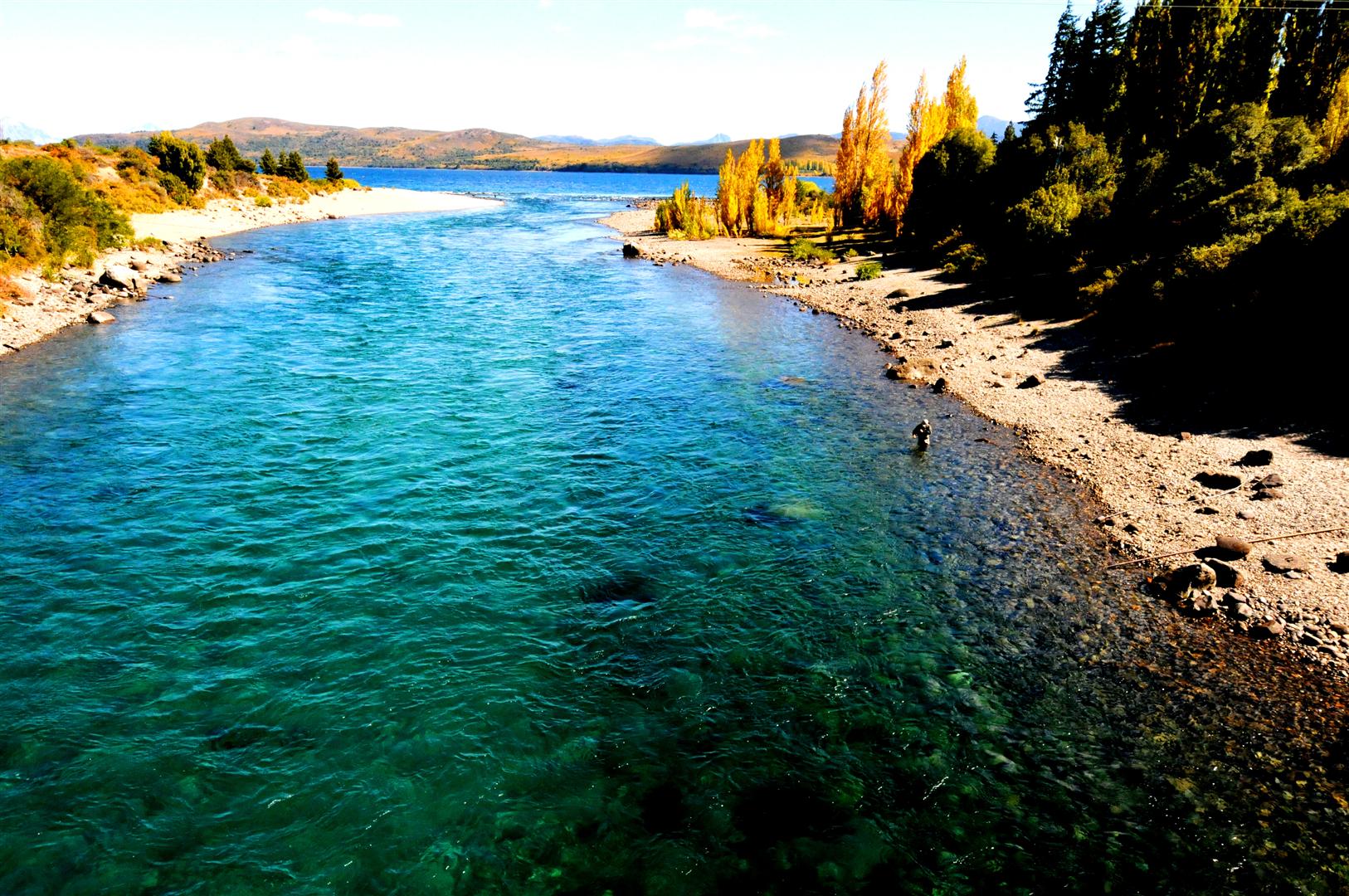 Epic Argentina
Donors: Jon and Jan Kellogg
Details: 2 guests (1 angler, 1 non-angler) / 4 days / 5 nights
Plus: Hosted dinner for 2
Dates: January to April, 2020
Head south to Argentina next winter for four days and five nights in the city of Bariloche, on the southern shore of Lake Nahuel Huapi and surrounded by the Andes Mountains. Your hosts, Jon and Jan Kellogg, have opened their home and planned an Epic Argentina experience.
There is no better basecamp for a Patagonian adventure. Whether you prefer burly browns, red-hot rainbows, or beautiful brookies, the rivers and lakes around Bariloche offer more variety and bigger trout than maybe anywhere in the world. The hardest part of the trip will be choosing between one world-class trout fishery and another. The Limay River or the Manso? Fonck Lake or Hess? Whatever you choose, Jon is ready to guide you to trout that are big, strong, and ready to tango.
Of course, there's more to Patagonia than fishing. In the mountains around Bariloche, there are hundreds of trails. There are short, steep hikes leading to 360-degree views of Nauel Huapi, and half-day treks along the edges of cliffs and through dense forests. Just ask Jan. She's sure to know the right hike for you.
Round out the day with the best of Argentinian cuisine. Your hosts will be thrilled to share their table. On the menu: traditional asado paired with malbecs and local microbrews, as well as an evening out at their favorite restaurant in Bariloche.

* Does not include travel or fishing licenses
** Professional Guides are available for $350 to $400 per day
*** Additional travel arrangements can be recommended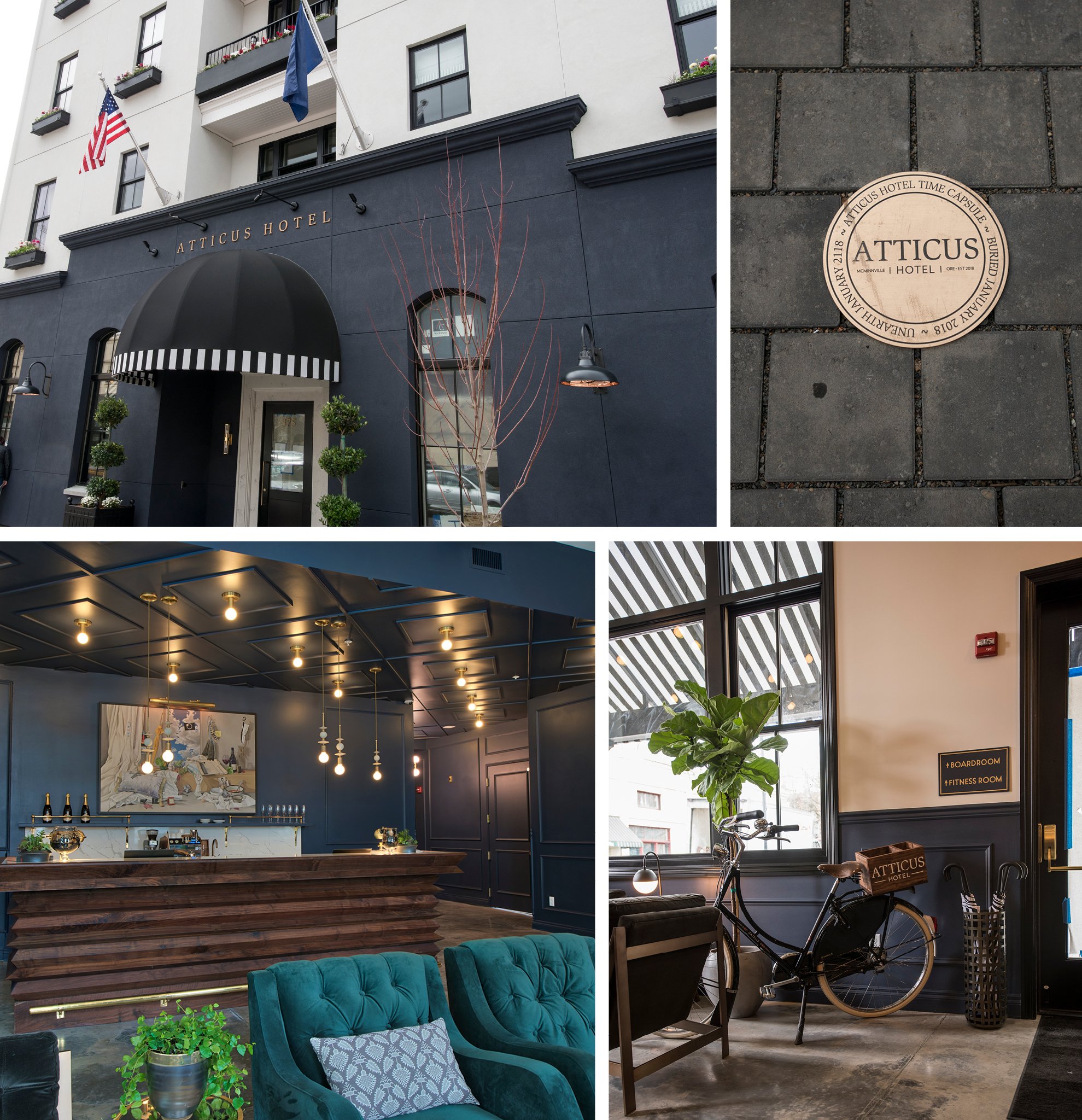 Wine Country Escape

Donors: Atticus Hotel, Community Plate, R Stuart & Co, The Barberry, Winter's Hill Estate, Native Fish Society
Details: 2 guests / 2 nights / Brunch for 2 / Dinner for 2 / Wine flights for 2
Plus: 2017 Lange Estate Homewaters Redd, Magnum (1.5 liters)
Savor a two-night getaway to the heart of Oregon wine country. Wine Country Escape includes a two-night stay at the luxurious Atticus Hotel in McMinnville, just half a block from historic Third Street. Charming, walkable, and lined with cafes, tasting rooms, and tap houses, Parade recently named it "Best Main Street in the West."

We've already arranged for you to visit our favorite wine country haunts. Enjoy brunch at lively and casual Community Plate, and taste captivating local wines at R Stuart & Co and Winter's Hill Estate. Before heading back to the Atticus, round out the day at The Barberry with a dinner of fresh seafood, aged steaks, or house-made pasta.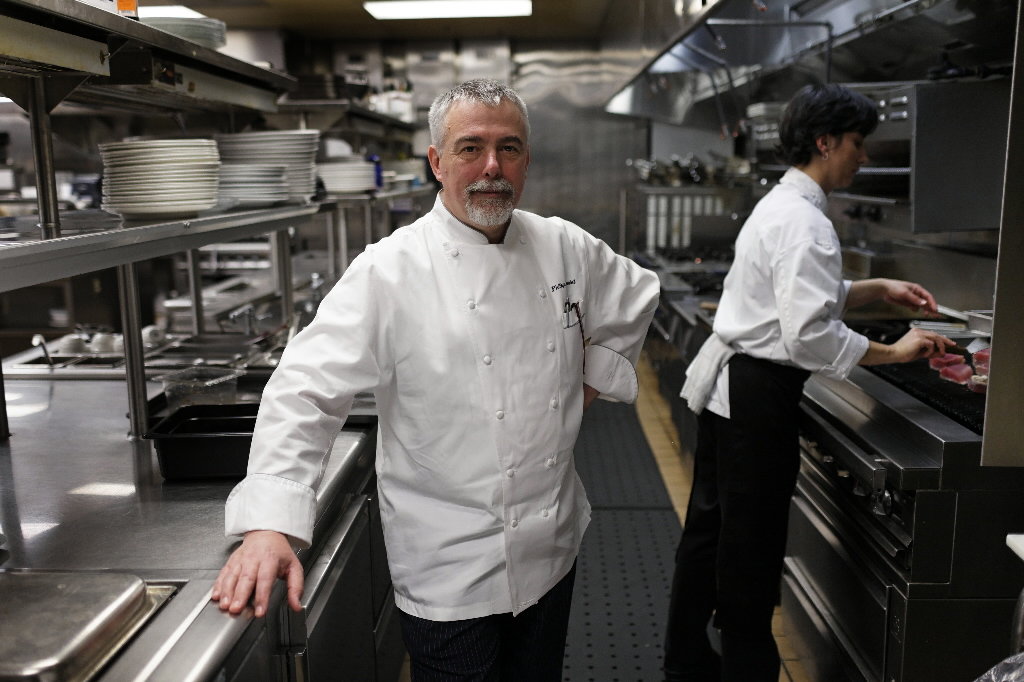 Dinner With A View
Donors: Paul and Carol Fortino, Chef Philippe Boulot, Multnomah Athletic Club
Details: Dinner and wine for 8
Settle in at the Fortino home in Portland's West Hills and savor a private dinner for eight prepared by James Beard Award winner, Chef Philippe Boulot. Normandy-born Boulot trained at Hotel Nikko in Paris under the late culinary superstar Joel Robuchon. He went on to become a pioneer of Portland cuisine, eventually landing at the Multnomah Athletic Club. Boulot has elevated the MAC's dinner menu with dishes like Willapa Bay Oyster Souffle, Carlton Farms pork cheeks braised in apple cider, halibut coconut ceviche, and roasted rabbit saddle stuffed with mushroom duxelle.
What will Chef Boulot prepare for you? That is at the discretion of the chef. At work Boulot cooks for his customers. But when he cooks for his friends, he aims to please himself. So settle in, take in the view of the Columbia River and the Portland Skyline, have a glass of wine from the Fortino's spectacular private cellar, and enjoy Dinner With A View.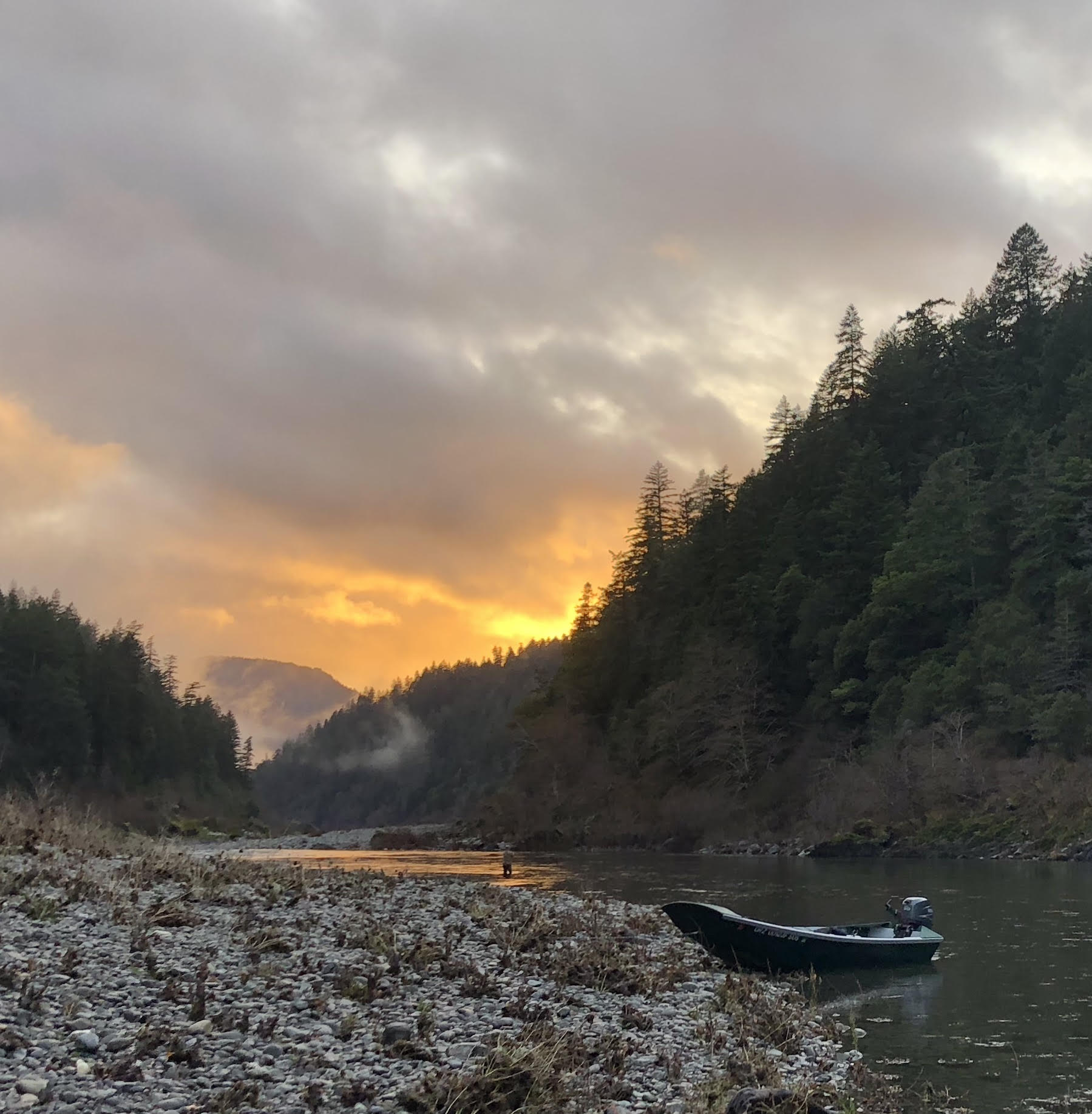 Get Your Kicks in Curry County
Donors: Confluence Outfitters, Andrew Harris, The Cape House, Celeste Southworth, David Pirelli, Fisherman Direct, Nectar of Life Coffee, Spinners Seafood, Steak & Chop House, Barnacle Bistro, Mark Sherwood, Native Fish Society
Details: 2 guests / 2 nights / 2 days fishing winter steelhead / gift certificates to local eateries for dinner and locally roasted coffee.
Dates: Mutually Agreed Upon Dates Winter 2019 - 2020
There's no better way to get your kicks than chasing wild winter steelhead for one beautiful long-weekend adventure on Oregon's wild southern coast. This getaway for two is perfect for the angling couple.
Stunning vistas of the Oregon coast will greet you at the Cape House, located high above the Pacific on Cape Sebastian. The Cape House's comfortably rustic accommodations include: two beds, a hot tub located off the main bedroom, a wood fireplace and expansive views from almost every room.
Day one, the exceptionally professional and talented guides from Confluence Outfitters will take you out in search of some of the finest wild winter steelhead anywhere. Day two you'll fish with south coast local, Mark Sherwood. If the Rogue is in shape, you'll ride in the NFS Dean River jet boat. If not, Mark has access to a small fleet of boats to access some of the best medium and small water in the county. Lunch and flies provided both days.
At night, enjoy meals at Barnacle Bistro and Spinner's Seafood, Steak, and Chop House. Don't forget to stop by Fisherman Direct Seafood as well to pick up fresh oysters, dungeness crab, or canned albacore for snacks at the Cape House!
This is truly one of the best times two people can have on the south coast. Don't miss getting your kicks in Curry County!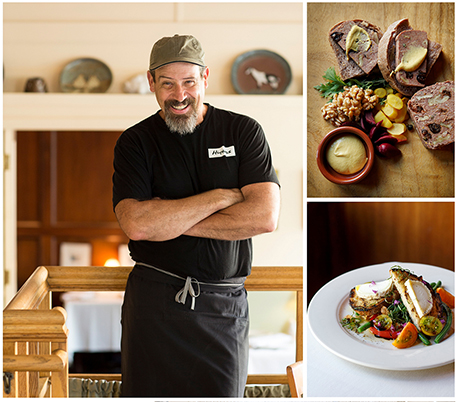 Slow Food Feast at Higgins
Donor: Greg Higgins, Higgins Restaurant & Bar
Details: Dinner and wine for 6
Dates: Sunday to Thursday, after 7:30 p.m.
Savor a slow-food feast with James-Beard-Award-winning-chef Greg Higgins. Greg is a groundbreaking member of the Portland culinary scene with not-so-secret passions for fishing, foraging, and craft beer. His menu reflects those passions, highlighting Pacific Northwest flavors that are sustainably-sourced and prepared with international inspiration. Those in the know rave about Higgins staples like the house charcuterie, seasonal risotto, and the whole pig plate. Just don't forget to try the soup—locals say it's the best in the city. Each dish is meant to be paired with a pint of whatever the chef recommends. His hand-selected beer list is, on its own, a Portland treasure. Greg and his eponymous restaurant are Northwest culinary landmarks. The Slow Food Feast at Higgins, is an experience you'll be talking about for years to come.
* Notify Marsha at least one week in advance
** Gratuity not included
***Expires March 2020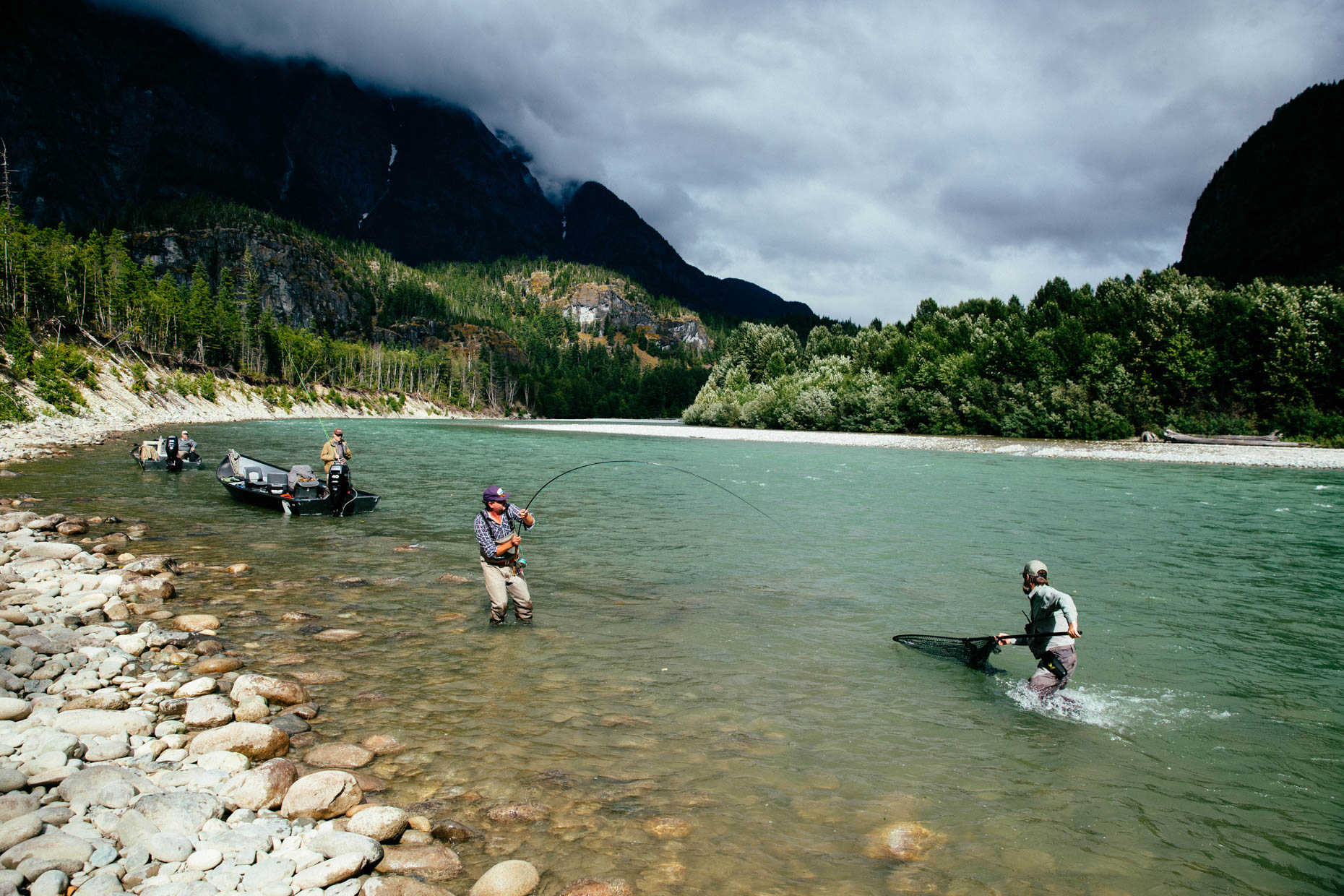 Dean River Dream with Fish the Swing
Donors: Jeff & Kathryn Hickman, Fish the Swing, Kimsquit Bay Lodge
Details: 1 angler / 1 week fishing the Dean for steelhead and the Kimsquit for Coho
Dates: September 6 - 13, 2019
Dean River in September. Big fish, no crowds and abundant wilderness.
This is a one week all inclusive stay at Jeff Hickman's Kimsquit Bay Lodge September 6th - 13th (Friday - Friday). You will fly in a modern and comfortable Cessna Caravan on floats from Vancouver, BC two hours directly to the lodge. The flight alone is worth the trip. Six days guided fishing using jet boats, 4 days on the lower Dean River targeting steelhead below the falls, 2 days boating to the nearby Kimsquit River and targeting Coho salmon. The Hickman's 30ft aluminum offshore boat allows comfortable access to rivers that are untouched by humans.
This is fly fishing the way it was 100 years ago. A wilderness adventure like this is a rare thing. Each night you will be spoiled with amazing meals prepared by their award winning chef and sleep in a comfortable cabin each with its own private bathroom. A hearty breakfast each morning and a new adventure awaits you each day.
There is no more scenic lodge in the world. A truly remote and beautiful place with an unbelievable fishery that needs to be experienced to believe. Now is your chance.
*Includes airfare from Vancouver, BC
**Does not include gratuities, license fees, or travel to Vancouver, BC

Desert Steel
Donor: Pat Dunham, NFS John Day River Steward
Details: 2 anglers / 2 guided days / 1 night at private ranch on the John Day River
Dates: Mutually agreed upon in October or November 2019
Where else on earth can you swing for steelhead in a desert canyon? By the middle of October, the John Day River may be the best place in the Northwest to connect with desert steel. Take the Spey rod, leave the sunscreen and make tracks for eastern Oregon, where two days of fishing and a one night stay on a private ranch are waiting for you.
NFS John Day River Steward Pat Dunham has generously donated two days of guided walk-and-wade fishing from a private riverside ranch. The winning bid gets you access to nine steelhead runs over three river miles, not to mention meals, lodging, and someone to net your fish. Rods and reels can be provided if necessary. All you need is a change of clothes and a nice bottle of something-or-other to share with your gillie.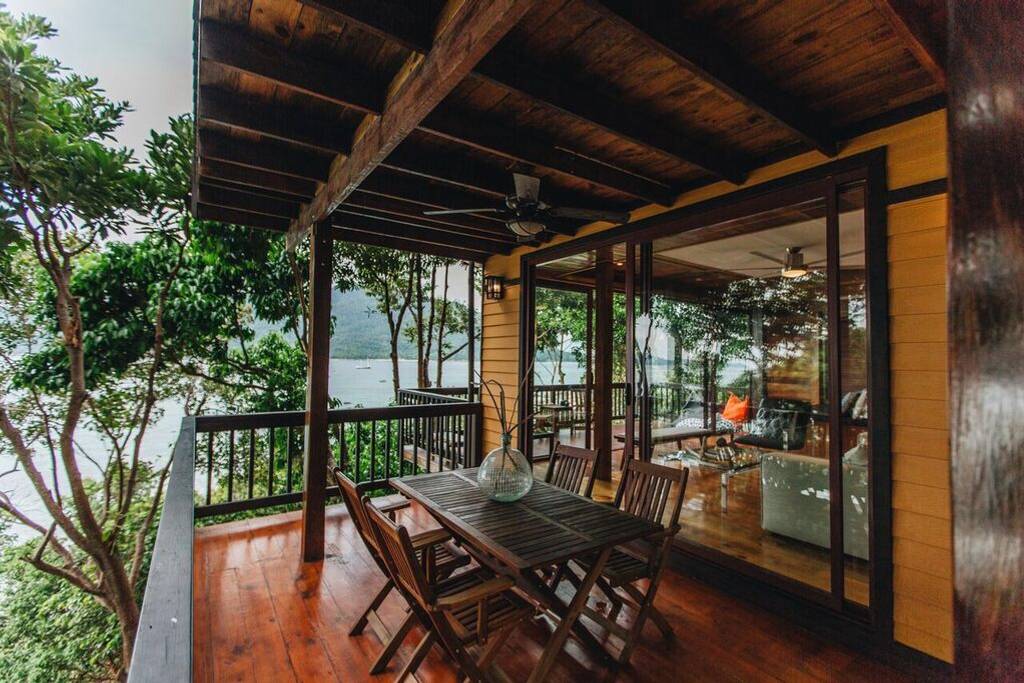 Tropical Thailand
Donors: Chip & Prang Rothenberger
Details: 8 guests / 6 nights / 2 bedrooms / 6 beds / 3 bedsDates: Mutually agreed upon (see blackout dates below)
Take in all the peace and tranquility that the island of Koh Lipe has to offer at Windcatcher House on Cashew Nut Cove. Built in the western style with southeast Asian influences, the home couples the good vibes of island living with western creature comforts. Complete with a full kitchen, clean running water—both cold and hot—there is nothing else like it on Koh Lipe.

On a still day, throw open the the doors and windows and let the house create its own breeze.Take in the view of the cover from the massage room on the main floor, or head to the private beach to take in a tropical sunsets.
This is the only private home on Koh Lipe. For tranquility and privacy, Windcatcher is one-of-a-kind.
* Services like cleaning, laundry, and massage are available upon request.
** Does not include travel to Koh Lipe, Thailand.
***Blackout dates: December 15, 2019 - January 5, 2020


Spin the Handle Deschutes Steel
Donors: Matt Mendes, Spin the Handle
Details: 4 guests / 1 day steelhead fishing the Reservation side of the Deschutes
Dates: Mutually agreed upon in 2019
Enjoy fishing the legendary Deschutes River in solitude with a guide from Spin the Handle. Offering both boat and walk-in access, Matt Mendes and his team of knowledgeable guides have secured rights to fish the private, 25-mile stretch of sweet swinging water on the Warm Springs Indian Reservation. With more than 20 years of experience on these exclusive runs, there's no better place in the desert to experience solitude and steelhead—and no one better to guide you there.
**Does not include Oregon Fishing License, Tribal Permit, or Deschutes Boater Pass