Saturday, June 16th 2018 12:00pm - Saturday, June 16th 2018 7:00pm
Valley of the Rogue State Park
Wild and Scenic Rivers Act - 50 Year Anniversary Celebration on the Rogue River
Come and join us at the 50 Year Celebration of the Wild and Scenic Rivers Act!
50 Years of Local Gems: Partners Come Together to Host Celebration for Wild and Scenic Rivers and the National Trails System!
Valley of the Rogue State Park, OR—2018 marks the 50th anniversary of two landmark acts in the United States: the Wild & Scenic Rivers Act of 1968 and The National Trails System Act of 1968.
Southwest Oregon is home to seven Wild & Scenic Rivers and a number of trails included in the National Trails System, including the Pacific Crest National Scenic Trail, the Gin Lin Trail, and the Rogue River Trail. To commemorate these important places, agencies and partners are hosting a free event at Valley of the Rogue State Park that will include music, speakers, food, and family-friendly activities! Highlights of the event include:
Performances by 33 String Drive and Flat 5 Flim Flam;
Appearances by Smokey Bear and the Leave No Trace Bigfoot;
The Salmon Tent and Oregon Caves Inflatable Cave;
Activities, prizes, and free raffle items for kids;
Food and beverage vendors, including Victory Dogs, Daddy Ramen, Snoball Shaved Ice, Chetco Brewing Company, Climate City Brewing Company, and Del Rio Vineyard;
Guided rafting trips with Rogue Rafting Company, beginning in Gold Hill, downriver to Valley of the Rogue State Park at reduced prices (shuttle included);
Showings of films celebrating the rivers and trails; and
Booths from vendors and exhibitors with hands-on activities and information sharing opportunities!
The details:
Where: Valley of the Rogue State Park
When: June 16, 2018 from 12:00 PM – 7:00 PM.
The public are encouraged to follow the Facebook Event Page for future updates on performance times and other details as the date draws nearer.
This event promises to be a lot of fun, and has been made possible through the coordination and contributions from the event's partners (in alphabetical order): Army Corps of Engineers at Lost Creek Lake; Bureau of Land Management's Medford District; Mt. Ashland Ski Area; National Park Service's Oregon Caves National Monument and Preserve; Oregon State Parks; REI: Medford; Rogue Riverkeeper; and the U.S. Forest Service's Rogue River-Siskiyou National Forest.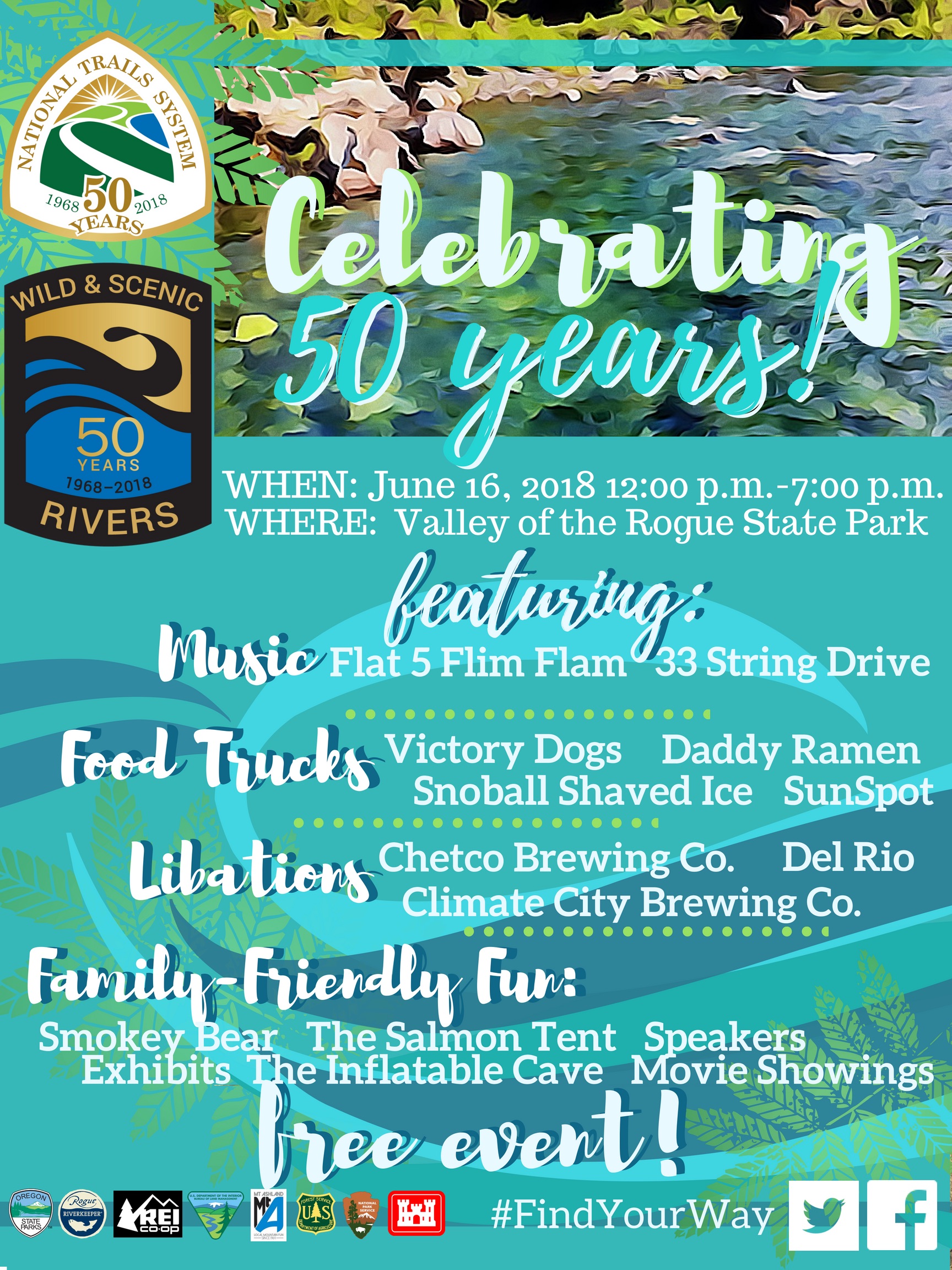 Posted in:
Events
River Stewards
Community
Habitat
hydropower