Olympic Peninsula Outreach: Quileute and Hoh Nations/Coastal Steelhead Projects updates
You're Invited to our BIG Homewaters: Run Wild Benefit Banquet and Auction on April 22nd!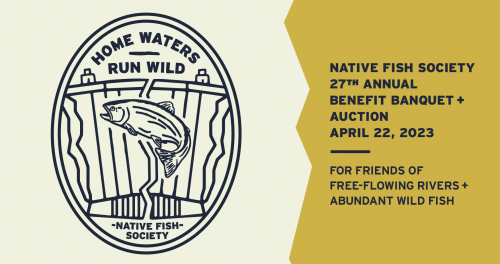 Join Us for a Guaranteed Good Time for a Great Cause! We are back In-Person on Saturday, April 22nd, 2023 for THE BIGGEST PARTY FOR WILD FISH IN THE UNIVERSE! Our Silent Auction will be held virtually starting Sunday, April 16th, and closing on Saturday, April 22nd at 6:30pm PST. When: Saturday, April 22nd, 2023 Where: The Loft at 8th Avenue - Portland, OR What: A banquet and auction supporting the revival of wild, native fish, free-flowing rivers, and thriving local communities.