Update: WDFW reported told that there are 400 outstanding permits for motorized mining. As of June 11th, 398 of those permits will be "illegal," in other words, miners will not be able to mine where the permits allowed prior to that date. This law will now protect 11,000 miles of ESA critical habitat, and 61,000 other miles of not critical habitat. The map below gives a good depiction of habitat that will now be protected. Together, we have halted the damage caused by suction dredging where endangered salmonids live, brought mining practices in line with state water quality laws and the Clean Water Act, and took an important step toward a future with greater abundance of salmon and steelhead for all Washingtonians.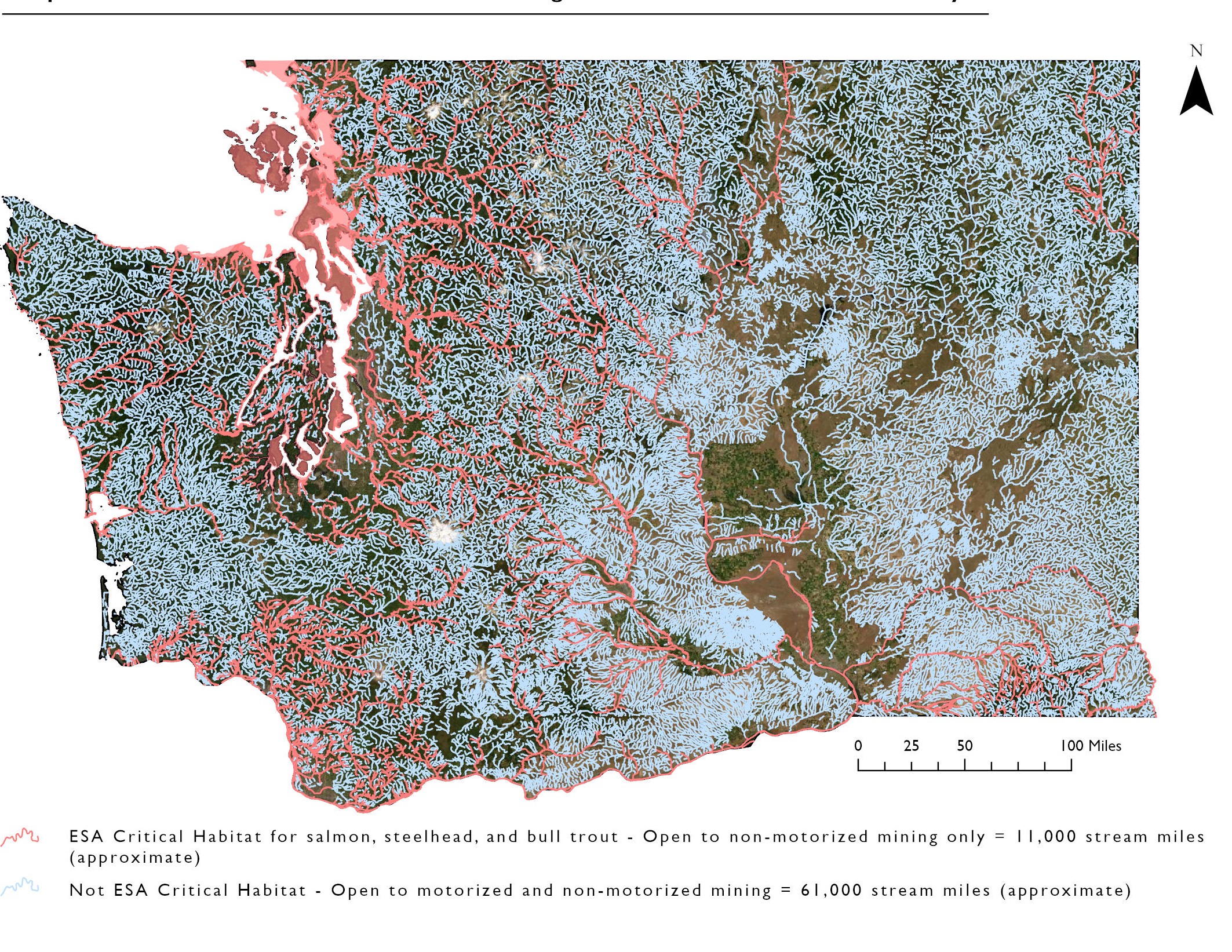 Thanks to your dedicated voices for conservation across WA, protections for our state's fish habitat and water quality began with the passage of suction dredge reform legislation (HB 1261) and became law! This legislation will protect thousands of miles of critical habitat for salmon, steelhead, and bull trout from the harmful effects of suction dredge mining. This is an incredible win for Washington's watersheds, and it has been a long time coming.

We still need YOU! There is still plenty of important work to be done in the coming months as Washington Department of Fish and Wildlife and WA Department of Ecology begin their rulemaking processes – strong engagement will be essential to ensuring robust rules and on-the-ground implementation align with the intent of the legislation.
Please sign up HERE to receive alerts when we can once again exercise our collective voices to stand up for wild runs of native fish!
Native Fish Society want to express our gratitude and congratulations to our partners in this successful effort. Trout Unlimited, Fish Not Gold, Washington Wild, Northwest Treaty Tribes, and over 150 other entities that banded together to stand up wild fish.