Native Fish Society Invites You To Our 5th Annual Homewaters Roundup!
When:
In-person event: Saturday, November 11th, 2022; 6pm - 9pm
Online Auction: Bidding begins Sunday, November 5th, and closes at 5:00pm PST on Saturday, November 11th
Where: 
In-person event: 65599 Tweed Rd, Bend, OR
Online Auction: Wherever you have wifi!
What:
A Central Oregon celebration and virtual auction benefiting our wild, native fish, free-flowing rivers, and thriving local communities.
~~~~~~~~~~~~~~~~~~
Enjoy a lovely evening of fellowship, festivities, and even a few exciting raffle prizes benefitting Oregon's native fish and wild rivers.
$100 admission includes a delicious buffet-style BBQ dinner from Cody's Country Catering, craft brews from our friends at Deschutes Brewing, and a specialty cocktail from the good folks at Crater Lake Spirits and Crafted Life.
Whether you join us live and in person or from the comfort of your favorite easy chair, our Virtual Silent Auction has a little bit of everything for your bidding pleasure. From hosted fishing days with NFS staff to quality Yakima Racks, Patagonia gear to hot air balloon rides, we've got it, thanks to our generous friends and sponsors.
For those in the Central Oregon area wishing to attend on November 11th, Homewaters Roundup in-person tickets are limited, so get yours today!
Take a look at the incredible items available in the auction catalog, updated regularly, and get to bidding in the name of wild fish! You don't want to miss any of the fun!
*Note: While virtual registration is free, you will be asked for a credit card to sign up. You will ONLY be charged if you win any items you place bids on.
Check out some photos from our 2022 Homewaters Roundup: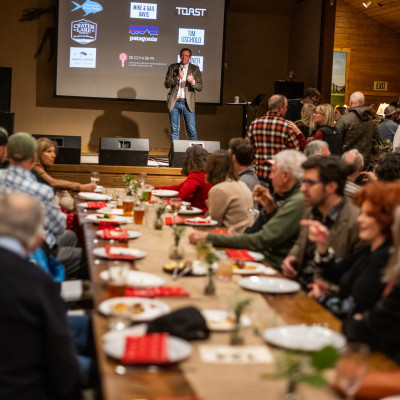 A huge thank you to our generous sponsors!
Southern Oregon Neurosurgery, Loon Outdoors, Decked, Yakima Racks, Patagonia, NAM Products, Scott Fly Rods, Warner Munro
In-person Homewaters Roundup Benefit Banquet location this Saturday evening, November 11th: