Coastal Cutthroat Curious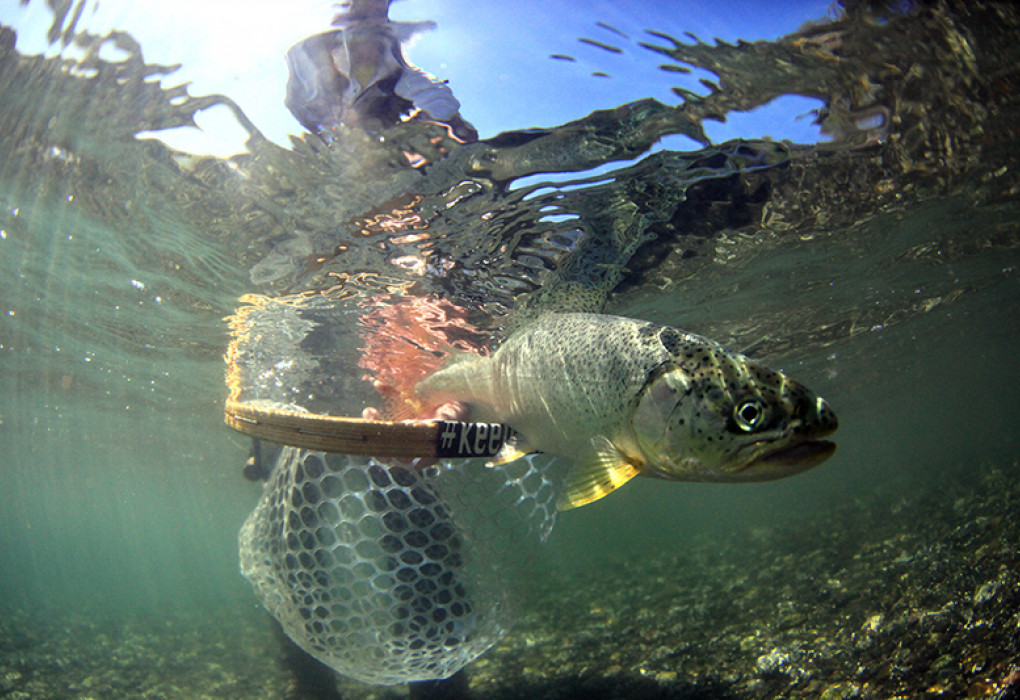 Posted:
A field update from the Puget Sound coastal cutthroat campaign
Words by James Losee, WDFW Fisheries Biologist
It's winter on Puget Sound. Recent rains and rising rivers have cleared local streams of the last remaining chum, coho and Chinook salmon carcasses, and the beginning of spawning for cutthroat trout is still at least a month away.Most years, a walk along one of south Puget Sound's many small tributaries may reveal a family of beavers repairing winter damage, or a lone water ouzel gliding through the rapids. Compared to the bustle of fall, when salmon are spawning, the streams are quiet. This year, however, biologists and volunteers from Washington Department of Fish & Wildlife, Native Fish Society and The Coastal Cutthroat Coalition will be taking a closer look.
The question is modest: how many sea-run cutthroat trout spawn in Skookum Creek?But the implications for managers throughout the range of this subspecies are huge. For more than a decade, River Stewards and WDFW volunteers, led by Bill Young, have been counting redds in Skookum Creek to improve our understanding of spawn-timing, as well as teaching others to identify redds in their area.The hope is that data like these will allow managers to truly identify poor and good returns; "poor" and "good" having been used loosely to describe cutthroat returns in the past. In order to do that, we need to know how the number of redds relates to the number of spawners.More specifically, we need to know how many fish it takes to make a redd.
With an estimate of fish per redd, biologists, fish managers and volunteers could estimate abundance of sea-run cutthroat by simply counting redds.Keeping a count of 14- to 20-inch fish as they enter the spawning grounds and establishing the number of redds they leave behind is difficult business.With initial money awarded to NFS from the Patagonia World Trout Initiative and the Sol Duc Foundation, as well as further fundraising momentum from the Coastal Cutthroat Coalition and well-planned study design by Gabe Madel, we have been tagging adult cutthroat in Puget Sound marine waters with small electronic tags called Passive Integrated Transponders, or PIT tags.Using antennas installed throughout the spawning grounds, we can detect the presence of tagged fish, allowing for an accurate count of cutthroat trout by size, time, gender and age as they enter the creek.By comparing fish counts to redd counts, we can achieve the holy grail of cutthroat research: the number of fish per redd.
While I write, there are approximately 250 tagged sea-run cutthroat trout swimming in south Puget Sound marine waters, waiting to enter freshwater to spawn.Unlike the noisy, short-lived spawning behavior of salmon, anadromous cutthroat are discrete spawners, making them difficult to track.Under a fallen log, or at the bottom of a shaded pool, cutthroat trout can go undetected once they enter the stream. It can take as long as six months to finish spawning and the only sign that they've been there is a small patch of disturbed gravel.
Over the coming months NFS, WDFW and the Coastal Cutthroat Coalition, not to mention the anglers, conservation groups and businesses who have pitched-in, will be watching for results from this research as these native trout move onto the spawning grounds and finally provide fish managers with an effective tool to estimate abundance of anadromous coastal cutthroat trout.