Oregon Senators Introduce Key Recreation and Land Protection Bill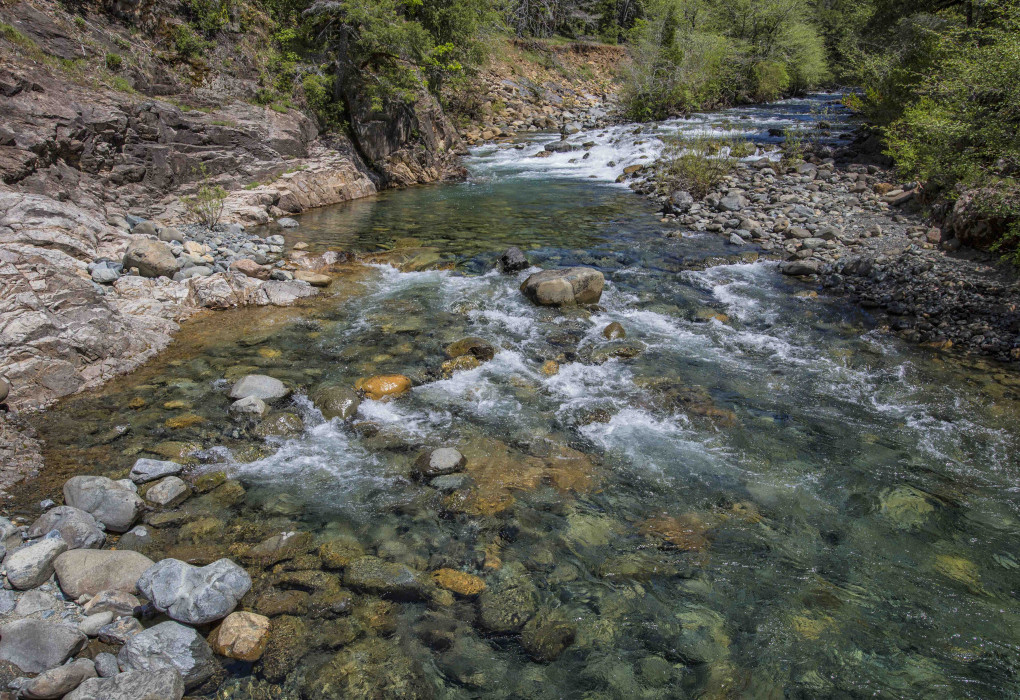 The crystal clear waters of Baldface Creek in southwest Oregon that would be protected from mining through passage of the ORE Act. Photo: Ken Anderson
Posted:
This week, River Stewards and NFS members are applauding U.S. Senators Ron Wyden and Jeff Merkley from Oregon for their re-introduction of legislation to help boost recreation and advance key river protections for high priority areas in the state.
As introduced the Oregon Recreation Enhancement (ORE) Act would create the Rogue Canyon Recreation Area and the Molalla Recreation Area, and expand the existing Wild Rogue Wilderness Area. Importantly this bill will also permanently withdraw an area in southwest Oregon threatened by a foreign company seeking to mine for nickel laterite in the headwaters of Oregon's natural treasures on the Wild Rivers Coast, which if occurred would threaten wild salmon and steelhead and jeopardize clean drinking water for thousands of Oregonians.
Specifically, the ORE Act includes:
Molalla Recreation Area

Establishing a 30,000 acre recreation area on the banks of the newly designated Wild and Scenic Molalla River in Clackamas County next to the Table Rock Wilderness Area.
Rogue Canyon Recreation Area
Establishing a 98,000-acre area on the banks of the existing Wild and Scenic Rogue River in Southwest Oregon next to the existing Wild Rogue Wilderness Area.
Wild Rogue Wilderness Expansion
Expanding the existing Wild Rogue Wilderness Area by about 60,000 acres.
Southern Oregon Mineral Withdrawal
Permanently prevent mining on more than 100,000 acres of U.S. Forest Service land near the existing Kalmiopsis Wilderness Area. After a multi-year campaign lead by River Stewards affected by the mining threat (identified as one of the most polluting industries in the country by the Environmental Protection Agency) the U.S. Forest Service and Bureau of Land Management issued a 20-year mineral withdrawal for this area in 2016. If passed, this bill will permanently establish that mineral withdrawal, thereby protecting the headwaters of Hunter Creek, Pistol River, Rough and Ready Creek a tributary to the Wild and Scenic Illinois River, and Baldface Creek a tributary to the Wild and Scenic North Fork Smith River in the southwest corner of the state.
All of these provisions were introduced, but did not make it, into the final large bipartisan public lands bill that passed last year, the Oregon Wildlands Act as part of S. 47. The ORE Act is important for protecting key public lands and rivers in Oregon, and boosting the state's outdoor recreation economy.
We are excited to see the leadership of Oregon's Congressional delegation and encourage you to contact their offices and show your support for this important bill!
Contact:
Senator Ron Wyden Email or by phone: (541) 858-5122 Medford / (202) 224-5244 Washington DC
Senator Jeff Merkley Email or by phone: 541-608-9102 Medford / (202) 224-3753 Washington DC
It's easy to call and give a quick message thanking them for protecting these key important rivers and lands, and helping promote outdoor recreation. Be sure to thank them for the Oregon Wildlands Act and now the Oregon Recreation Enhancement Act that will protect the headwaters of the Smith, Illinois, and Pistol rivers and Hunter Creek, as well as helping to boost outdoor recreation in the Rogue and Molalla river corridors.