Strong Runs Illustrator Highlight - Sarah King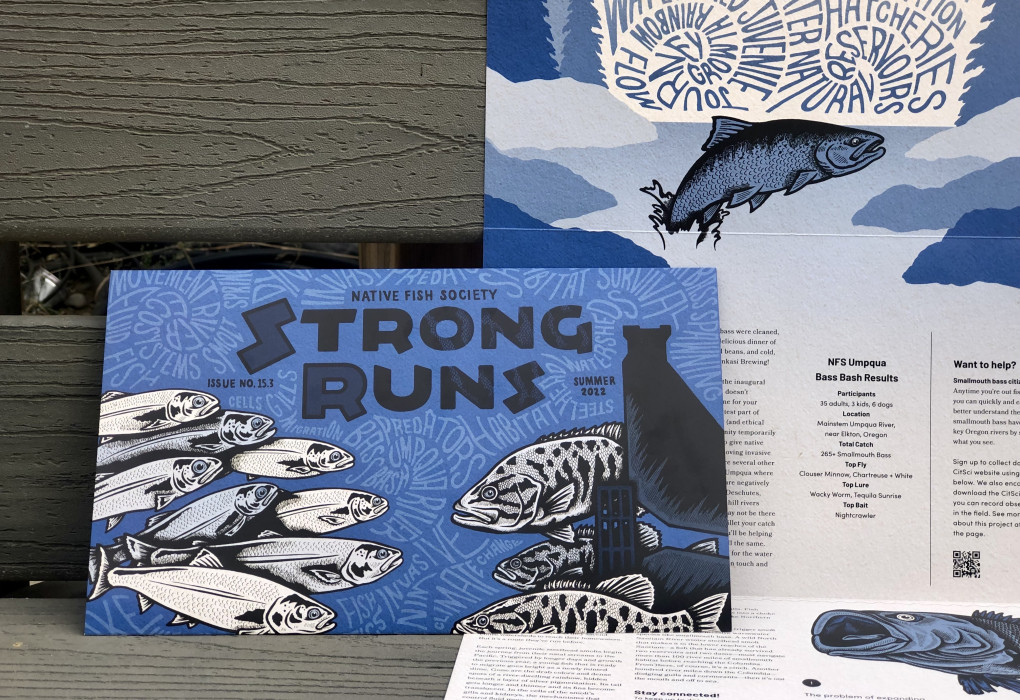 Posted:
Strong Runs is the Native Fish Society's quarterly print newsletter delivered directly to our supporters. Each issue features different artists' unique illustrations that convey our work in an informative, creative, and welcoming way.
Our most current issue No. 15.3 was illustrated by the talented designer, Sarah King. Note: Click below to read the digital version.
Sarah King grew up in London England, studied graphic design at the University of Brighton, and now lives in Ucluelet on the west coast of Vancouver Island. Sarah's interest in graphic design, illustration, and words combined over a few years. It developed into the shape-forming typography that she often now uses. She spends as much time as possible in the mountains snowboarding, biking, and hiking, or by the ocean surfing and drawing. Her work is often inspired by her surroundings, and anything else weird and wonderful that finds its way onto paper.
Read on for a Q&A with Sarah to learn more information about her art and connections to our mission to revive abundant wild fish and free-flowing rivers: 
NFS: Tell us about yourself! Whether personal or professional, we want to hear about you and your story!
SK: I grew up in London, England, but always felt I needed to be somewhere with more nature. I worked as a scuba diving instructor on conservation projects during my summer holidays in art school. After that, I came to BC on a snowboarding trip and never quite left! That was back in 2011. I now live on the coast in Ucluelet. 
NFS: What or where makes you feel most inspired to make art?
SK: Nature, friends, adventures, and people doing inspiring work such as conservation. 
NFS: What environmental art have you seen that you've found compelling?
SK: Hannah Eddy has so much beautiful work that usually contains an important reminder or message. 
NFS: What do you want your art in Strong Runs to convey about wild, native fish and rivers?
SK: Exploration, details, love for nature, learning, and exploring. 
NFS: What role do you think art should play in environmental advocacy?
SK: It's such a valuable tool in helping to make serious conversations more accessible, and to brighten up some of the heavy stories out there. Or to bring another eye and more awareness to issues. 
NFS: How do you like to connect with nature?
SK: Surfing, snorkeling in the kelp, swimming in the rivers, hiking, split-boarding, walking my dog 
NFS: What is your favorite plant or animal and why?
SK: Oh, that's so hard. The Giant Pacific octopus is way up there. There are so many good plants where I live, kelp, cynamocka, Salal, and ferns. I absolutely love moss. 
NFS: If you could be anywhere in the world doing anything at all right now, what/where would it be?
SK: I live in my favourite place in the world, so being here, making art, hanging with my dog, and surfing. My partner and I have been building a house since 2020 so the dream would be for it to be finished. 
~ ~ ~
Thank you Sarah for your incredible artwork for this issue of Strong Runs! If you would like to see more of her work, follow her on Instagram @sarahkingart and visit her website.
Our printed Strong Runs issues are an exclusive perk for our donors. If you would like to receive them quarterly click the button below to donate!