Banquet + Auction 2017: Just Around the Corner

Saturday, April 8, 2017, the Native Fish Society, wild fish supporters, and over 100 generous donors will come together under the big top at Montgomery Park in Portland, Oregon to create the largest wild fish fundraiser/party in the universe. Looking for lodging in the area? Our friends at Silver Cloud Inn are ready for your reservation. Just mention Native Fish Society and they will set you up in a peaceful room for a discounted rate - all within walking distance of the event. Stay tuned as we update this page with more information and this year's auction items. Can't wait to see you there! PURCHASE YOUR TICKETS HERE!
2017 Auction Items
Our Benefit Banquet + Auction features over 150 items auctioned in three different categories: Live, Super Silent, and Silent. Our Silent and Super Silent items are auctioned off first, during a two hour silent auction. Super Silent items are distinguished from Silent items by their increased value and/or rarity. Typically, there are 125 items in these two categories.
18 Live Items will be auctioned off during the Live auction portion of the evening, concurrent with a delicious dinner, award ceremony and festivities.
Over the coming weeks we will be updating this page with this year's auction items - don't be alarmed if you don't see all 150 items - some will remain a surprise until the night of the event!
Live Items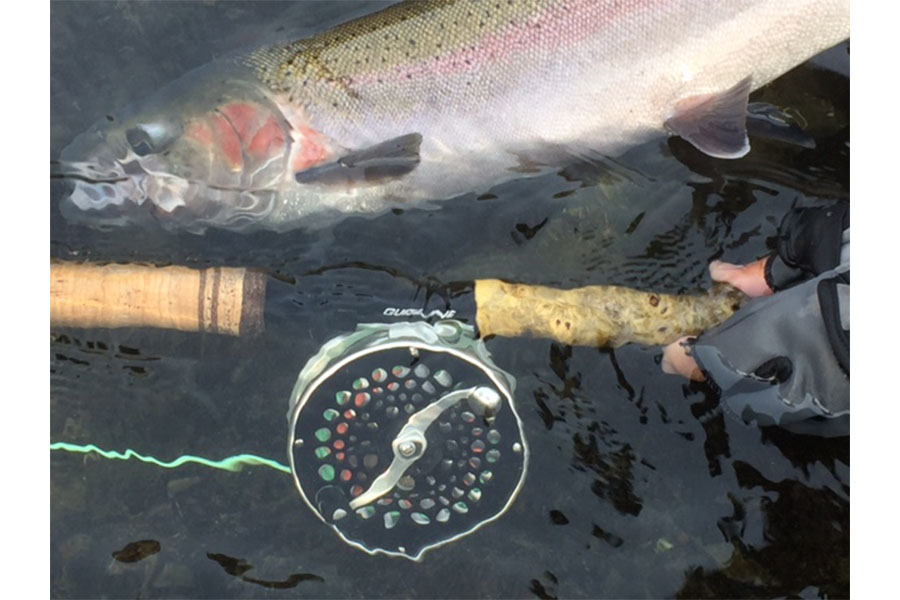 Clearwater Snake
Donor: Michael Mathis, Lower Hells Canyon River Steward
2 Anglers / 5 Days / 2 Rivers
Join Lower Hells Canyon River Steward and Professional Guide for over 40 years, Michael Mathis, for 5 fish-filled days on two spectacular Washington & Idaho rivers. The Snake and the Clearwater both fill with migrating Steelhead in the spring and fall. The Snake River is the primary holding water of the spring run A's, while the Clearwater River is the best place to fish the Big B-run. Michael will get you where the fish hold in his Alumaweld Super Vee jet sled. Lunch, snacks and beverages are provided as well as Michael's four decades of experience chasing these magnificent fish.

Lodging options are abundant. Lewiston has several hotel options for your choosing and if you like to camp, Hell's Gate State Park has standard tent sites and cabins!

Lodging, breakfast and dinner, license and gratuities not included.


Homewaters Redd Jeroboam
For over thirty vintages, Lange Estate has been crafting some of the finest examples of Pinot noir from Oregon's best vineyard sites - including the highly recognized Freedom Hill Vineyard outside of Rickeall.

Vintage 2015 has been hailed as one of Oregon's finest vintages ever. This small selection bottling emanates from a lovely two-acre block of 777 clone Pinot noir. Winemakers Don Lange and Jesse Lange crafted this wine with Native Fish Society in mind. Like our natural resources, this Pinot noir should be enjoyed now but also protected and revered for decades to come.



Saracione Splendor
Donor: Joe Saracione, Saracione Fly Reels
3 3/4" Mark V Fly Reel
This Oregon made masterpiece will perfectly compliment your favorite 12-13 1/2 ft. spey rod. The Saracione Mark V fly reel features an all new sealed carbon fiber drag system in addition to the separate gear and pawl system. Working in tandem, these two drag systems ensure you don't end up backlashed the next time you tie into a fish a little bigger than you were planning on. The 3 3/4" is Saracione's most popular salmon and steelhead reel, period! Anglers form all over the world snatch them up like they're going out of style - this is indeed the Saracione reel of choice. If you're looking for a classic, heirloom quality salmon and steelhead reel that can be fished hard - don't look any further.

Specs: Spool Width: 1 5/32". Weight: 11.5 ounces. Fly Line: 6,7,8. Capacity: 125+ yards


Back to Black Butte Ranch
Donor: Jim & Kathy Foote
Dates: Available before May 15, 2017 or after September 30, 2017
Up to 10 Guests / 3 Nights / 4 Days
Enjoy life at a different pace, with up to ten of your closest friends or family members as you retreat to Black Butte Ranch and experience the beauty of Central Oregon. The spacious 2700 sq. ft. lodge-style home features a large sun deck, vaulted pine ceilings, 25 ft. picture windows and handsome tiled floors. It also includes a fully equipped kitchen dining room and a spacious bonus room.

Its prime location, just 20 minutes from HooDoo Ski Resort and five miles from the Metolius River, positions it perfectly for the outdoor enthusiast. For those more interested in leisurely pursuits, the home is also adjacent to excellent golfing and both the Glaze Meadow and South Meadow pool facilities.

Treat yourself to a wonderful stay and relaxing escape. Maximum 10 people allowed per stay. No pets and no smoking. Excludes holidays.


Bad to the Bone in the Bahamas
Donor: Dan & Amy Herrig, Andros South
2 Anglers / 4 Nights / 3 Days
2017 or 2018 Season
Enjoy the perfect tropical escape for the saltwater angler that loves great fishing and casual and comfortable digs at the Andros South Lodge. For 3 joy-filled days, you'll head out on the water with Andros South's dedicated guide staff to fish the multitude of flats and coves teeming with life. the diversity and size of the fishery mean a completely different fishing experience every day of your trip. In the evening enjoy a beachside beverage at the "Slack Tide" tiki bar then, retire to the dining room for delicious meals prepared with local seafood and produce.

Includes: Guided fishing with 2 anglers per boat; single-occupancy lodging; all meals including alcohol; loaner fly and spinning tackle; terminal tackle and flies, and transfers between the Congo Town airport on South Andros and their lodge.

Travel to the Bahamas/South Andros and gratuities not included.
Trip can be extended to a week for an additional cost.


Eat with Portland's Original Slow Food Chef
Donor: Greg Higgins, Higgins Restaurant and Bar
Dates: Notify Marsha or Paul one week in advance. Meal time set after 7:30pm, Sunday-Thursday
Dinner + Wine for 6 prepared personally by Chef Greg Higgins
As one of Portland's first slow food chefs, Higgins focuses on Pacific Northwest ingredients and traditional French techniques, incorporating and eclectic range of influences from around the world. Presentations, textures, and flavors are intense and sophisticated, yet uncontrived.

Chef Higgins' attention to classical technique is equaled by his passion for finding the freshest, highest-quality ingredients from local organic producers. To accompany the meal, Greg will be selecting the perfect wine. Don't miss the opportunity to slow down with the originator. 18% gratuity not included.


The Best of Napa: A Weekend at Tournesol Winery
Donor: Bob & Anne Arns, Tournesol Estate Winery & Vineyard
Dates: Mutually Agreed Upon
Includes 2 night stay for 2 couples, winery tour, tasting & gourmet lunch
Retreat to the Tournesol Winery located on 16 acres of Cabernet Sauvignon vineyards in the Coombsbville region of Napa Valley. The peaceful setting of the vineyard borers Lake Louise to the north and Murphy Creek to the south, just ten minutes from some of the best restaurants in the Napa Valley.

During your two night stay at the two bedroom, two bath Lakehouse Villa, you'll enjoy the vacation compound's salt water pool and spa, outdoor cabana, lunch prepared for you in a wood fire oven and paired with wine, and a tasting and tour of the vineyards with winemaker Ken Bernard (an Oregon native). Amenities include bocce ball court, exercise room, digital cable and wireless internet in every room, and stunning views of the nearby Vaca Mountains. Bob and Anne Arns invite you to relax at the idyllic vineyard and retreat and enjoy the best of Napa.
Posted in:
Events
Homewaters Benefit Banquet + Auction