2017 Homewaters Live Auction Items
Banquet + Auction 2017: Just Around the Corner
Saturday, April 8, 2017, the Native Fish Society, wild fish supporters, and over 300 generous donors will come together under the big top at Montgomery Park in Portland, Oregon to create the largest wild fish fundraiser/party in the universe. Looking for lodging in the area? Our friends at Silver Cloud Inn are ready for your reservation. Just mention Native Fish Society and they will set you up in a peaceful room for a discounted rate - all within walking distance of the event. Stay tuned as we update this page with more information and this year's auction items. Can't wait to see you there! PURCHASE YOUR TICKETS HERE!
2017 Auction Items
Our Benefit Banquet + Auction features over 150 items auctioned in three different categories: Live, Super Silent, and Silent. Our Silent and Super Silent items are auctioned off first, during a two hour silent auction. Super Silent items are distinguished from Silent items by their increased value and/or rarity. Typically, there are 125 items in these two categories.
18 Live Items will be auctioned off during the Live auction portion of the evening, concurrent with a delicious dinner, award ceremony and festivities.
Over the coming weeks we will be updating this page with this year's auction items - don't be alarmed if you don't see all 150 items - some will remain a surprise until the night of the event!
Live Items


Steelhead Wizard Zellman
Donor: Rich Zellman, Steelhead Water Guide Service
Dates: Mutually Agreed Upon January - March 2018
1 or 2 Anglers / 2 Days on the Smith River
The Smith River. An exceptional river with a common name. The Wild and Scenic Smith River is California's only major undammed river and flows through steep gorges of continuous classified rapids in the forks and down through giant redwood groves of the mainstem. The Smith winter steelhead season runs from January through March, and are amongst the toughest race of fish you'll ever hook. This fishery isn't for the faint of heart, but the steelhead of the Smith are vigorous, wily and like no other. Join one of the Northwest's best steelhead guides, Rich Zellman, for two days of winter steelhead fishing and get drawn into the power of the Smith, a river like no other.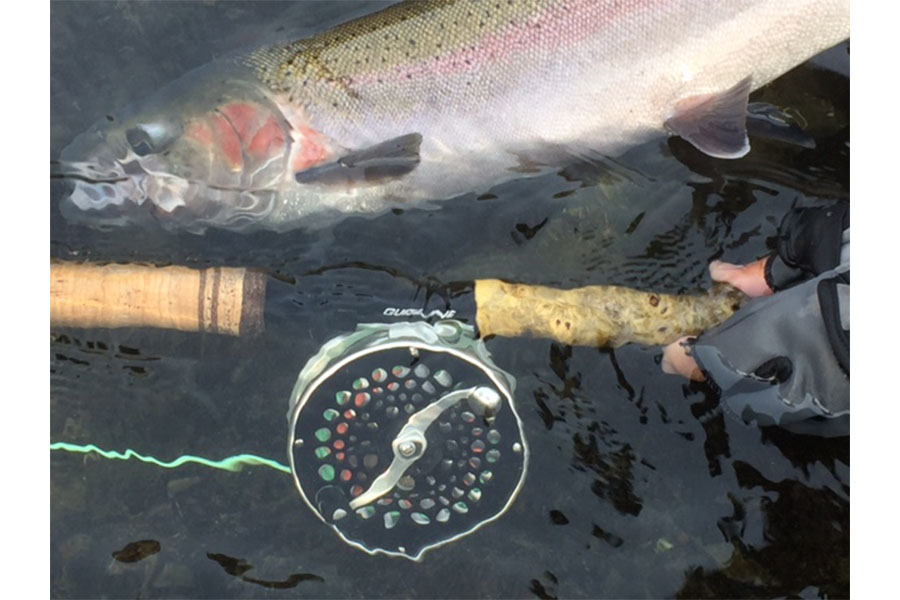 Clearwater Snake
Donor: Michael Mathis, Lower Hells Canyon River Steward
Dates: Mutually Agreed Upon after October 15, 2017
2 Anglers / 5 Days / Steelheading on the Snake and Clearwater rivers
Join Lower Hells Canyon River Steward and professional guide for over 40 years, Michael Mathis for five steelhead-filled days on two spectacular Washington & Idaho rivers. Every fall, the Snake and Clearwater rivers fill with migrating A-run and B-run steelhead. The Snake River is the primary holding water of the earlier returning A's, while the Clearwater River is the best place to fish the big B-runs -- later returning fish commonly over 32 inches! And there's no better way to get from run to massive run on the Clearwater or Snake than Michael's Alumaweld Super Vee jet sled -- trust us it's an amazing way to experience these legendary steelhead rivers.

Lunch, snacks and beverages are provided as well as Michael's four decades of experience chasing these magnificent fish. Lodging, breakfast and dinner, license and gratuities not included.

Lodging options are abundant. Lewiston has several hotel options for your choosing and if you like to camp, Hell's Gate State Park has standard tent sites and cabins!

King Size Homewaters Redd

For over thirty vintages, Lange Estate has been crafting some of the finest examples of Pinot Noir from Oregon's best vineyard sites - including the highly recognized Freedom Hill Vineyard outside of Rickreall.

Vintage 2015 has already been hailed as one of Oregon's finest vintages ever. This small selection bottling emanates from a lovely two-acre block of 777 clone Pinot Noir. Winemakers Don Lange and Jesse Lange crafted this wine with Native Fish Society in mind. Like our natural resources, this Pinot Noir should be enjoyed now but also protected and revered for decades to come. Is there a better way to share your love of wild, native fish with your friends? We don't think so!


Saracione's Mark V 3 3/4" Fly Reel
Donor: Joe Saracione, Saracione Fly Reels
3 3/4" Mark V Fly Reel
This Oregon made masterpiece will perfectly compliment your favorite 12-13 1/2 ft. spey rod. The Saracione Mark V fly reel features an all new sealed carbon fiber drag system in addition to the separate gear and pawl system. Working in tandem, these two drag systems ensure you don't end up backlashed the next time you hook into a fish a little bigger than you were planning on. The 3 3/4" is Saracione's most popular salmon and steelhead reel, period! Anglers form all over the world snatch them up like they're going out of style - this is indeed the Saracione reel of choice. If you're looking for a classic, heirloom quality salmon and steelhead reel that can be fished hard - don't look any further.

Specs: Spool Width: 1 5/32". Weight: 11.5 ounces. Fly Line: 6,7,8. Capacity: 125+ yards


Black Butte Ranch
Donor: Jim & Kathy Foote
Dates: Available before May 15, 2017 or after September 30, 2017
Up to 10 Guests / 3 Nights / 4 Days
Enjoy life at a different pace, with up to ten of your closest friends or family members as you retreat to Black Butte Ranch and experience the beauty of Central Oregon. The spacious 2700 sq. ft. lodge-style home features a large sun deck, vaulted pine ceilings, 25 ft. picture windows and handsome tiled floors. It also includes a fully equipped kitchen, dining room and a spacious bonus room.

Its prime location, just 20 minutes from HooDoo Ski Resort and five miles from the Metolius River, positions you perfectly for all kinds of outdoor fun. For those more interested in leisurely pursuits, the home is also adjacent to excellent golfing and both the Glaze Meadow and South Meadow pool facilities. This is the family retreat that makes everyone happy!

Treat yourself to a wonderful stay and relaxing escape. Maximum 10 people allowed per stay. No pets and no smoking. Excludes holidays.
Bad to the Bone in the Bahamas
Donor: Dan & Amy Herrig, Andros South
2 Anglers / 4 Nights / 3 Days
Dates: Expires May 2018
Enjoy the perfect tropical escape for the saltwater angler that loves great fishing and casual and comfortable digs at the Andros South Lodge. For 3 joy-filled days, you'll head out on the water with Andros South's dedicated guide staff to fish the multitude of flats and coves teeming with life. The diversity and size of the fishery mean a completely different fishing experience every day of your trip.

In the evening enjoy a beachside beverage at the "Slack Tide" tiki bar then, retire to the dining room for delicious meals prepared with local seafood and produce. Includes: Guided fishing with 2 anglers per boat; single-occupancy lodging; all meals including alcohol; loaner fly and spinning tackle; terminal tackle and flies, and transfers between the Congo Town airport on South Andros and their lodge. Additional costs not included in donation are travel to the Bahamas/Andros and gratuity for staff.

Trip can be extended to a week for an additional cost.


Slow Food Feast at Higgins
Donor: Greg Higgins, Higgins Restaurant and Bar
Dates: Notify Marsha or Paul one week in advance. Meal time set after 7:30pm, Sunday-Thursday
Dinner + Wine for 6 prepared personally by Chef Greg Higgins
A sumptuous, locally sourced dinner for six, lovingly prepared by Chef Greg Higgins. As one of Portland's first slow food chefs, Higgins focuses on Pacific Northwest ingredients and traditional French techniques, incorporating and eclectic range of influences from around the world. Presentations, textures, and flavors are intense and sophisticated, yet uncontrived.

Greg's attention to classical technique is equaled by his passion for finding the freshest, highest-quality ingredients from local organic producers. To accompany the meal, Greg will be selecting the perfect wine. Don't miss the opportunity to slow down and enjoy a slow food feast at Higgins!

18% gratuity not included.

Best of Napa

Donor: Bob & Anne Arns, Tournesol Estate Winery & Vineyard
Dates: Mutually Agreed Upon
Includes 2 night stay for 2 couples, winery tour, tasting & gourmet lunch
Retreat to the Tournesol Winery located on 16 acres of Cabernet Sauvignon vineyards in the Coombsbville region of Napa Valley. The peaceful setting of the vineyard borers Lake Louise to the north and Murphy Creek to the south, just ten minutes from some of the best restaurants in the Napa Valley.

During your two night stay at the two bedroom, two bath Lakehouse Villa, you'll enjoy the vacation compound's salt water pool and spa, outdoor cabana, lunch prepared for you in a wood fire oven and paired with wine, and a tasting and tour of the vineyards with winemaker Ken Bernard (an Oregon native). Amenities include bocce ball court, exercise room, digital cable and wireless internet in every room, and stunning views of the nearby Vaca Mountains.

Bob and Anne Arns invite you to relax at the idyllic vineyard and retreat and enjoy the best of Napa.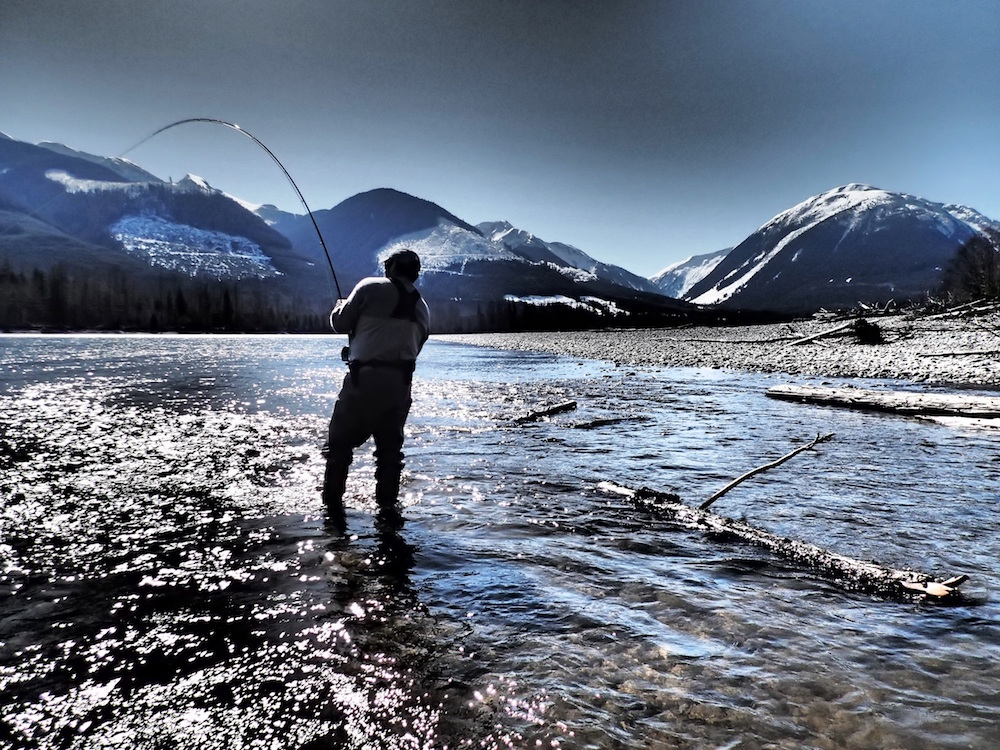 Burkheimer's Best
Donor: Kerry Burkheimer, Burkheimer Fly Rods
7117-4 11'7"wt Short Spey Rod inscribed with "2017 Homewaters Auction"


Five years ago at a spey clave in Bellingham, I was handed a prototype of this rod by Skykomish River Steward (and Burkieophile) Mark Homeyer. "You have to cast this rod," Mark said as I gave the prototype an incredulous once over -- orange tape held on the guides, its matte-black blank was rough and unsanded, and the cork rings were still visible. Then I cast the 7117 and none of this mattered. Even as a prototype, the 7117 was pure magic -- the single best short spey rod I've ever casted. It's a benchmark fishing tool with the feel, ease and lightweight that makes every cast a pleasure. Since that day in Bellingham I compare all spey rods (long or short) to Burkheimer's 7117.

Most rods that "do it all" don't do anything particularly well. Burkheimer's 7117 is different. It has the backbone to fish heavy sink tips, reach outside bends and handle winter steelhead fresh out of the salt. At the same time, it's compact enough to fish in those tight spots with little casting room, delicate enough for short line presentations to steelhead holding in soft water and sensitive enough to fish tiny skaters. This rod excels in 95% of the steelhead situations I've encountered and does them with soul. Don't miss your chance to support wild steelhead conservation and take home Burkheimer's Best!

Ideal Lines: Airflo Compact Scandi 480, RIO Skagit Flight 525, Airflo Skagit switch 510, Nextcast 45' 6/7


Live Your Dean River Dream
Donor: Dan & Amy Herrig, BC West
1 Angler / 7 Nights / 6 Days
Dates: Mutually Agreed Upon in 2017 or 2018 Season
Ready to tie into the world's hottest wild steelhead? BC West's Dean River Lodge is the place to live your reel screaming, tail-walkin' Dean River steelhead dream. Situated just 1.5 miles upriver from the mouth of the Dean, BC West is the only lodge that fishes the lower river's massive runs and the classic dry fly water above the rugged Dean River Canyon. You could swing up a Dean River steelhead every which way you like it!
From dawn to midday BC West's great guide staff will put you in the best water in the lower river with the help of their comfortable and classic Dean River jet sleds. After returning to camp for a gourmet lunch and a short siesta you'll head up river using a personal four wheeler to access the prime runs above the canyon. You'll return at dark, grinning ear to ear, ready for dinner, fellowship and to do it all over again the next day.
Accommodations at the lodge are comfortably rustic, with just 8 anglers visiting each week. BC West is also known for serving the best food you've ever had at a fishing lodge. British Columbia's Dean River is on every steelheader's bucket list -- now's the time to live your Dean River dream!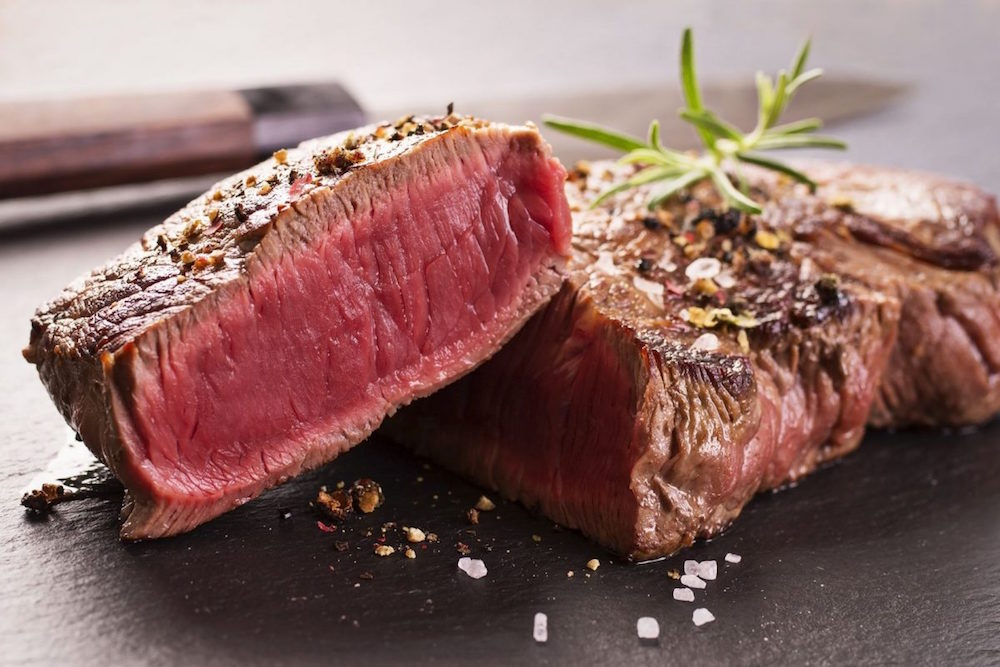 Where's the Beef?
Donor: Jeff Stuermer, Allen Ranch Angus
200 pounds of organic, grass-fed Oregon beef
Right here! Get ready to bid for one quarter organic grass-fed beef from the Historic Allen Ranch in Tumalo, Oregon. This well fed and cared for beef was raised with a view to die for -- the Three Sisters Peaks. This is top-notch stuff!
Your 200-pound beef bounty will include a variety of cuts to keep your family and friends fed all year, whether you chose to enjoy the meat right away or freeze it for later. A combination of delicious steaks, roasts, ribs, ground beef and stew meat await! Don't miss your shot at some primo cuts and a chance to support wild, native fish!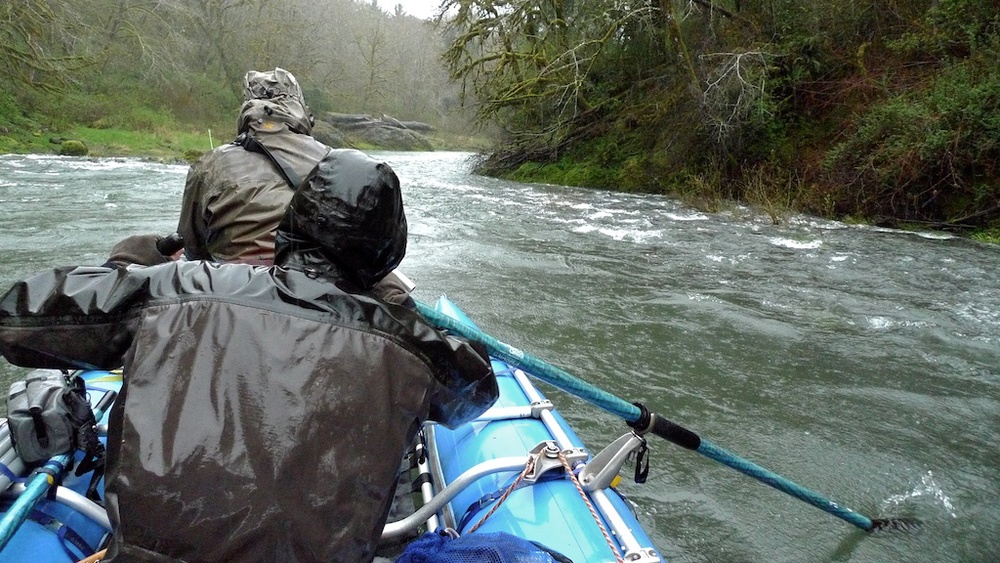 A Winter's Tail
Donor: Jeff and Kathryn Hickman, Fish the Swing
Date: Mutually Agreed Upon for the 2017-2018 Season
2 Anglers / 2 Days

Every December the legendary rivers of Oregon's north coast transform into a secretive Mecca for winter steelhead anglers. Luckily for two winning bidders, Jeff Hickman knows these emerald coastal rivers, their holding lies, and gate-keeping rapids like the back of his hand.
Whether Jeff hikes you into a remote canyon, or floats you into a quiet stretch of water, he knows just where to be and when to catch tide-fresh, sea-liced wild winter steelhead. Jeff's laid back guiding style and no nonsense approach to the art of the Spey rod guarantees to put you at ease and improve your fishing game. Whether it's your first day chasing winter steelhead or 100th, fishing with Jeff is your best bet at gripping a winter's tail.
Trip includes lunch, tackle and flies.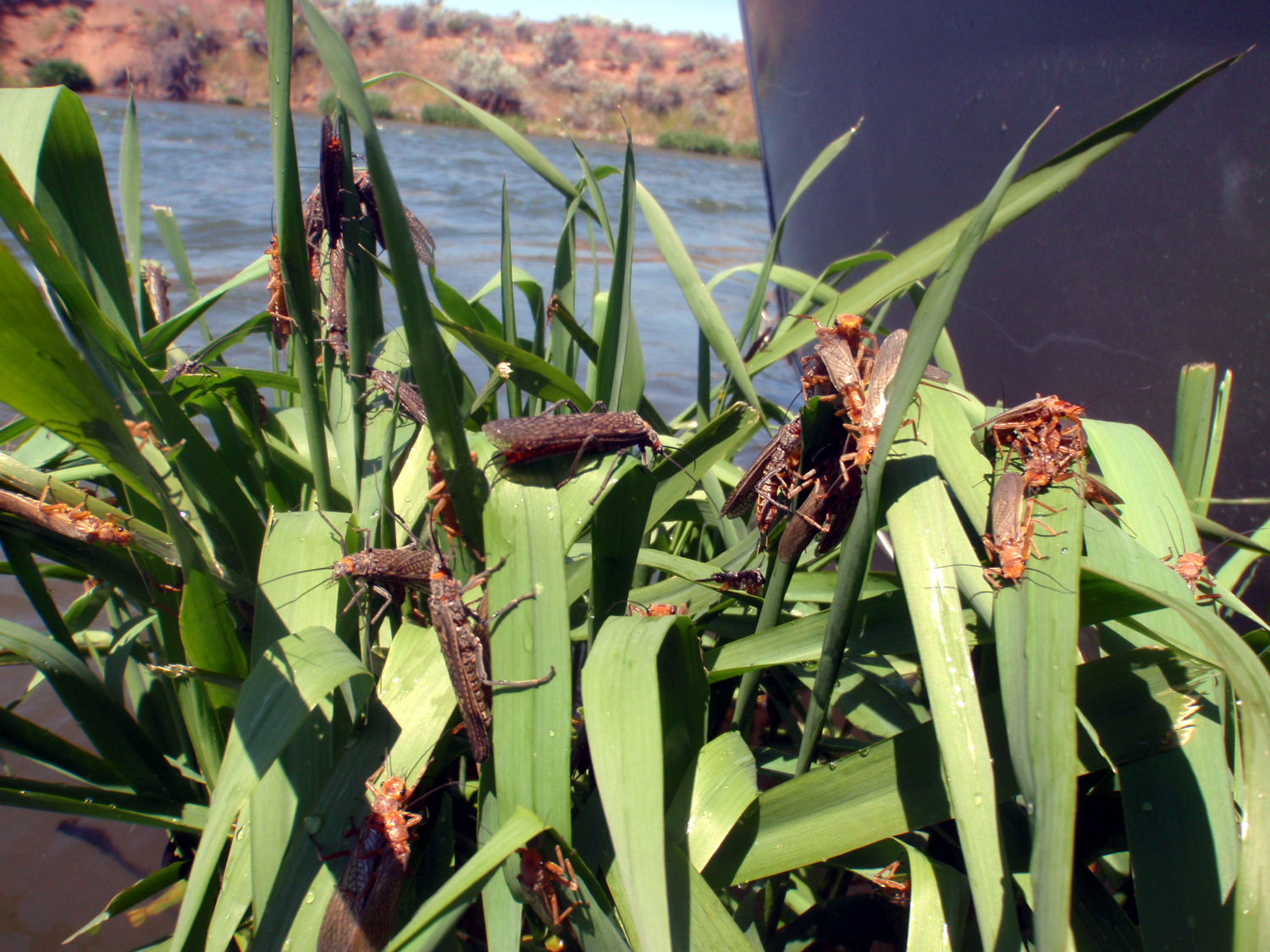 Everybody Must Get Clark Stoned
Donor: Danny McGinley & the McGinley Family, Warner Munro, Troy Jones & Craig Sweitzer, Don, Wendy & Jesse Lange, Lange Estate Winery & Vineyard, Chris O'Donnell, River Runner Outfitters
Date: May 6-8, 2017
2 Anglers / 2 Nights / 3 Days Floating and Trout Fishing

Get your Chubby Chernobyls, Norm Woods and Clark Stones ready -- this is going to be the best darn weekend of dry fly trout fishing of your life! Two lucky anglers will join Don & Jesse Lange, of Lange Estate Vineyard and Winery, for a two day float from Warm Springs to Harpham Flat in search of world famous Deschutes River redside trout and the legendary salmonfly hatch.
Day one starts your epic trout fishing adventure with Chris O'Donnell of River Runner Outfitters and his team of dedicated guides. Get ready to fish from the launch at Warm Springs to Board Member Danny McGinley's Green Valley Farm at South Junction. After a great day of fishing you'll relax at Green Valley's luxurious accommodations while the Lange's pour their finest Pinots.
Day two you'll be back on the water, fishing the middle float from South Junction to Warner Munro's world famous North Junction homestead. After another great day on the water, ice-cold Hamm's Beer (Warner's favorite) will be flowing freely, as well as Lange wine.
Day three, the great finale to this trout fishing epic, you'll be drifting and dreaming on your way from North Junction to Harpham Flat just upriver from Maupin, OR. You may remember our old standard -- the Drift into Green Valley trip -- well this is that trip on steroids. Great times, great trout fishing, and great company to be expected.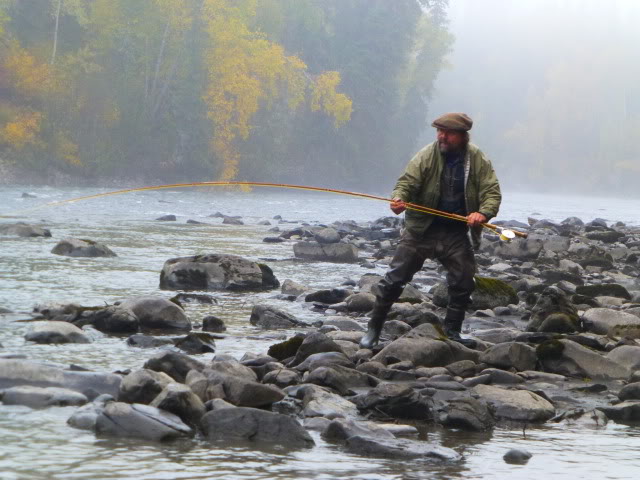 Rabel's Perfect Pairing
Donor: John Rabel

3 1/2" Brass-Faced Hardy Reel matched with an 11' 6/7 Riverwatch Bamboo rod

Sure you could wait a year for Bob Clay to build you a rod or spend your precious time endlessly searching the interwebs for a rare brass-faced Hardy Perfect. Or, thanks to John Rabel's impeccable taste and kind generosity, you can take this perfect steelhead setup home with you tonight while supporting wild, native fish conservation. The choice is yours!
Trust us, there's nothing sweeter than a wild steelhead putting a deep bend in your Riverwatch bamboo rod and the vintage sound of this Hardy Perfect. This is a perfect pairing, just add wild steelhead.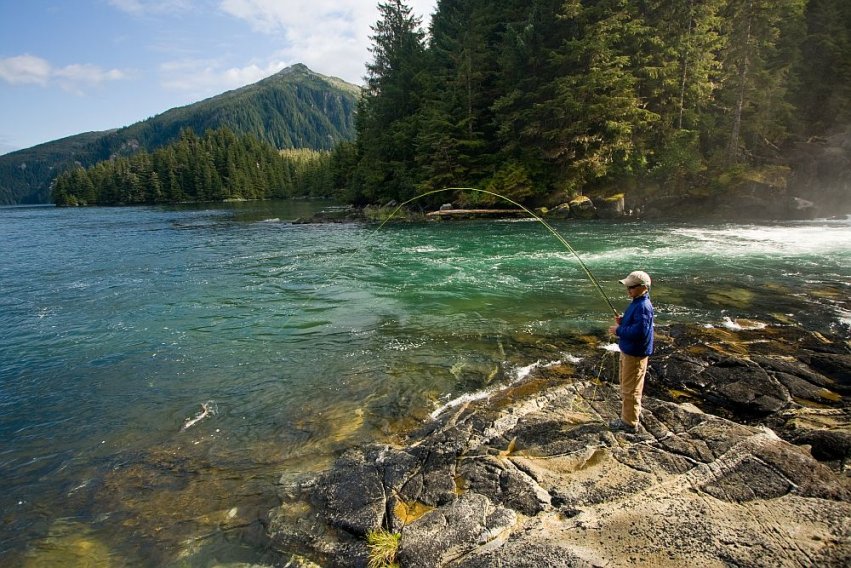 Baranof Wilderness Lodge
Donor: Mike & Sally Trotter, Baranof Wilderness Lodge
Date: Mutually Agree Upon during 2018 Season
1 Angler / 5 Nights / 5 1/2 Days / Lodge or Basecamp
Ready for the quintessential Alaskan wilderness fishing experience? Behold southeast Alaska's jagged granite peaks, the cold blue ice fields, the natural hot springs, and the thundering waterfall that pours into the salmon filled sea. The Baranof Wilderness Lodge offers an unparalleled base for fly fishing in one of the world's most diverse and vibrant ecosystems.
From the comfort of their waterfront lodge, anglers of all skill levels can fly fish remote wilderness streams teeming with all five species of Pacific salmon, rainbow trout and Dolly Varden. Guests can opt to fish for halibut or other bottom fish, try their luck with Pacific salmon, sea kayak, whale watch, bear view or soak in the natural hot springs which first made Warm Springs Bay famous. With food and hospitality to match the grandeur and bounty of the region, Baranof Wilderness Lodge is a gem that families, couples, and serious anglers will enjoy.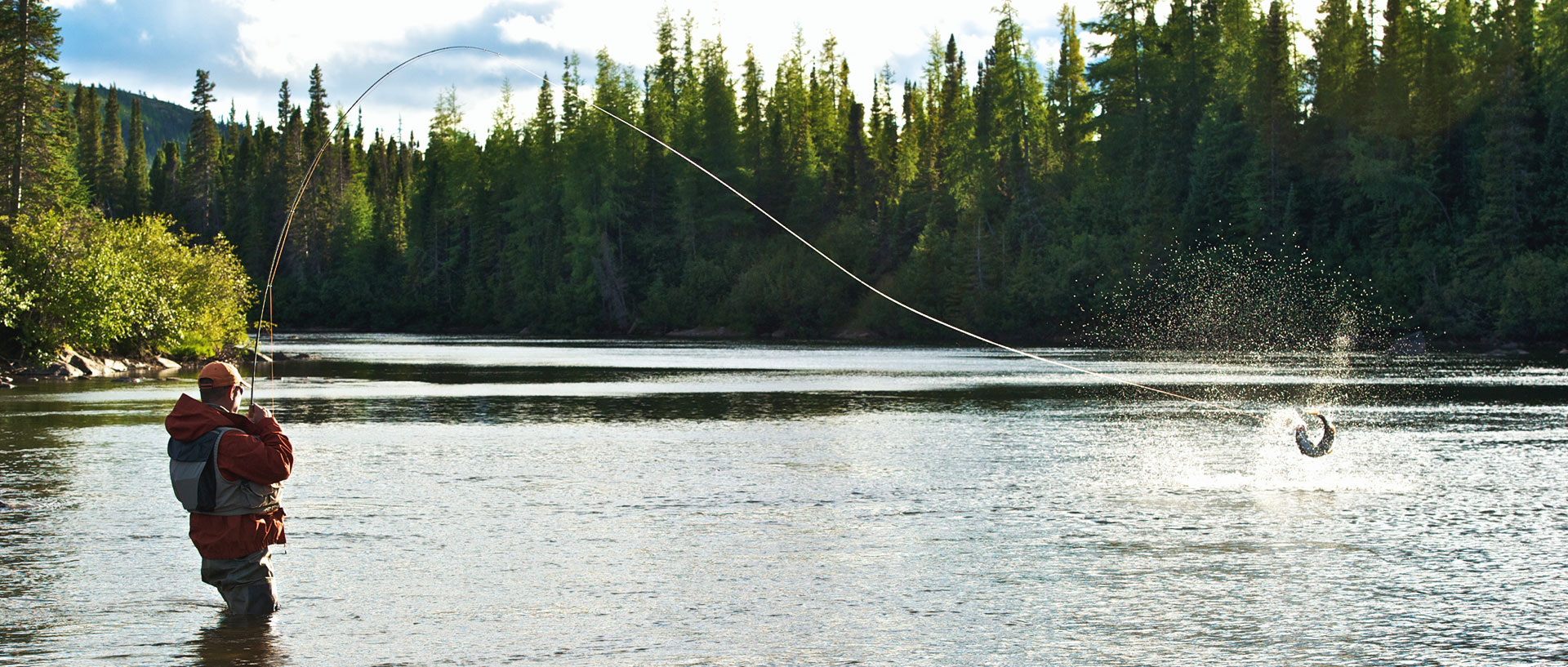 Prime Time Labrador
Donor: Mike Crosby, Flowers River Lodge
Dates: July 15-21, 2017
1 Angler / 6 Nights / 6 Days Atlantic Salmon Fly Fishing
Ready to join the 30 Pounder Club in Labrador? Raise that paddle high for this one! This is one of the most unique trips we've ever offered. This is a full week of fishing for Atlantic salmon at the remote Flowers River Lodge. The wading is safe and easy, and the river is packed to the gills with silver-bright Atlantic salmon that take a dead drifted dry fly!
With new ownership, the lodge is completely catch and release, which has resulted in more and bigger fish. Being one of the more remote lodges in Labrador, you will be shuttled to and from the camp by float plane. Ground transportation in Goose Bay, guide (one per two anglers), phone, internet, taxes and angling license included. Get ready for the Atlantic salmon trip of a lifetime!
Not included are airfare to Goose Bay, Hotel in Goose Bay, alcohol, and gratuities. Once the trip is sold, owner, Mike Crosby will work with the successful bidder to outline flight and hotel arrangements.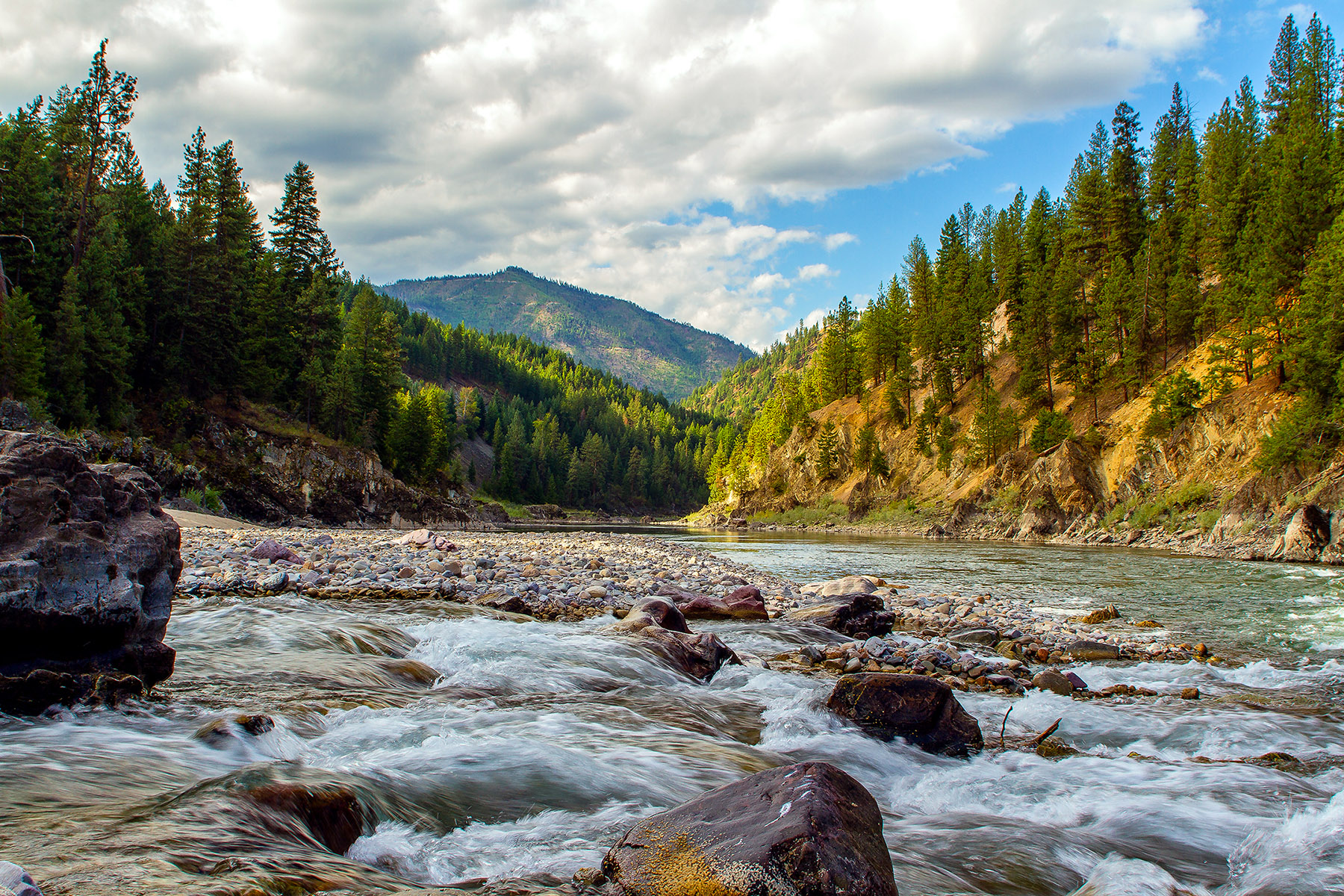 Montana on the Fly
Donor: Todd Welch
Dates: Mutually Agreed Upon
2 Anglers / 3 Nights / 2 Days / Private Charter Jet Transportation / 2 CF Burkheimer Trout Rods!
Hosted by Kerry Burkheimer of CF Burkheimer Fly Rods
It's time to take flight for the Montana trout fishing trip of your dreams. We've got a private charter jet waiting in Portland ready to whisk you off to the heart of southwestern Montana's "Blue Ribbon" trout water. On this Big Sky trip, you'll have the option of fishing the famous 5…the Big Hole River, the Clark Fork River, the Missouri River, the Blackfoot River, The Bitteroot River and Rock Creek. In addition, anglers will have access to the private waters of the rarely fished Flint Creek where large trout readily pounce on a dry fly. During your two days in trout heaven, you'll rest your tired trout-fishing keister at the the five star, riverside Rock Creek Cattle Company, a private club entailing 30,000 acres.
Anglers will enjoy guided fishing in the company of Mr. Kerry Burkheimer of Burkheimer Fly Rod Company. Kerry is a master craftsman and has donated two of his finest trout rods to make this trip off the charts! Get ready to fish the famous Big Hole River, the Clark Fork River, or the Blackfoot River -- some of the most cherished dry fly waters in the country!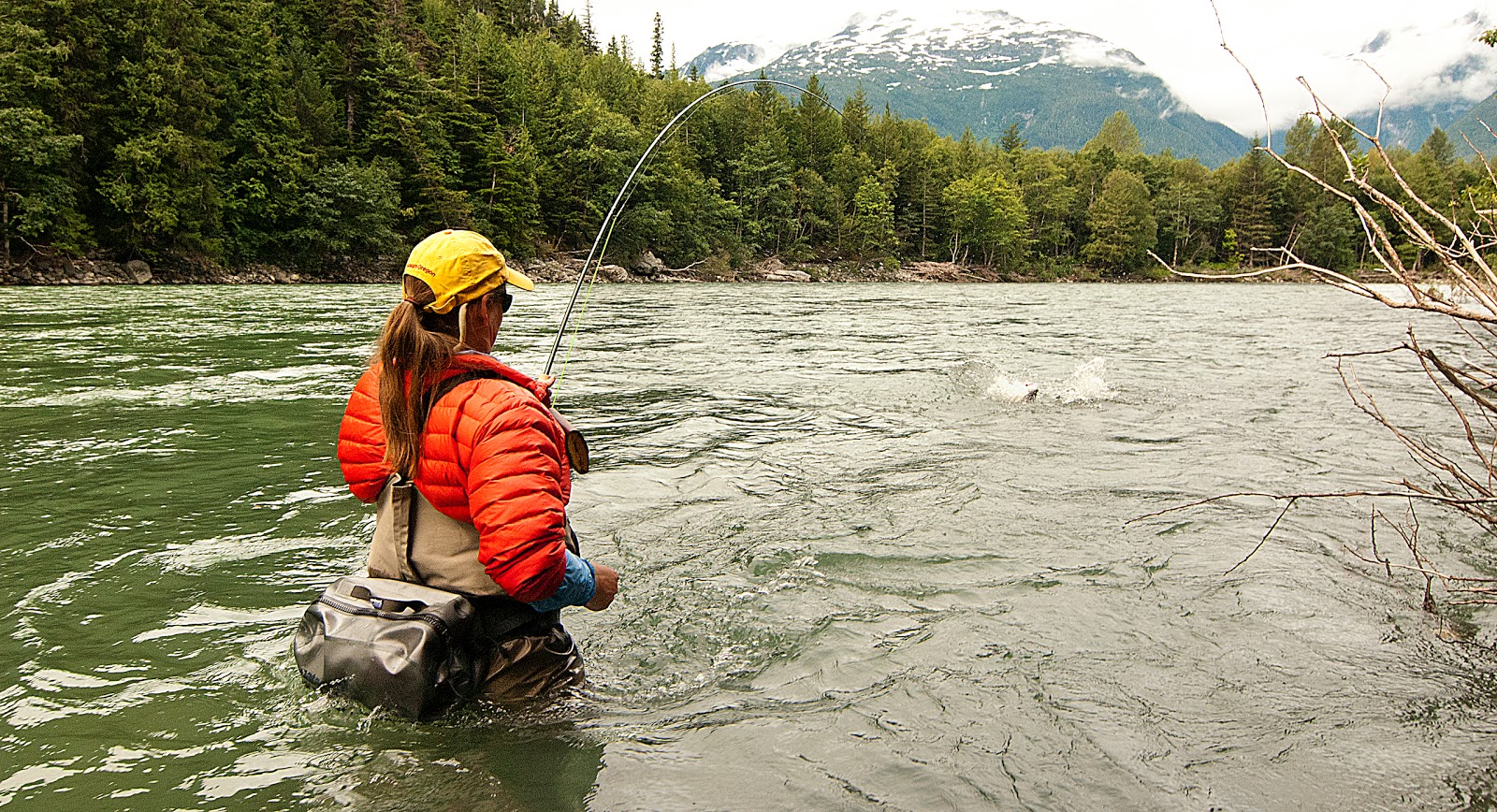 Hazel's Steelhead Hardware
Donor: John & Amy Hazel, Deschutes Angler

13'5" 6wt Thomas & Thomas Spey Rod and a Kingpin Traditional Spey Reel
As soon as you wrap your fingers around the cork of this beautiful Thomas & Thomas fly rod you'll feel the American made quality, the loving attention to detail and the smooth action that makes this stick one of John Hazel's go tos. At 13'5" this 6wt is perfect for making long delicate casts to summer steelhead on medium to large rivers, like the Rogue, Deschutes or North Umpqua.
Now hold onto your socks because the Hazel's have paired this beautiful rod with a 3 ¾" Kingpin Traditional Spey reel. Reversible left or right hand retrieve, Kingpin Spey reels are fashioned after the traditional British gear and pawl click adjustable drags that have proven themselves for over 100 years. Precision machined out of aerospace aluminum, the exposed palming rim, brass reel foot and line guard and the hand release spool cap are a few of the features that set Kingpin reels apart.
Together, this Thomas & Thomas / Kingpin setup is a match made in wild steelhead heaven. Don't miss your chance to take home Hazel's Steelhead Hardware.

Posted in:
Events
Homewaters Benefit Banquet + Auction