Following the Steelhead - Through Northern California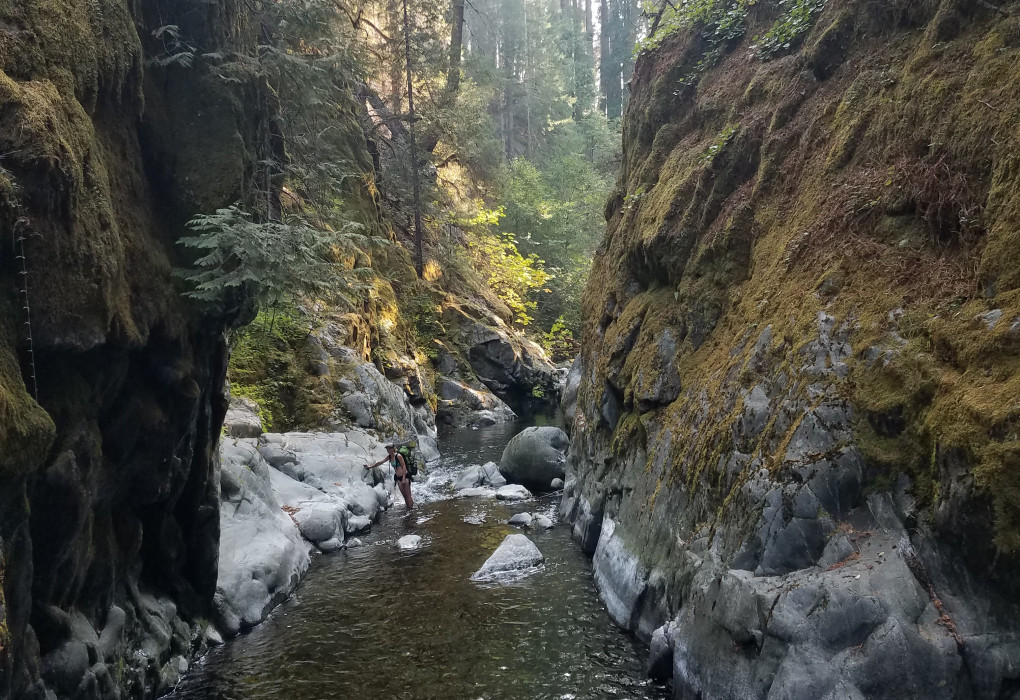 Posted:
I spent the summer and fall of 2020 and 2021 meandering across the rivers and creek of Northern California, looking for juvenile O. mykiss. I swam, walked, minked (slithering over rocks and jumping into pools), kayaked, and biked to move through and gain access to the various waterways. I found waterfalls and caves, putative barriers and beehives, roughs of rock (massive conglomerations of house sized boulders in steep, constrained channels) and roughs composed of old-growth Redwood logs, tiny tributary sized slot canyons and massive slot canyons. Each location had its own unique appeal and treasures to reveal to us unexpecting humans and reminded us that O. mykiss can access remarkably rugged terrain.
With the help of numerous volunteers, I collected caudal fin clips from ~850 juvenile O. mykiss from 45 sites in the North Fork Eel, Mad River, Redwood Creek, Blue Creek (tributary to the Klamath River) and the Smith River. Sampling was conducted at night, when the fish linger in the open water and are easier to catch. Fish were caught while wading, using head lamps and hand-held dip nets. These samples were augmented by an additional 550 samples collected by our partners at the Mattole Salmon Group and Bureau of Land Management from the Mattole River. The samples were then taken to the Miller Lab at UC Davis, where we extracted DNA and prepared libraries for genetic sequencing. Getting the sequencing data back has taken longer than usual due to numerous obstacles but is currently in processing. Once we have the data in hand, it will be used to determine the distribution of summer-run, winter-run and heterozygous (individuals with one copy of the summer-run and one copy of the winter-run allele) steelhead in the aforementioned basins. It will also be used to determine the frequency of resident and anadromous type individuals, and the current state of O. mykiss' genetic diversity throughout the basins.
I will be continuing and expanding the sampling this summer and fall. There are several additional locations in northwestern California yet to be sampled, to achieve a more comprehensive data distribution. And I will be expanding into Southern Oregon. With help from a grant from the Bureau of Land Management, I will be investigating the distribution and diversity of O. mykiss in the Rogue River Basin. I will also be collaborating on coastal cutthroat trout research in Southern Oregon. The cutthroat work is examining hybridization between cutthroat and O. mykiss and the genetic basis for the resident and anadromous life histories. Coastal cutthroat trout samples will be collected from most coastal waterways from Northern California to the Umpqua River, from June through November. If you are interested in assisting with any of these sampling efforts, please contact me at skannry@gmail.com to get more details and schedule some minking!