In Remembrance: Doug Robertson
Six years ago I met Doug Robertson at my first Native Fish Society board meeting. In a small room of strangers, Doug's warmth and laughter drew me in immediately. He wanted to talk about trout fishing: Had I figured out the Deschutes yet? Experienced the salmonfly hatch? Landed a summer steelhead? Not yet, I said. Well let me draw you a map Doug offered, sketching out a few likely steelhead runs just a few miles up from the mouth, his eyes dancing as he recounted stories of fish hooked, landed and lost. Doug's love for the Deschutes was legendary and infectious.
Later, I learned the full extent of Doug's affection for the Deschutes. During the early 1980s, Doug played a central role in the transfer of 12 miles of land on both sides of the lower Deschutes from private to public ownership. For a tenuous year, Doug kept thousands of acres for sale by the Eastern Oregon Land Company out of the hands of private resort developers, while Governor Atiyeh, the Oregon Wildlife Heritage Foundation, Oregon State Parks and hundreds of businesses and individual donors raised the funds necessary for the state to purchase the lands.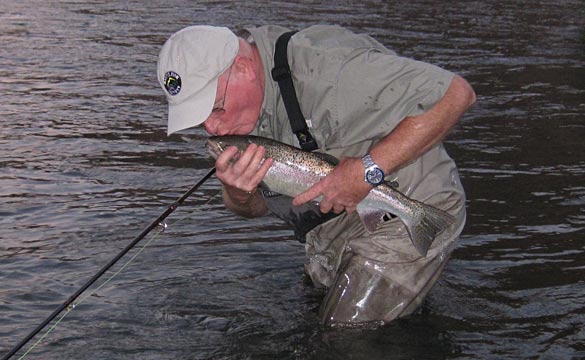 Doug's vision for the lower Deschutes was a bold one and it captured the entire state's attention. In 1985, the deal came together and the state's acquisition formed the Lower Deschutes Wildlife Area -- an area open to the public and managed for the benefit of recreation, native fish, and wildlife. Doug's love for the Deschutes changed the map and altered the course of the river's history.
Today where cattle once overgrazed, the banks of the lower Deschutes are lush with native vegetation. Anglers, hikers and bikers rise before dawn and follow the public trail upstream into the lower canyon in pursuit of the Deschutes' famous wild summer steelhead. On Robertson Point, just west of Harris Canyon, you can find a monument to Doug, Nan and their daughter Lauren. If you find yourself there, don't forget to say thank you to Doug, a man who loved the river and found so many ways to share it with others.
During his decade long tenure on Native Fish Society's board of directors, Doug's thoughtful and pragmatic approach helped our organization successfully navigate challenging times. Perpetually fueled by his passion for native fish, Doug continued his involvement on the board right up until his final months. Native Fish Society's board members and staff will greatly miss Doug and we wish our sincerest condolences to his wife Nan Robertson and all of Doug's family and friends.
Per Doug's request, we invite you to go spend a day on a river in his honor. If it's the Deschutes, even better. Donations in Doug's name can be sent to the Native Fish Society.
Posted in:
Media