Justin Cetas Remembrance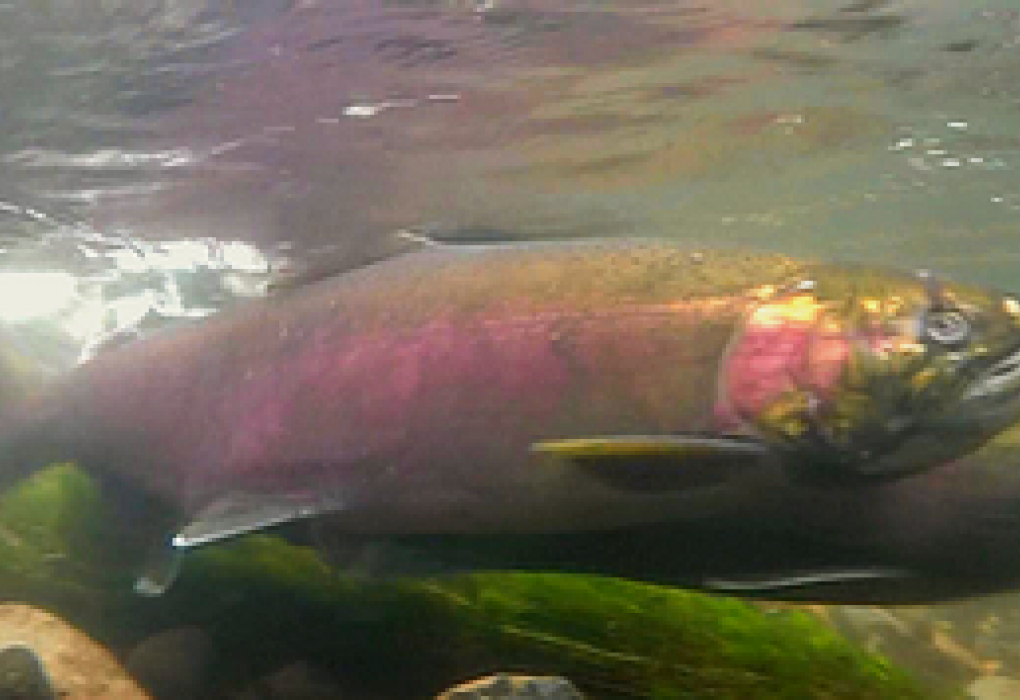 Posted:
Six years ago I met Justin Cetas at the Annual Salmon Celebration in Westmoreland Park. Justin had recently joined the Native Fish Society's board of directors and volunteered to help at our booth for the Saturday event. Our booth featured a salmon puzzle for kids to explore the anatomy of a native fish and I couldn't help but think that Justin, a neurosurgeon at OHSU, was perhaps a little overqualified for the job. Nevertheless, he greeted each kid with a smile, asking them questions, helping them fit together the wooden pieces, and engaging their curiosity and wonder about this big ocean-going fish that would journey back to its freshwater birthplace - even if that place was now surrounded by streets, homes, and the bustle of traffic.
Major restoration work had occurred on Crystal Springs, which winds through Westmoreland Park. As a result of improving habitat conditions and creating easier fish passage, wild salmon were reestablishing themselves in their homewaters - within the Portland City limits (much of this work undertaken by two former NFS board members Kaitlin Lovell and Melissa Brown). Seeing hundreds of people celebrating the return of wild salmon to this urban stream captured Justin's interest and imagination. Throughout Justin's tenure Portland's Crystal Springs, Johnson Creek, Tryon Creek, and Milwaukie's Kellogg Creek were the landscapes that evoked his passion and spurred his hope for a wild and abundant future. When the North Clackamas Watershed Council was looking to build its coalition of supporters for removing Kellogg Dam, which blocks almost all fish passage into Kellogg Creek since the mid 1800s, Justin reached out to Native Fish Society's staff to make sure we were involved.
Justin also understood that the magnitude of our wild fish revival mission required cultivating a growing groundswell of public support. This work of sharing the science that guides our advocacy and the conservation projects led by our staff and volunteers was deeply personal to him. Justin shared the Native Fish Society's conservation work with friends, colleagues at OHSU, and within his family of river-loving fisher-folk. For more than a year, Justin's daughter Isabelle worked for Native Fish Society, helping longtime and new members, building our community of supportive businesses, and serving as a invaluable team member during our organizational events. Justin's investment in growing our community of supporters helped enable the Native Fish Society's number of donors to grow every year since 2019.
In 2021, Justin, his wife Alivia, and youngest children Joaquin and Lucia, returned to Justin's childhood home of Tucson, Arizona where he was to serve as the chair of the Department of Neurosurgery at the College of Medicine - Tucson. In a phone conversation we had about his move from Oregon to the Southwest desert, he shared his love for the arid and open landscapes of this rugged part of the country. And yet, a big part of his own passion and identity had been woven into the rivers, lush forests, and native fish of the Northwest during his 20 years living here. Justin wished to stay on the board of directors and remain involved in the Native Fish Society community even if it required his engagement from a greater physical distance.
Last month, we learned of Justin's tragic passing in a traffic accident in Tucson, Arizona. Native Fish Society staff and board members extend our sincerest condolences to his wife, children, friends, colleagues, and extended family. As the Cetas family shared, Justin Cetas was an immense soul and the loss of which is deeply felt by the large community that he touched.
This past year, with a strong coalition of supporters reaching out to Oregon Senator Jeff Merkley, $585,000 of federal funds were secured to complete the planning phase for the removal of Kellogg Dam. When Kellogg Creek flows freely into the Willamette River, and is once again home to wild salmon, steelhead, and Pacific lamprey, we know Justin's legacy will be there in that urban stream restored.
Services for Justin Cetas will be held in the fall on a date to be determined. On Sunday, November 6, the family will march in the All Souls Procession in Tucson. Justin's family and friends are invited to join.
In lieu of flowers, donations can be made in Justin's name to the independent journalists of High Country News.