Searching for Gems in Central Oregon
Jodi Wilmoth, the Little Deschutes River Steward for Native Fish Society and a member of our Women for Wild Fish Initiative, has always worked to protect native species be they fish or frogs. Jodi has volunteered her time with numerous organizations working on conservation in wild places. During her tenure as a River Steward, Jodi has been interested in Bull trout and exploring the possibility of whether they currently inhabit the Little Deschutes watershed in Central Oregon.
Bull Trout, Salvelinus confluentus, a Char native to the Pacific Northwest and Canada, were found historically in abundance in the watersheds of central Oregon. In 1998, these native fish were listed as threatened under the Endangered Species Act to protect the species for future generations. Habitat degradation and fragmentation, blockage of migration corridors, poor water quality, past fishery management practices, and the introduction of non-native species have all contributed to the decline of these beloved fish.
With the advancement of DNA technology, determining their presence is possible utilizing something called eDNA. This cutting edge technology is being used to find rare and threatened species throughout the world so Jodi figured it could be used in her own back yard.
What is eDNA? Well, eDNA is short for "environmental DNA" and refers to any DNA that is collected from an environmental sample, rather than directly from an organism. eDNA can be collected for terrestrial animals, fish, amphibians and even microorganisms. It is then sent to a lab which analyzes it for the species of interest. The ability to rapidly and sensitively detect the presence of a target species through eDNA analysis has enabled a wide range of scientific discoveries including presence of rare or endangered fish without the need to locate and capture individual fish. This project is all part of the Rangewide Bull Trout eDNA Project being conducted throughout the pacific Northwest.
Jodi organized a project for myself and two other volunteers to travel to Crescent Lake, Oregon and assist her in collecting eDNA samples in watersheds that had the potential to hold Bull Trout. When planning, Jodi shared with me that we could use one or two volunteers, we (other NFS staff and myself) immediately thought of our Women for Wild Fish Initiative. We released a post on social media asking for two volunteers to assist with the project. Along came Amy and Patricia, two women excited to learn more.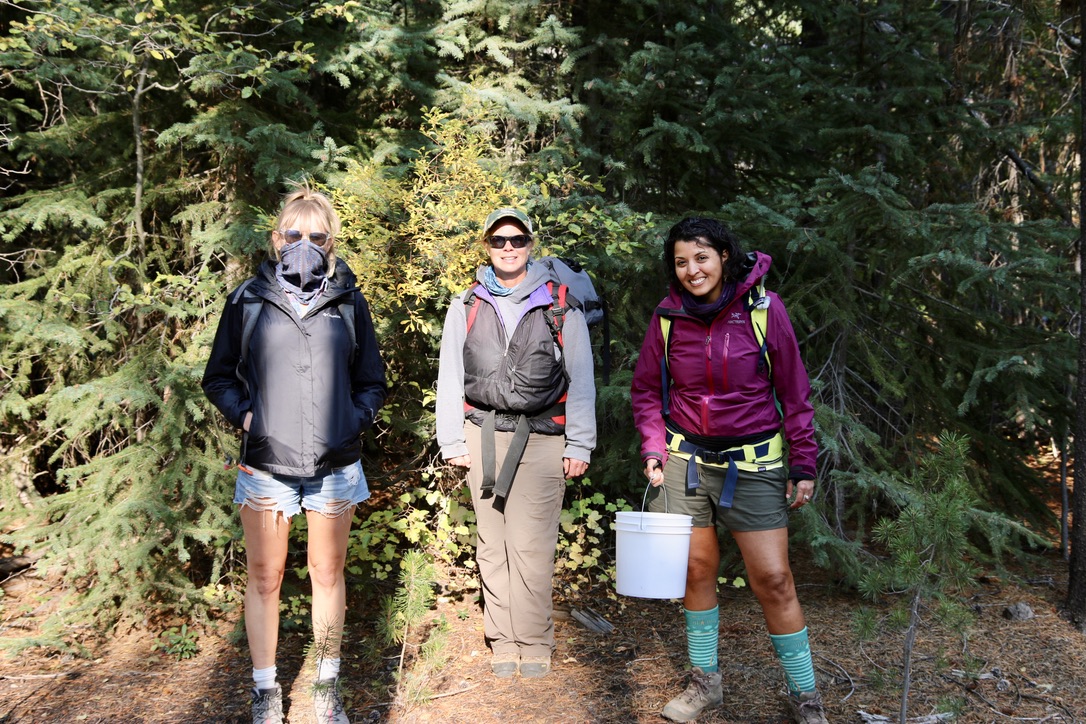 We all met near Crescent Lake on the crisp clear fall morning. Jodi and myself unloaded a large briefcase full of sampling tools including a pump, small battery, and tubing for circulating the water. Together we set up two five gallon buckets to perform a simulation test on the back of my pickup. Jodi gave detailed instructions on setting up the pump, how to protect the fragile filter and ensure we don't cross contaminate it with previous water/eDNA from another stream sample. Jodi continued with a brief overview of what to expect throughout the day, lots of "bushwhacking" and meandering through the forest
We all traveled to the first sampling site together, a small babbling brook that meandered through a culvert under a bustling train track. Jodi and Patricia demonstrated the sampling methods. Patricia and I then struck out through the sparse ponderosa pine to our assigned sampling sites. Throughout the morning and afternoon, both groups were able to collect multiple samples in the basin in the hopes of capturing DNA from our species of interest, Bull Trout. It was a great adventure walking through the woods discussing past outdoor experiences while clearly in the presence of multiple other species of wildlife including birds, elk, and possibly bears.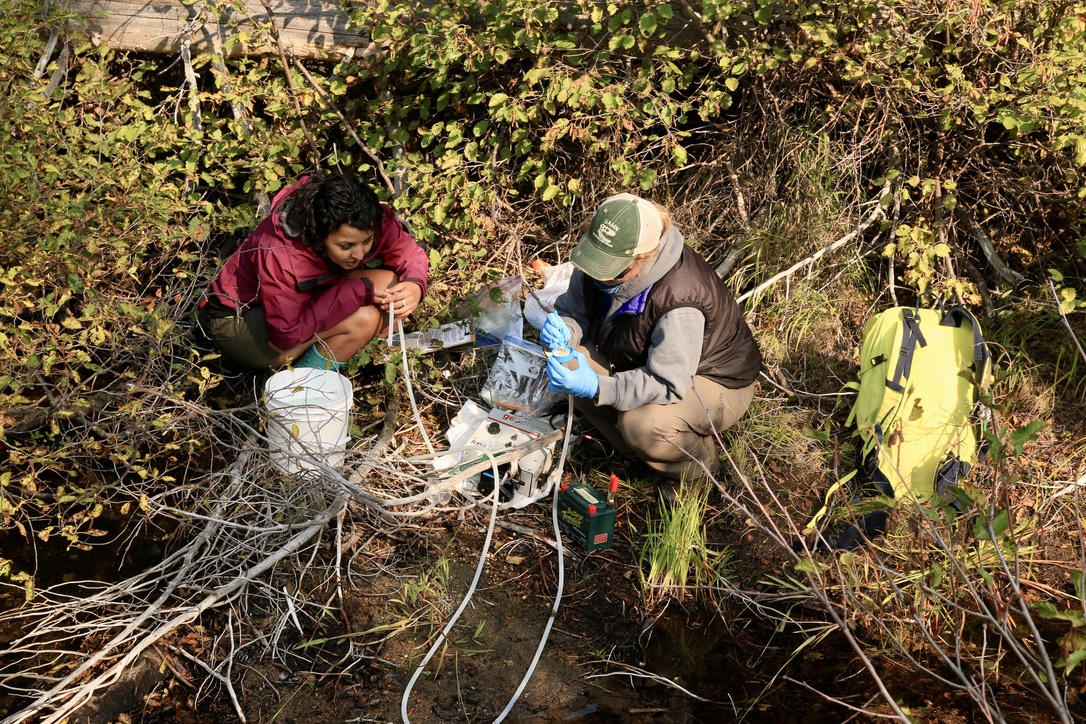 The day ended back at our vehicles reminiscing about the day's adventures and the fun we all had collecting samples in Oregon's beautiful outdoors. We discussed the results of our samples and how they will fuel the future conservation of these watersheds. Although exhausted by the many miles of hiking through a forest without trails, it was a day of excitement and potential.
I cannot say enough about Patricia, Amy, and Jodi. Patricia and Amy showed enthusiasm for adventure, climbing through the trees and "bushwacking" their way to sample sites. Native Fish Society is fortunate to have amazing volunteers willing to donate their time and expertise to make projects like this possible. Jodi was an outstanding leader, directing us throughout the day on how this project could best be completed. All in all, between the people and the location, it made for the perfect Saturday working to protect the wild native fish of central Oregon.
Native Fish Society and our Women for Wild Fish Initiative will have other events in the near future. On the ground projects promoting conservation and stewardship are one of many ways people can join our community in advocating for and promoting our mission: restoring abundant wild fish, free-flowing rivers, and thriving local communities.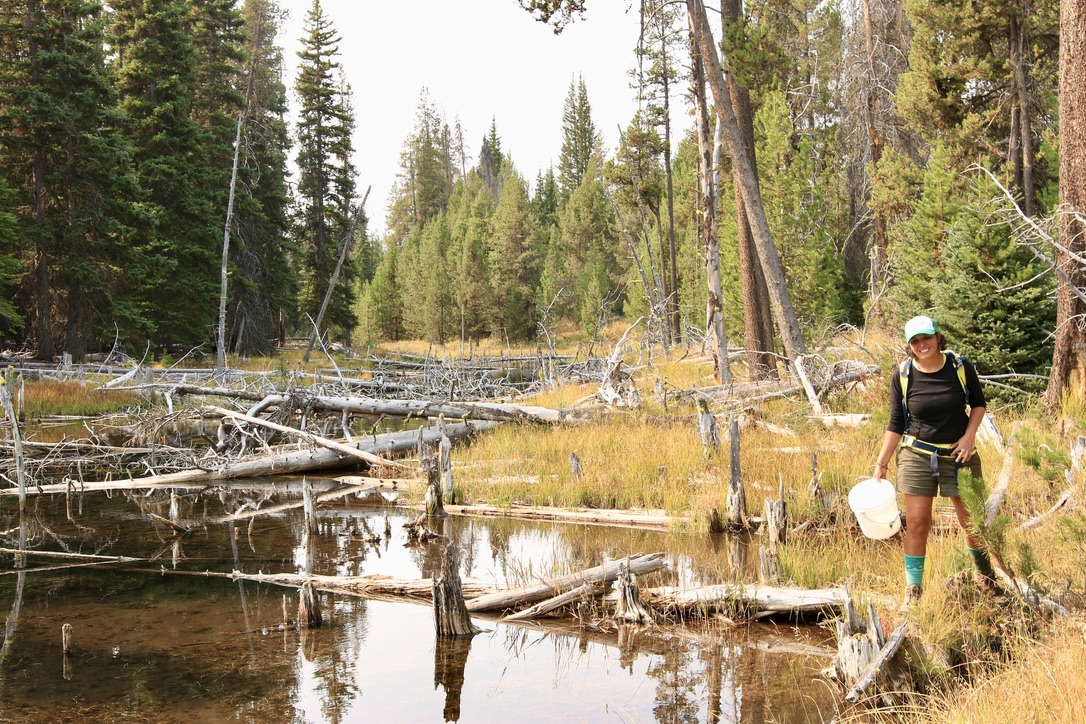 For more information or if you are interested in volunteering/engaging with our Women for Wild Fish Initiative please contact Tracy Buckner at tracy@nativefishsociety.org. For more information about eDNA testing or to get more involved please contact Kirk Blaine, our Southern Oregon Regional Coordinator at kirk@nativefishsociety.org.
Posted in:
Conservation
River Stewards
W4WF
Science