Sneak Peek: New NFS Logo
After a year of gathering input, brand strategy, design exploration, and organizational soul-searching, I'm so excited to share a sneak peek of our new logo with you - our dedicated members and supporters.

I can tell you from my firsthand experience that re-envisioning Native Fish Society's brand - after 24 years - was no simple task! Thankfully, I didn't do it alone. Board members, staff, River Stewards, conservation partners, and members helped guide us along the way, providing insights, personal stories, and the fodder for deep discussions about how to authentically tell the story of wild, native fish, our homewaters, and the passionate advocates we work to empower. This process ultimately validated that it's time our brand identity (and logo) evolve.
Of course, one of the first questions you may have is why change our logo in the first place? Trust me, it's a decision that wasn't taken lightly. Back in 2016, our staff and board of directors embarked on a strategic planning process, and one of the key insights from that work was the realization that if we're serious about the urgency of our native fish mission, we needed to significantly broaden, grow, and diversify our community of supporters.
We realized that across many different audiences, the love for what's "Wild" is our common ground. Sport anglers, particularly our fly angling founders, are a powerful and passionate community, but wild, native fish, and the rivers they call home, are also near and dear to so many more people - all anglers, commercial fishers, tribal nations, conservationists, naturalists, outdoor enthusiasts, foodies and foragers, educators, scientists, and policymakers. Yet, the vast majority are unfamiliar with Native Fish Society - why we exist, what we do, how they can support our work, and the future we envision.
This insight has sparked new relationship-building within these broader communities of supporters, the growth, and evolution of our River Steward and Fellowship Programs, and the science-based/community-driven strategies that underpin our conservation campaigns. The new logo is the most visible outward expression of our work to cultivate a groundswell of public support needed to revive abundant wild fish, free-flowing rivers, and thriving local communities.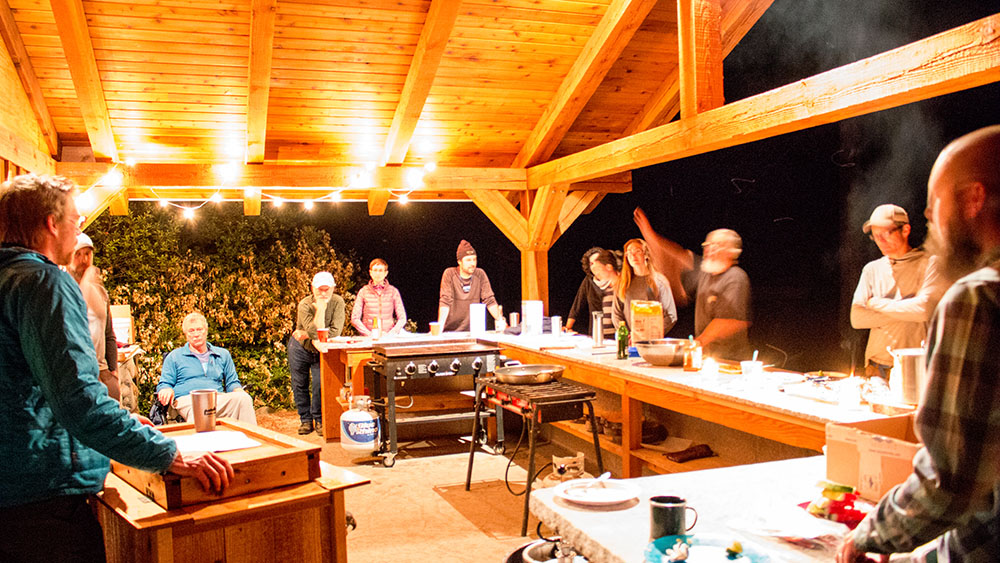 (NFS 2018 Scott River Steward Gathering)
Perhaps you're wondering, what was the thinking behind the new design? We knew we needed Native Fish Society's new logo to not only honor our past, but also aim us toward the future we're pursuing, by better reflecting a shared commitment of expanding the community that intersects with our bold native fish mission. For those who know us, we want it to evoke a sense of pride and self-identity. For everyone else, we hope it provides a positive first-impression that piques their interest to learn more, while also differentiating us from a veritable sea of other organizations in our space.
Beyond simply having a more modern aesthetic, we wanted the logo to symbolize the core of our mission and the uniquely effective way we go about it. Arching through its foreground are two wild fish, which embody both the focus of our advocacy and our vision for wild abundance. The two fish are on the move, dynamic, and alive. Two wild fish can represent a spawning pair, sufficient to pass on locally derived traits to future generations of wild fish. The fish are salmonids﹘with stripes like a steelhead﹘to embody the most charismatic and iconic of our Northwest native fish species.
Behind the fish stands a silhouette of a steward figure holding a staff. We chose to include this human figure to represent our relationship with wild fish - as their guardians, stewards, and advocates - we are keepers of the wild. This figure also represents how Native Fish Society accomplishes our work: through our River Steward and Fellowship programs and your voices as members and supporters. Together we are everyday people taking action on behalf of native fish, their homewaters, and our communities. We forge lasting relationships to educate, inspire, and mobilize everyone committed to keeping fish and rivers forever wild. Time and again, we've seen how a groundswell of public support can originate from the passion and work of a single advocate.
Last, to create continuity with our past logo, we decided to go with the tried-and-true circular shape for our mark, framed by our name, and when appropriate, including our new rally cry: "WILD, ABUNDANT, LOCAL". These three words capture our common ground, our vision for success, and the local adaptation and local grassroots advocacy that make Native Fish unique.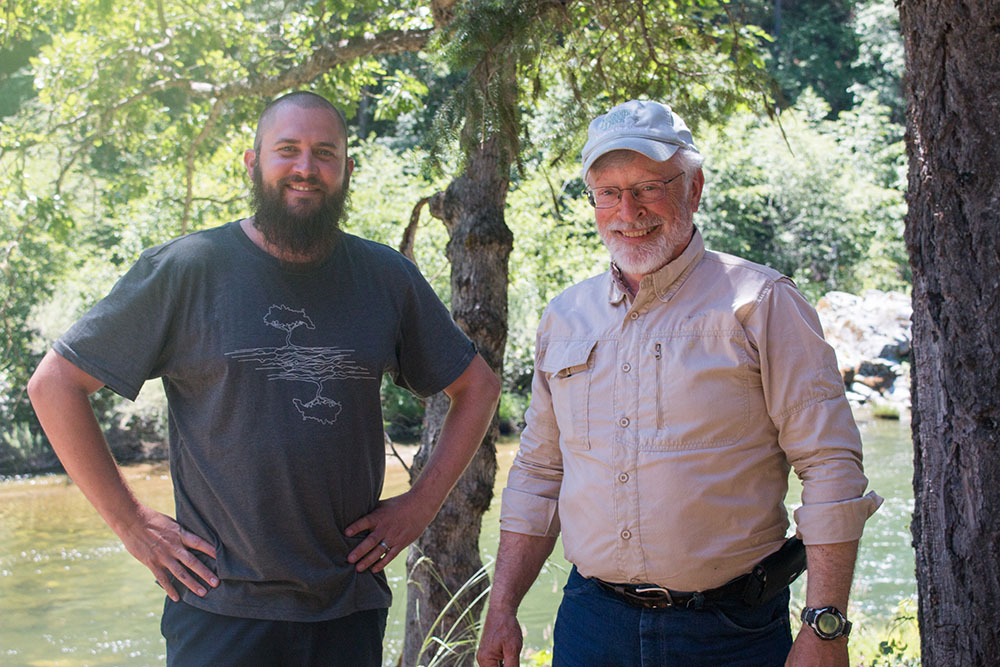 (Ryan Gallagher (left) helped us interview board members, River Stewards, staff, conservation partners, and NFS members)
Over the next couple of months, we'll be rolling out updates to our emails, website, letterhead, stickers, t-shirts, envelopes, and so on. Much of this will happen relatively quickly, but some of the changes will take longer (e.g., some things won't be updated until we've run out of the old stuff). The complete transition may take a while, so please bear with us!
Before I wrap up this post, I want to thank a few people whose creativity, skill, and perseverance were vital to this process. This includes longtime NFS member Ed Hepp, who crafted the logo design. Ryan Gallagher of GoodGallagher, a nonprofit brand consultant, who helped guide our team through a thorough strategy process and authored the design brief for the logo. Board Vice Chair Doug DeRoy and NFS member Michael Dalton, who provided invaluable feedback along the way. Former board member Danny McGinley, who really got this ball rolling, and all the River Stewards, staff, and board members who shared their honest feedback and support along the way.
This is a big step forward for Native Fish Society, and I'm so grateful this is one we are taking together!
Warmly,
Mark Sherwood, Executive Director
Posted in:
Community
Media