Volunteers step-up for Habitat Restoration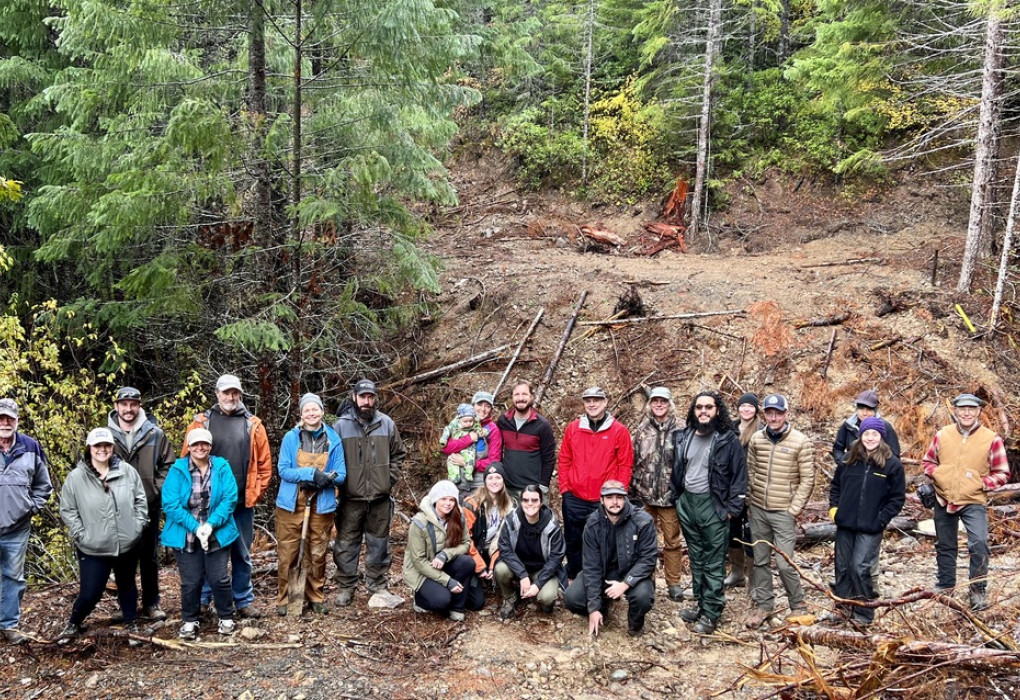 By

Posted:
North Umpqua River, OR — On Saturday, November 5th, over 20 volunteers from the Steamboaters, National Forest Foundation, Native Fish Society, and other non-profit organizations gathered together with employees of the Umpqua National Forest to help replant a decommissioned road up Copeland Creek watershed, a tributary of the North Umpqua River. 
The road decommissioning project was outlined in the Umpqua National Forest's Calf-Copeland Restoration Project Environmental Impact Statement, which was signed in 2020. To pull off the project, the Umpqua National Forest and the National Forest Foundation worked together with a construction contractor this summer to put 1.7 miles of this road that is no longer needed to bed by removing culverts and recontouring sections where the road was likely to cause landslides. This project will help benefit the restoration of fish throughout the North Umpqua Watershed, continue to provide clean drinking water for multiple communities, including Glide and Roseburg, and will help restore the entire ecosystem.
On the November 5th planting day, volunteers and staff covered three different drainages where culverts were removed, some volunteers hiking in over a mile with 100 trees to help jumpstart critical restoration. After planting trees and native shrubs, the areas were seeded with native grasses and wildflowers. This work will help restore the native landscape and prevent further sediment runoff in years to come. 
"I feel so grateful to have been able to volunteer at the North Umpqua Tree planting with like minded individuals. Being a part of a community that cares about our local watersheds and the future of fisheries gives me hope. Thanks to the National Forest Foundation and Steamboaters for getting us all together and making this a great event. I know what we did this weekend will make an impact for many years to come," said Hailey Malone, a volunteer who attended the planting. 
Audrey Squires, Umpqua Restoration Program Coordinator with the National Forest Foundation, co-managed the restoration project and worked with the Steamboaters to host the planting event. She shared at the event, "I'm thrilled that so many people came out on a stormy weekend to help protect our watershed. I enjoyed sharing this restoration project with the community and giving folks an opportunity to lend a hand!"
Following the event, the Steamboaters hosted a hot lunch and gathering at the Steamboat ballfields to thank everyone for their hard work and dedication to the North Umpqua Watershed. To learn more about community events, please contact the National Forest Foundation or the Steamboaters to see how you can help.
To learn more about Southern Oregon and upcoming events contact the NFS Southern Oregon Coordinator Kirk Blaine at kirk@nativefishsociety.org today.