Winchester Dam Repairs Spark Massive Pacific Lamprey Kill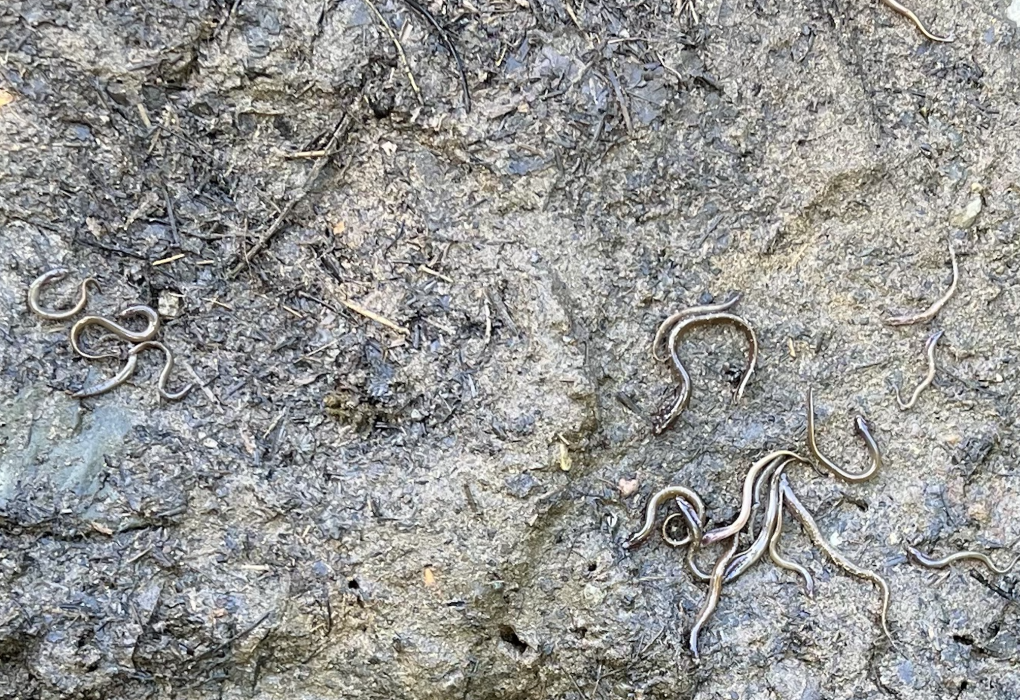 Pacific lamprey stranded by reservoir dewatering at Winchester Dam | Kirk Blaine
By

Posted:
On Monday, August 7th, Winchester Water Control District started repairs to the derelict Winchester Dam on the North Umpqua River. Since the start of construction, NFS Southern Oregon Coordinator Kirk Blaine has been monitoring the situation. Unfortunate events have been unfolding, including a massacre of the beloved Pacific lamprey. Read the full release from Jim McCarthy at WaterWatch of Oregon below. If you have any questions, reach out to our Southern Oregon Coordinator Kirk Blaine today.
FOR IMMEDIATE RELEASE
FOR MORE INFORMATION, PLEASE CONTACT:
Jim McCarthy, WaterWatch of Oregon, 541-941-9450, jim@waterwatch.org
Kirk Blaine, Native Fish Society, 307-299-7834, kirk@nativefishsociety.org
Winchester Dam Repairs Spark Massive Pacific Lamprey Kill
Public Officials Launch Emergency Effort After Private Dam Owners Fail to Adequately Rescue Aquatic Life Stranded by Reservoir Dewatering
Winchester, OR – This week, officials from state, federal, and tribal wildlife agencies are combing vast stretches of drying reservoir sediments above Winchester Dam on the North Umpqua River in an effort to stem losses from a massive fish kill sparked by a controversial ongoing dam repair effort. In particular, upwards of hundreds of thousands of young Pacific lamprey are feared lost due to the failure of Winchester Water Control District, the owners of the dam, to meet state and federal requirements for rescuing aquatic life stranded during a reservoir dewatering. This dewatering began around midnight on Monday, August 7th, in order to provide work crews with three weeks of structural access for repairs. This drawdown repair option was chosen by dam owners specifically for its cheapness compared with other common repair options, despite its known high impacts on the North Umpqua's aquatic life, habitat, and drinking water supplies. State and federal officials chose to approve the owners' repair proposal, despite having the authority to require lower-impact repair methods, despite repeated formal pleas from river advocates to avoid the anticipated mass mortality of aquatic life by requiring a lower-impact repair alternative, and despite a well-documented history of mass mortality of aquatic life during previous dam repairs using the same drawdown method.
The death toll for the North Umpqua's native aquatic life remains to be calculated, but it is expected to be staggering. According to public records, during a 2013 reservoir drawdown and a subsequent scramble by wildlife officials and the Cow Creek Band of Umpqua Tribe of Indians to rescue fish from the carelessness of the Winchester Dam owners, The Cow Creek Tribe "estimated conservatively that for every one live lamprey salvaged, there were approximately 10 dead in the same area (about 1ft2)." The dam repair plan calls for the approximately 7,500-foot-long reservoir to remain dewatered from August 7th until August 28th.
"This massive fish kill could have been avoided, but wildlife officials chose to put the stinginess of a handful of well-connected private lake owners over their mission to protect our invaluable fish and wildlife." said Jim McCarthy, Southern Oregon Program Director for WaterWatch of Oregon, and a leader of the coalition of fishing conservation, and whitewater groups to end the harm caused by Winchester Dam. "River advocates knew this would happen and pleaded with the Oregon Department of Fish and Wildlife and other agencies in charge to reject the low-cost, high-risk repair proposal of the dam owners, but we were ignored. This latest disaster and the public records from their past dam repair disasters make plain that Winchester Dam's owners feel free to ignore regulations protecting people, fish, and water quality. It's one of the many reasons this dam must be torn down, and we are committed to making that happen."
"This is precisely what happened the last time they worked on the dam in 2013," said Stan Petrowski, veteran Umpqua River advocate and President/Director of the South Umpqua Rural Community Partnership. "There was considerable effort to hush hush the entire thing. There were thousands upon thousands of lamprey deaths. This will continue to recur again and again as long as that dam remains in place."
"I am extremely disappointed in the current situation at Winchester Dam," said Kirk Blaine, President of the Steamboaters and Southern Oregon Coordinator for Native Fish Society. "ODFW knew this would happen, and they said yes for the convenience of the landowners who want to maintain their private water ski lake at the lowest cost possible. Just as ODFW said yes, allowing the landowners to trap our last few summer steelhead and spring Chinook below the dam to bake for three weeks in warm waters. This travesty of fish mortality is unfolding despite an available repair alternative that would have maintained the reservoir pool limiting lamprey mortality and providing continued fish passage during construction, allowing our last few remaining fish the best chance to survive the migration to cold water spawning habitat above the dam."
Winchester Dam is a derelict former hydropower facility now owned and maintained solely to provide a private water ski lake for approximately 110 landowners surrounding the reservoir pool. River advocates from a coalition of fishing, conservation, and whitewater groups have been working for years to raise alarm bells with government officials over the Winchester Water Control District's chronic non-compliance with state and federal repair permitting, engineering, water quality, and dam safety requirements as well as their disregard for protections for fish and wildlife despite the essential habitat importance of the North Umpqua for salmon and steelhead. According to the Oregon Department of Fish and Wildlife, Winchester Dam is one of the state's highest priorities for fish passage correction and blocks or impedes access to 160 miles of high-quality habitat for salmon and steelhead.
River advocates will be documenting the disaster and will be available to reporters for comment and to provide photos and video.
~~~~~~~~~
River Advocates Petition to ODFW Warning of Mass Lamprey Mortality:
https://waterwatch.org/wp-content/uploads/2023/02/Winchester_Dam_Passage_Petition_02_26_23.pdf
Public Records/Agency Notes from Past Winchester Dam repairs:
https://waterwatch.org/wp-content/uploads/2023/08/WInchester-Draw-Down-Note-Synthesis-Final.docx
https://waterwatch.org/wp-content/uploads/2023/08/WInchester-Draw-Down-Note-Synthesis-Final.docx
https://waterwatch.org/wp-content/uploads/2023/08/Winchester-Dam-2013-Drawdown-Agency-Meeting2-Notes.docx
Winchester Dam Repair Permits
ODFW Fish Passage Authorization:
https://waterwatch.org/wp-content/uploads/2023/08/ODFW_Fish_Passage_Authorization_Winchester_Dam_Repair_PA-17-0138.pdf
DEQ 401 permit:
https://waterwatch.org/wp-content/uploads/2023/08/20230718_DEQ_401_WQC_2018_505_1.pdf
NOAA Biological Opinion:
https://waterwatch.org/wp-content/uploads/2023/08/2023_07-20_WinchesterDam_WCRO-2022-02717.pdf
Army Corps permit:
https://waterwatch.org/wp-content/uploads/2023/08/20230726-NWP-Verification-Ltr-NWP-2018-505-1.pdf

Revised WWCD removal-fill application (last one before Corps and DEQ issued permits):
https://waterwatch.org/wp-content/uploads/2023/07/Joint-Permit-Application-DEQ-Submittal_20230707-Updates.pdf