Stand up for Wild Fish in Southern Oregon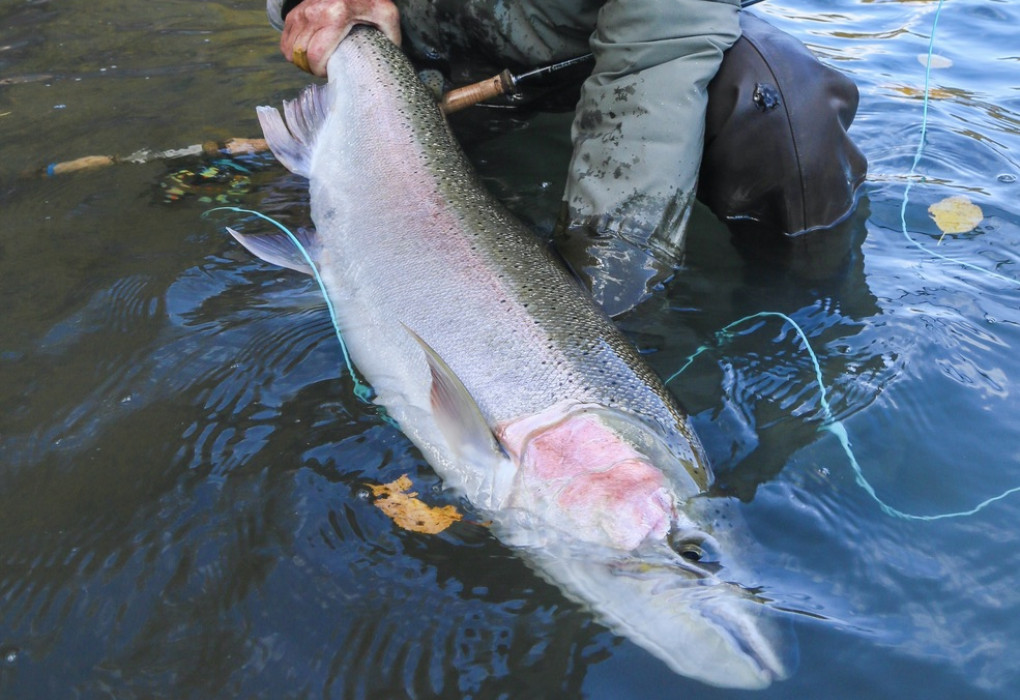 Posted:
What to expect in standing up for Wild Steelhead on October 15th
Below is a brief outline of how you can stand up for wild steelhead in southern Oregon. Here's how you can join the groundswell of public support taking a stand for Wild Steelhead:
Speak to the Commission on Oct. 15. Register by 8am on Wednesday, October 13 to give virtual public testimony on the release of Wild Steelhead in southern Oregon. NFS recommends that you register early to ensure that you have the opportunity to share your voice.
Sign up to receive email updates from NFS in regards to who, what, when, where, why, and how to virtually testify to the Oregon Fish and Wildlife Commission. No, this is not the actual link to register and give testimony, but it is a way we can communicate with you. On October 15, we will email you specific timelines, including when the meeting starts, when the Rogue South Coast Plan agenda item is discussed, and when public testimony will start. This will allow you to accomplish other tasks until the time is right to testify. By submitting this form, NFS will make this process as easy as possible for you and others to testify on October 15th.
We know life is busy and everyone has a million things going on. If you cannot make the meeting on October 15, you can still make your voice heard by sending written public comments to the Commission. NFS has made this easy for everyone providing a one-click letter to submit your thoughts (Available below). If you rather write the Commissioners a personal note, email custom comments to ODFW.Commission@odfw.oregon.gov by 8am on Wednesday, October 13.
If you plan to testify, take a short minute and watch our most recent Lunch and Learn outlining the issues with the RSP and the changes necessary to adopt the plan (Embedded at the bottom of this webpage). At the end of the presentation, Conservation Director Jennifer Fairbrother explains the meat and potatoes of how to provide effective testimony. Give it a watch at the following link. Hot Tip: Speed up the playback speed on YouTube using the settings button. This will allow you to get the same great information in a fraction of the time!
Help us build the groundswell by inviting two friends to join you in any or all of the above!
Thank you for being a part of the movement as we work together to restore abundant wild fish, free-flowing rivers, and thriving local communities in southern Oregon and beyond.
Topics and problems:
Catch and release for wild steelhead will not eliminate harvest opportunity; harvest of hatchery steelhead will still be available.
89% of wild harvest occurs in the Rogue and Chetco River's; both of these rivers have thousands of hatchery fish for harvest opportunities.
No population estimates for adult steelhead for the middle and lower Rogue, Illinois, Applegate, or any south coast watersheds.
No current estimate of harvest rate or overall mortality in Rogue or south coast. Idaho observes a 5% catch and release mortality rate and Washington uses an 10% catch and release mortality rate. Oregon does not observe a catch and release mortality rate nor is it included in this plan.
Proposed monitoring does not commit to obtaining or using adult population estimates or escapement goals for Rogue or south coast.
No Adult spawning surveys were conducted in the Rogue Basin this year.
Catch and release will continue to allow opportunities to fish without closing down the sport fishery.
Percent Hatchery Fish on Spawning Grounds is unknown (pHOS).
Offsite hatchery releases are being proposed in the plan.
If you have any questions or concerns don't hesitate to reach out to NFS Southern Oregon Regional coordinator Kirk Blaine at kirk@nativefishsociety.org.
" class="aspect-[16/9] w-full">